Behringer Reveals Features For Upcoming BCR32 USB MIDI Controller & Sequencer
Taking its cues from its own popular BCR2000 MIDI controller and sequencer from 15 years ago, Behringer have unviled the feature list fo the upcoming BCR32. This could be a big hit.
On the 9th January Behringer announced they are planning to re-introduce their very popular BCR2000 MIDI controller. This time they put out to music community the BCR32, the reimagined BCR2000 in collaboration with Zaquencer, which means a powerful, built-in sequencer.
Behringer announced this new BCR32 is probably going to be offered for just $149 USD.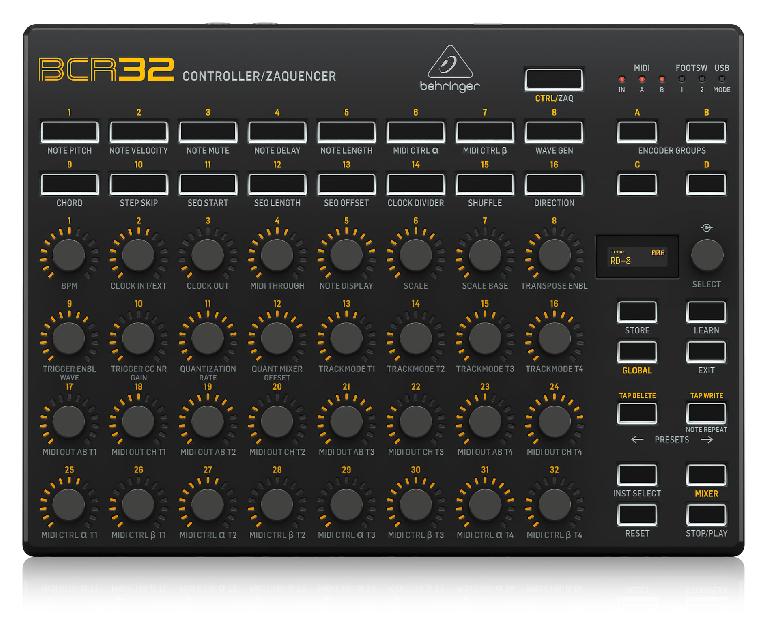 A few hours ago and 6.5K positive reactions from their initial post, Behringer announced the features for the PCR32, USB/MIDI Controller/Sequencer with 32 Multi-Purpose Encoders and Polyphonic 32-Step / 4-Track Zaquencer:
Universal USB/MIDI controller for triggering audio clips, MIDI events or any MIDI equipment
Highly-acclaimed Zaquencer from ZAQ Audio for unmatched sequencer performance
Compatible with popular DAWs or other music production software
32 multi-purpose encoders for custom assignment of parameters
4 virtual groups and 8 dual-mode encoders with push function
20 programmable buttons, assignable as note on/off, control and program change, MMC and system exclusive data
All panel elements are freely assignable, manually or via user-friendly learn mode
32-step, 4-track Zaquencer featuring mono/polyphonic drum and note tracks
Storage of all global parameters and up to 192 patterns, each consisting of 4 tracks
2 independent MIDI controls per track (program change, aftertouch, pitch bend, CCs)
4 CV/Gate and Sync connectors for controlling synthesizers, drum machines and other equipment
2 assignable footswitch connectors for handsfree control
Multi-function OLED display for easy control of all parameters
High visibility multi-color LED feedback to show status of all controls
1 MIDI input and 2 MIDI output connectors to serve as additional USB to MIDI interface
MIDI input with merge function for cascading several control units
USB powered compact design for ultimate portability
Compatible with Apple iPad* via USB Camera Adapter (not included)
Class-compliant MIDI/USB protocol for "plug and play" operation
3-year extended warranty upon registration
"Do you know that the original BCR2000 is actually 15 years old? The original designers Bert and Thomas are still with us and thrilled that their baby gets a second life. "
Add comments to Behringer's post on Facebook to let them know your thoughts on the feature list above.