Behringer Minimoog Model D Clone Hands-On, HQ Sound Demo At Superbooth 2017
We weren't sure what to expect when we saw the Behringer Minimoog Model D clone being unveiled for the first time at Superbooth today... but it sounds really great! Watch the video to hear it now.
The most widely talked about analog synthesizer of the past few months has been the upcoming Behringer clone of the Moog classic, Minimoog Model D. There's really no debating that the intention from Behringer to clone this vintage synth, and make some improvements, has been met with both praise and distress from all corners of the internet.
When the $399 price point was announced some felt it might result in a cheap build of the original.
Well, well, well. Within a few minutes of us perusing the new DeepMind 12 desktop and DeepMind 6 synths at the Behringer booth at Superbooth 2017, we noticed Peter from Behringer, carrying some interesting objects in. Before we knew it, the first prototypes of the Model D were being placed on their desk for users to check out and play.
Here's a high-quality video of the Minimoog Model D clone in action. Jump to 2:20 to listen to it in high-quality audio.
Build Quality
Although this is a prototype, the Behringer Model D is sturdy. It's small enough to carry although you'll not want to play it that way. It's not heavy, yet feels solid and well constructed. The knobs and buttons and switches are obviously put together well. Really, it's an easy synth to fall in love with on its looks alone.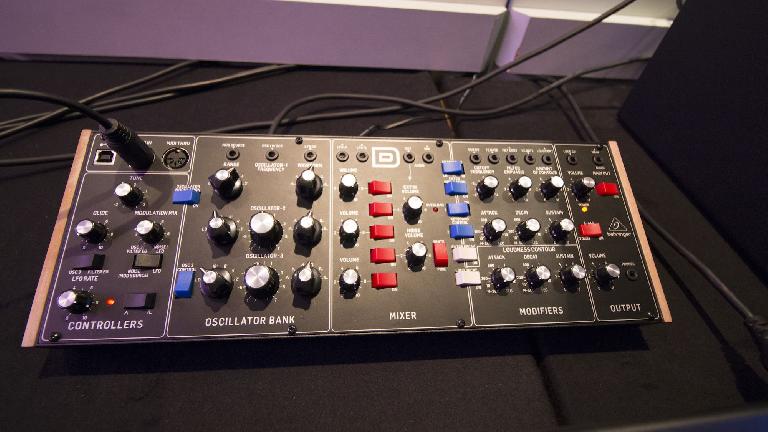 Sound Quality
Although I'm not a Minimoog Model D owner, I've heard a few in my time. Granted we had trade show noise around us... but we were very impressed with the bass and depth of the sounds. Don't take my word for it. We plugged in their prototype Model D to our camera audio recorder to capture high quality sound... and Paul Nagel was on hand to give it a pretty in-depth sonic inspection and play. He has glowing praise for it. And we felt it sounded very authentic.
Even if it was only able to reproduce 95% of the sound of the original, and we're not saying that is the case here, it would be a bargain at $400. Indeed, by itself, the Behringer Minimoog Model D clone should be judged in its own right as an affordable analog synthesizer with a great filter. However, being a clone, it needs to be compared to the original.
We believe the Model D is still a few months away from going into production.
Stay tuned to AskAudio for more info on the upcoming Behringer Minimoog Model D as we get it.