The Heavyocity crew (Neil, Dave, Ari and George) kindly welcomed us into their private space to show us what they'd been working on: Their latest and most innovative new instrument: DM-307, which since release has taken the music world by storm.

Ask: Tell us about you and your roles at Heavyocity.
Ari: Neil and Dave are the principals, they started Heavy Melody Music back in 2000 composing for TV and Games, and Heavyocity sprung from that. Being a small company we all wear many hats. Everybody works in the creative field.

Dave: George also does project management too.

Ari: He was brought in to keep us in line!

Dave: Ari hit it on the head: we all wear a number of different hats. Now that we've grown a little bit, we're starting to bring more people on to do things that we shouldn't be doing ourselves.

Neil: In the early days we designed our own UIs. With Evolve Mutations 2, when Kontakt 3 came out and allowed for far more graphic customization, and Mutations 2 GUI got bigger, we designed the interface internally. Then we hired someone offsite that really knew what he was doing... And he's done everything since!
"The trailer music we're writing really embodies who we are."
Ask: So when it comes to capturing and processing the sounds are you all involved?
ALL: Yes, we are!

Ask: So, you're working on a trailer music album. What took you in that direction?
Dave: We had noticed that in a lot of trailers, a lot of people were using Heavyocity's virtual instruments to create sound design or thematic devices. Some trailer composers came directly to us and said, "you're the guys making sounds that make everybody else sound good. We know you're composers! Why not do a trailer music release?" We've always been into that dramatic, heavy emotional sound, so we thought that was a great idea, a perfect fit. So, we did our first album, Fracture and were really pleased it got a lot of placements in its first year, trailers for (Snow White and The Huntsman, Flight, Zero Dark Thirty, Tomb Raider, Medal of Honor, Dead Space). Then we did what we call Fragments which are elements which trailer editors can use. Like risers, swells, sub dives. Fracture came out in March 2012, we recently released our second trailer music album called God Machine!
The trailer music we're writing really embodies who we are. While we're immersed in different styles, our music is always pointing towards a heavier-handed, dramatic, dirtier sound. Heavyocity has that edge to it.

Ask: When you do the Trailer album, do you often get requests back from editors to modify some of the cues to make them better suited to what they're working on?
Neil: I'd say a third of the time they'll ask for a dozen or so stems. So, we deliver 10–12 stems and they'll have what they need to make their music edits more seamless. Or they'll ask us to address a particular section and customize it. We've done pitches where they like what we've released on a particular album, but they're looking for a different vibe. For example, we received a request where I wrote something and Ari wrote a couple of tracks. They liked one of his and it morphed into something new with many revisions. It was a very long, custom composition experience, but it's very exciting. Some editors have used tracks straight off the album and others have been provided stems, others have asked us to address the breakdown and put something like a "dubstep" vibe in there to spice it up.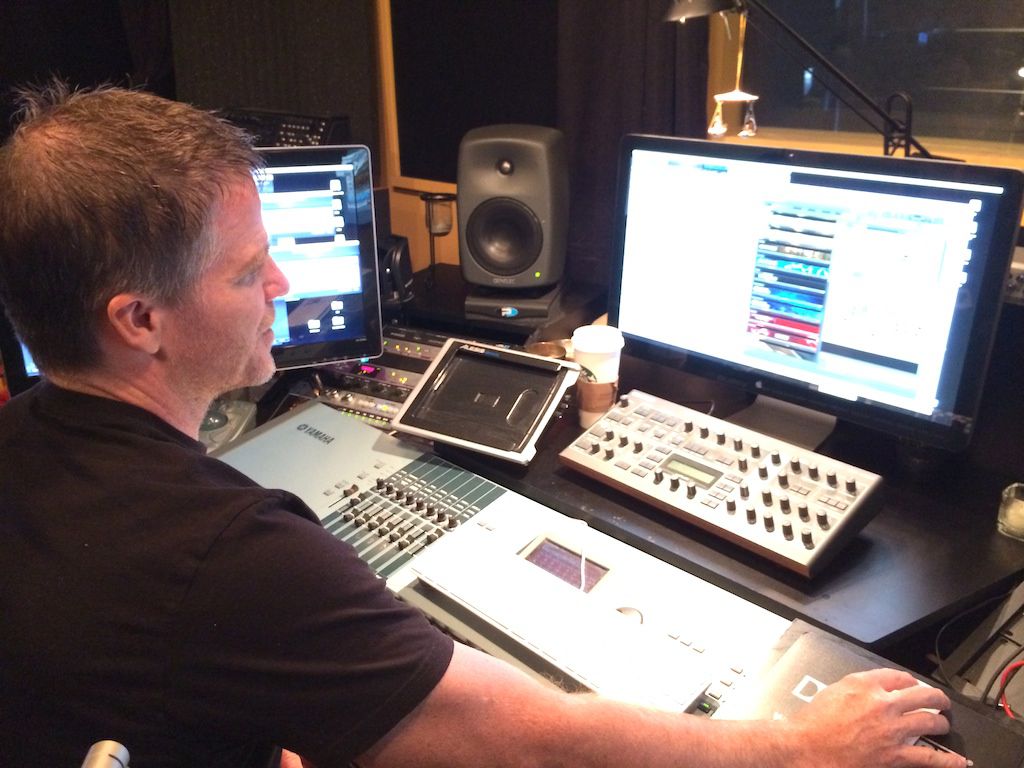 Dave Fraser showing us around their latest instrument, DM-307.
Ask: Thanks for inviting us into the hub of Heavyocity! We know you've been working on a new instrument here… Tell us about it.
Neil: It's called DM-307 and is a modern drum machine with highly stylized sounds and innovative functionality. It's part analog modular synth percussion, part Heavyocity tortures old school drum machine sounds, part drum kit player and part loop-based instrument.

Ask: Is it using Native Instruments technology?
Dave: It is. We're still using Kontakt. It's starting to bend a bit at the edges though! [Laughs]. When we were over in Berlin a couple of years ago, we were telling them we'd love more FX and modulation slots for us to use to accommodate the types of features we were considering for future instruments. The code has been enhanced and keeps growing though.

"NI have done a very interesting thing with Kontakt. They've built a sampler for customers and a platform they can license to their own tools. It's genius."
Ari: NI have done a very interesting thing with Kontakt. It's a dual marketable product: they've built a sampler they can sell to a customer, but then a platform they can license to their own tools. It's genius.

Dave: And it's robust and stable. It's got to be the most widely used and stable playback sampler on the market.

Dave: On the topic of platforms, we're all musicians to the core. George is also a DJ, we come from a classical background, etc. As far as being composers and working with sound design too, it really puts our mindset where we first think about "is this going to help me get my job done?" rather than, "does this sound cool?" Some instruments out there are designed for people who want to tweak. Other instruments are for people who may want to tweak but who also have tight deadlines they need to meet. We try and straddle the fence between great sound and something that is highly functional and allows you to make the instrument your own. Not like "oh, I'm going to sound like 80 other people now." The tools we're implementing and scripting take the idea of good sound and transform it into a sandbox of so many sonic possibilities.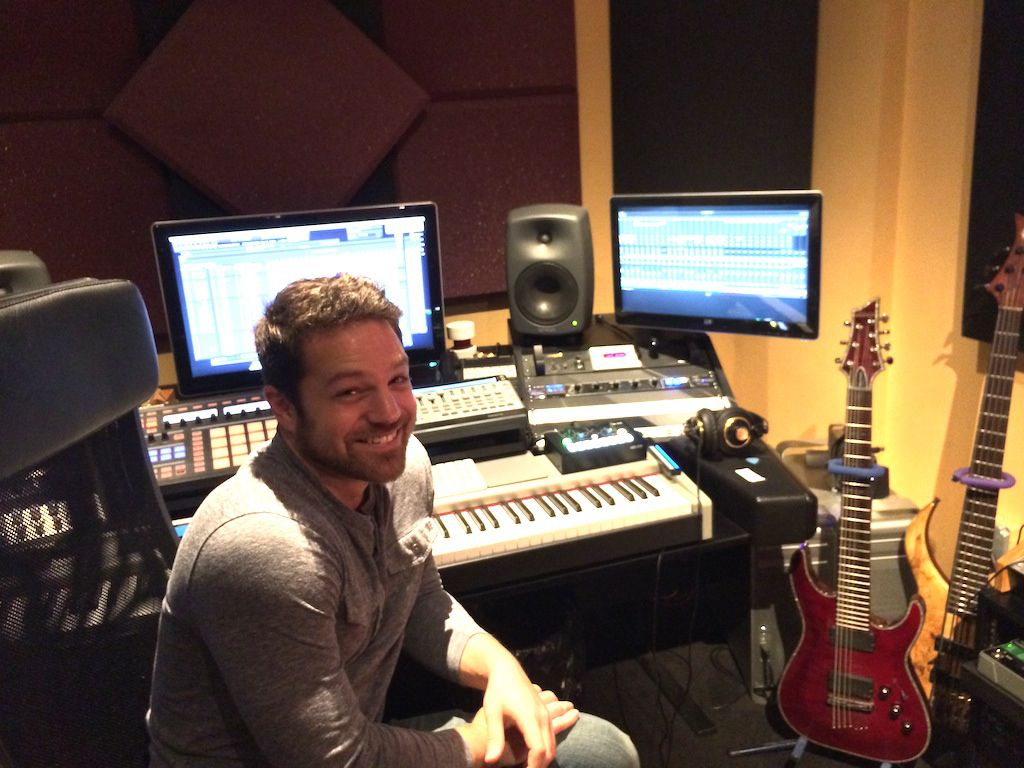 Ari has plenty to smile about thanks to Heavyocity's massive success!
Ari: One thing we hear repeatedly from customers is that our tools have helped them in terms of inspiration. So, it's not like they just press a key and the cue is there. If someone plays a loop they might find it inspirational and that can help them get out of creative ruts and give them ideas for writing.

Ask: Back to the DM-307. Did you design it with "immediate inspiration" at its heart?
Dave: That's a really good question! The DM-307 is not primarily a cinematic tool, which we've been known for first and foremost. It's not a complete departure either, because it has that Heavyocity sound and vibe. We took a bunch of modular gear and classic drum machines and sampled those. We also recorded tons of drums, and did quite a bit of mangling and tweaking of the source material in our lab… errrr studios! The sonic range of this instrument, being billed as a drum machine of sorts, is super diverse and punchy. I'm really, really excited.
"DM-307 is not primarily a cinematic tool, which we've been known for first and foremost. It's not a complete departure either, because it has that Heavyocity sound and vibe."
Ari: It was very important for us to not just sample a drum machine and have "wow, 808 modular drums." There's not much inspiration in that, and there's a ton of those out there already. We took that and stylized things, tweaked things and made them uniquely different. It's not just analog drums. It's our take on analog drums.

Neil: Also, DM-307 is very flexible. It's the first time we've tried to tackle multiple production-style pipelines at the same time. There's a number of different ways you can do something depending on your preferred production workflow.

Ask: OK. So, it's the Heavyocity flavor of analog drums. What market is it aimed at?
Neil: If you look at film scores and cinematic music, there's been a huge resurgence of analog synth sounds. Even the orchestra is effected. Look at what Hans Zimmer has been doing… He's been using his wall of Moogs and Modular stuff on a number of his scores, and more and more composers are injecting an electronic and analog synth vibe into their scores.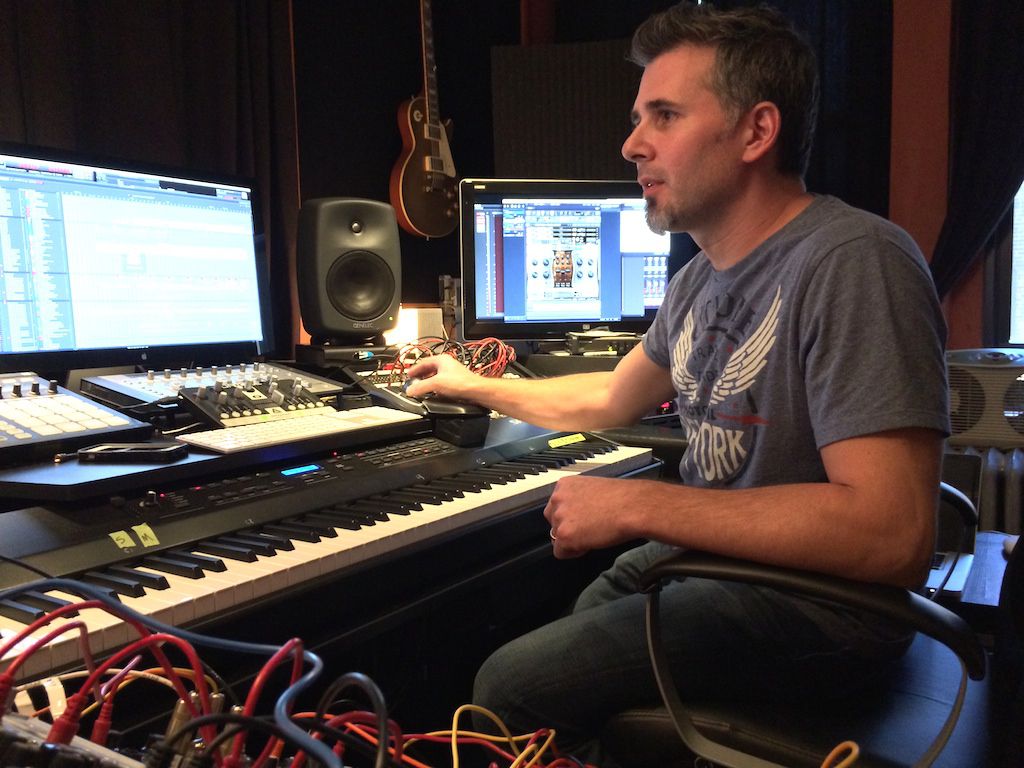 Neil concentrating on the next big score.
Ari: There's definitely been a resurgence of analog sound. We think DM-307 will be a hit as our typical market place is the cinematic musician. We think the sounds will really appeal there and hopefully bring them along ahead of the curve. But, with the functionality we've built in, we're looking to further expand our demographic into the electronic world.

Dave: The biggest stumbling block appealing to the electronic crowd is that those guys may not be as accustomed to using Kontakt. That led us to design specific features and functionality into DM-307 like "The Grid". So, someone new to Kontakt or Kontakt player isn't going to need to get under the hood to figure out how to get creative quickly.

Ask: So, let's see what you've been working on with DM-307. Very excited to see it in action. How long has it been in development for?
Dave: This has been a relatively short development cycle. We started in early 2013.

Neil: There's a back story to what it was going to be and then what it turned into, what that turned into and then what that turned into! [Laughs] It was going to be a 2-month analog modular synth drum quick release, and then we had some cool ideas and lots of "what ifs". George came up with some fantastic ideas geared towards DJ-Producers. And it became a full-on heavily involved instrument.

We had hit up against certain limitations in Kontakt with some of our other virtual instruments for different reasons. George was questioning "well, why can't we do feature 'X'"? We thought well, "because we've been told we can't because of a number of technical reasons"… But we brainstormed with our talented scripter, Adam Hanley, who experimented and pushed the envelope. Before long we were starting to achieve things we thought weren't possible in Kontakt, which made for a smoother, improved workflow.

"Because DM-307 is geared more toward an "electronic" sound than perhaps our previous instruments, it was important for us to collaborate with cutting-edge DJs."
When you finish an instrument after 12 months, 18 months, or whatever it takes, you move on to new projects. After having some distance from them, I often look back at the older ones and think, "wow, there's been a lot of growth in our product features, this new thing doesn't have some of these new or improved features. It's just part of "product evolution" So, we're now getting to a point where the features in our newer products like AEON and DM-307 are really satisfying for us, and hopefully the people using them.

George: Because DM-307 is geared more toward an "electronic" sound than perhaps our previous instruments, it was important for us to collaborate with cutting-edge DJs and producers who are currently leading a massive shift in electronic music worldwide. We thought it would be great to have them create customizable content that would inspire our customers and give them a relevant starting point for new ideas.

Ask: Anyone you can name?
George: Uner (Cadenza, Get Physical), who just won an award for Best Newcomer from DJ Awards 2013, techno giants Kaiserdisco (KD Music, Drumcode), Martin Eyerer (Kling Klong), Mendo (Cadenza, Clarisse Records), and Pirupa (D-Floor, Desolat, Suara)… These are guys who are huge in their genres and we want to start to introduce our instrument line to those who are trying to produce that kind of music. There are tons of them out there.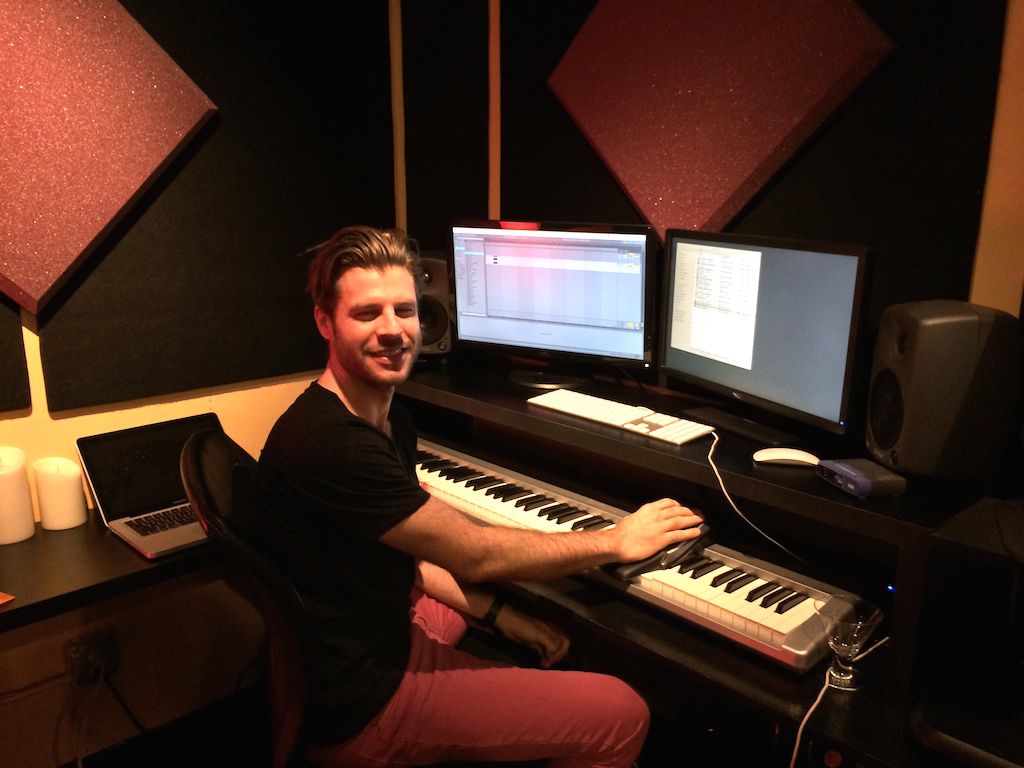 George takes a break from putting the "electronic" into DM-307!
** We move to Dave Fraser's studio where he demos DM-307 with the new Trailer they were working on at the time. **
Ask: When you began creating it, did you set out to make it a live tool?
George: We took it further than we thought. We've made Performance Multis and Production Multis which contain 5 MIDI channels so you can individually control the 5 different presets. With element kits you can get 25 banks of just hats if you want. So, if each bank has 60 samples in it, it's a lot of samples to randomize!

Dave: There is 80+ drum / percussion kits with over 2,000 unique sounds. There's also more than 1,200 loops in 5 different musical styles. It's deceptively meaty in terms of content. It's all single shot kits, old-school, or Battery-style. You've already got your deeply sampled Abbey Road Drums, Toontracks and the like. We're not trying to be a deeply sampled acoustic drum kit here.

We also included some crazy analog hits, which are more in the vein of intense dives, subs, transitions, risers and sweeps. Plus there's some cool hybrid percussion. Everything is really punchy. As George was mentioning earlier, there are whole menus of kits classified by drum type: kick, snares, etc.

We've also included effects similar to AEON: delay, mod effect (chorus/phaser), 30 custom convolution reverbs, distortion. You can really tailor what you're creating. You have control over the level, pan and tuning for all the sounds.

Ask: How do you develop the convolution algorithms?
Dave: We work with some third-party people that go out and capture the reverbs. It's a time consuming process. There are some really lousy convolutions out there, and some really good ones. We've been fortunate enough to strike up relationships with some individuals creating high-quality, useful convolutions.

One thing I'd like to show you is the signature Trigger Effects, real-time playable effects that can be sequenced; you can easily program these in DM-307's interface. For example, you can sequence the filter and modulate its parameters which is very nice.

George: The filters are per bank and global, the EQ and ADSR are per sample and per bank control.

Dave: Yes, and every sample has its own EQ so you can combine and build whatever sound you want. The Twist is like an EQ-sweepable-filter-meets-tone-morphing effect. You can do some neat things with this as well.

George: For the loop presets, the effects sound great on the whole loop, but then for instance the Twist sounds great when you're just dealing with percussion, so you might use Twist for one loop and Punch for the other. You start to get some really interesting results when you begin separating the loop elements out and effecting them individually.
Dave: We also cover the more cinematic side too.
** plays a gorgeous, inspirational large and moody cinematic style effect**
Ask: Can you save these presets?
Dave: Yes, you can. Within the Grid you have the Preset Browser where you can load any preset. Then you can swap patterns and kits and play any combination of the two.

Ask: These randomizations I'm listening to are truly musical. They sound great! I love the way you can break things up, take things apart and add your own feel to it. I see you've got ethnic sounds too. Is there anything sonically that you don't cover?!?
George: Baby sounds... [Laughs] Actually we do! We have baby sounds in here too! [Laughs]

Dave: We've got different vibes with the Ethnic percussion. We've got more of a unique hybrid sound rather than just another ethnic percussion loops pack.

Ask: These sounds have so much character. Have you processed them using the effects you've created in DM-307, or using other effects?
Dave: It's a combination. We got the engine to a point where things were sounding really great; especially the Punish knob, compounding the punchiness in a good way. We were able to start working on loops that not only are punchy to begin with but go an extra step. There's definitely a soft side in there, but DM-307 is dialed to deliver the serious punch that can sometimes be missing in a drum or percussion bed. We really wanted DM-307 to be able to poke through a track, right out of the box.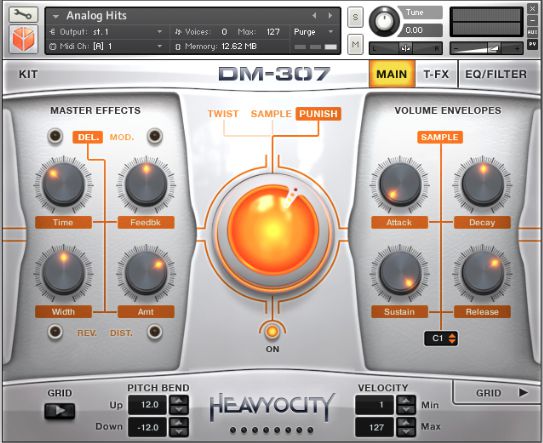 The instrument itself: Heavyocity's DM-307.
Ask: Which other tools do you like to use when processing sounds?
Dave: Neil, Ari, and I use the Apogee Symphony 64 systems. We all have UAD cards which are excellent. Also, the Waves Diamond and Horizon Bundles. George has the Universal Audio Apollo in his room which was a new venture for us. The interface sounds amazing and they have all the vintage plug-ins, Neve-modeled stuff and Fairchild. Some other mainstays in our arsenal are iZotope which we love, Trash is a great distortion plug-in. Speaking about distortion, SoundToys' Decapitator is brilliant for dirty warmth. And obviously, the Analog Modules were great for distortion as well; Metasonix makes some insane, PHAT sounds.

"George has the Universal Audio Apollo in his room which was a new venture for us. The interface sounds amazing and they have all the vintage plug-ins, Neve-modeled stuff and Fairchild."
George: I use Permut8 a lot too which is fantastic for mangling micro-beats and getting interesting digital artifacts.

Dave: We also have a buss compressor (Obsidian) that's made by a friend of ours whose company is Dramastic Audio. It has an amazing ability to add that warm thump to your sound. There's a nice high-pass roll off that keeps stuff from getting too muddy if you punch up the compression in the mix. Everything we do basically runs through the Obsidian.

We've tended to back off from it a little bit lately because once you get a sound to a certain point, it stops sounding punchy and starts getting boxy. It turns into white noise as far as punch goes.

Ask: Thanks for this overview of DM-307. It looks and sounds very impressive.
Dave: Thanks. Everything is ready to go with it, as you can see, it's fully functional.

Ari: DM-307 covers so many bases without grasping at straws, if that makes sense.

Dave: We think DM-307 provides a good balance for both sets of users. It became clear there's an absolute need for us to keep our existing users happy. And if we did an instrument that was very pigeon-holed and for a specific kind of person in the sound industry, we run the risk of people saying, 'what happened to them?'

Ari: That's a great point. We like to build robust instruments that can be used across a wide range of genres. DM-307 is us adding a new building block to our arsenal that we feel expands upon the sound we are known for.

Find out more about Heavyocity here: