Bastl Instruments keep coming out with interesting machines and devices. Of course there's their eurorack modules, small noise machines like bitRanger and Kastle, and now this very useful KLIK device. KLIK makes it incredibly easy and accurate to sync the audio signal from your hardware analog and modular hardware synths with your DAW. It converts audio output levels from an audio interface into pulse waves and has deep integration with Ableton Live and Bitwig Studio.
Here to tell you more is Vaclav from Bastl Instruments:
KILK is a synchronisation device that enables the user to make rock solid analog sync signals from their computer and hardware synths. The KLIK revives the old-school sync technique of using audio tracks for synchronisation purposes. Record your synths exactly on the grid into your DAW while compensating for the latency of your sound card. Jam between your computer and your HW in a really tight sync and add groove to your clock.
We have collaborated with Bitwig and Irrupt Audio to make the KLIK as powerful and easy to use as possible and presented this collaboration for the first time at NAMM 2017. The new version of Bitwig (2.0) adds a HW CLOCK device which we collaborated on to use with the KLIK!
Please note that the KLIK is designed to only transmit clock / trigger information. Its output is either low or high 0 or 5V. It doesn't output continuous CV signals.
FEATURES
Mini USB B Power 5V (overvoltage / overcurrent / polarity protected)
TRS 3.5mm stereo line level input
2 x TR 3.5mm mono outputs
0 or 5V trigger gate outputs
all jacks are overvoltage / polarity protected
Manual button gate for R / Reset channel
Led indication per channel
Current draw <10mA
Size 44 x 44 mm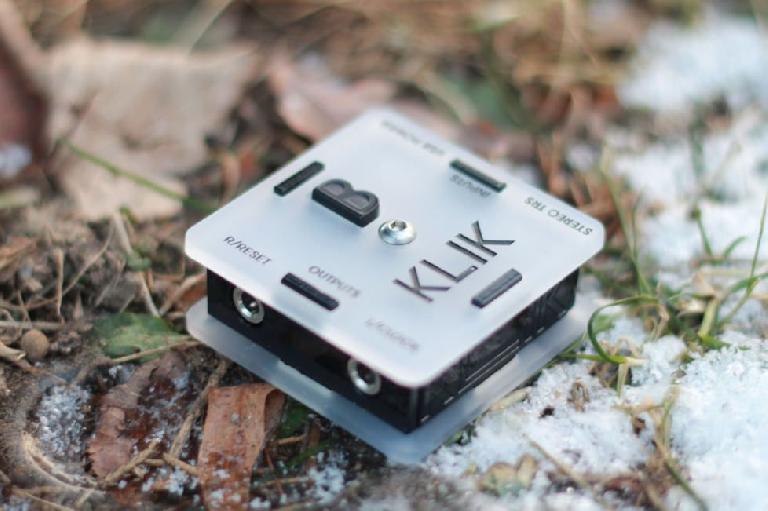 DAW INTEGRATION
BITWIG – 2.0 and further has built in HW CLOCK device that we collaborated on and which is meant to be interfaced with the KLIK.
Ableton
There is simple method of sending pulses from a drummachine see downloads.
I am sure someone will make max for live object for this which will be even better – already talking to somebody about that
Cubase,Logic,ProTools etc. - not tested yet – similar method to Ableton should work (download the Ableton project to get the sync samples).
Pricing and Availability