Featuring a Fatar keybed and much more inside, the Axel Hartmann 20 is, according to Axel Hartmann himself, going to be shipping by the end of this month.
Here's more details courtesy of MatrixSynth and Axel Hartmann.
"Set up for final testing and sound design. Fatar has sent us a b/w keybed for checking into a modified aftertouch ribbon below the keys, which works perfectly. The final models will be back to an all black keybed. The Synth you see is the first with black anodized surface. The grafics are laser edged. I am quite positive, that we can finally release the 20 by the end of June... Please visit our Facebook site "20", for more information."
The synth is based on the Studiologic Sledge which is based on the Waldorf Blofeld. From the original post here:
"Only 20 black and 20 silver will be made | Waldorf / Sledge Synthesizer Engine | SPL Supra Op-Amp audio technology | Wavetables | Hartmann Neuron Synthesizer Sampleset | Pure aluminium shell, milled from a massive block | Collapsable, milled ultra thin aluminium panel | Custom-built pure aluminium knobs and wheels | Custom-built acrylic-glass switches | Highest quality, custom-built, all black Fatar TP 8 Keybed" See the 20 Electronics label for more.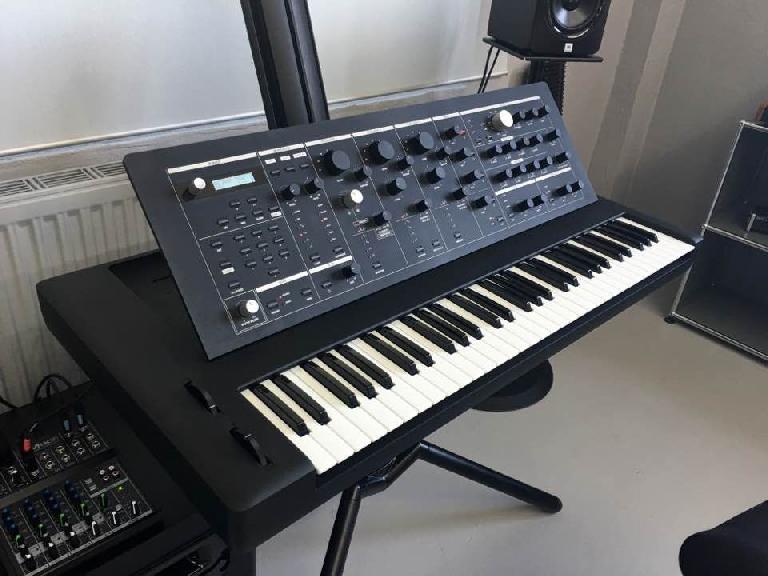 [Via: MatrixSynth]
Axel 20 on Facebook: https://www.facebook.com/20-166866990324268/