Last year we took a look at what intonation plugins like Auto-Tune do, how to get them set up, and how to take a basic approach to fixing a vocal track that isn't sitting where you want it in terms of pitch. This time, I'll get a little more 'down and dirty' and check out what happens when you exert a little more control. Let's jump in!
Advanced View / Individual Notes
If you're using Auto-Tune specifically, clicking the 'advanced' view button will bring up a host of parameters to control. From here you have the ability to bypass or remove a note from processing. Bypassing a note will tell Auto-Tune "Don't do any processing when you detect a pitch around this note". Removing a note will tell Auto-Tune "Do not allow the singer to sing this note - shift it to the next closest pitch". These are both important tools because you may have a part of the song where you want the singer to have the ability to go outside the scale for a single note, or a bluesy singer that you want to give license to 'bend' note around a certain part of the scale.
Advanced view can also be used for some really fun creative effects! Try bypassing EVERY note except a single one, and you've now forced your singer to only sing one note the whole time! If you put Auto-Tune on a bus, you can control the dry/wet amount of the effect and get a cool drone/harmony by doing this that you can phase in or out.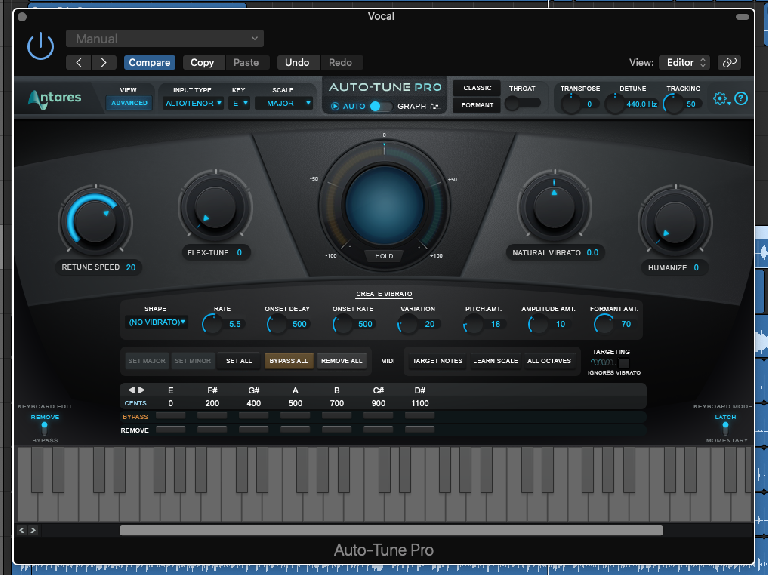 Analysis and Graph Mode
Getting out of 'auto' mode and flipping on 'graph' mode can be overwhelming to start, but it's in graph mode where you can truly be surgical to your approach with Auto-Tune. Rather than having Auto-Tune analyzing the whole track, start with a small section. Take a phrase you'd like to adjust and click on the 'track pitch' button in the upper left corner. Play back your audio, and you will see Auto-Tune start to draw waveforms on its pitch graph. Stop your audio after a short phrase you'd like to work on.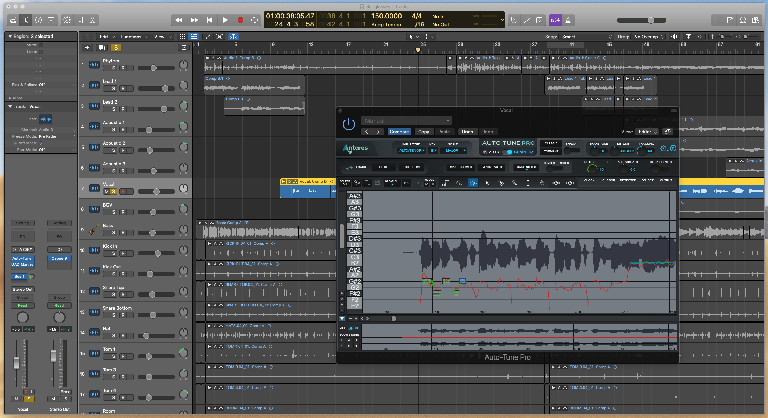 Next, you'll want to take a glance at the toolbar at the top of the waveform graph. There are a number of tools that look like lines, squiggles, arrows, and such. The easiest one to get started with is the note object tool, which is just to the left of the mouse cursor/arrow selection tool. Click on this waveform-looking line, and you can now 'draw' on the graph what the actual pitch should be for any given part of your sung phrase. You can see the graph and it gives you analysis of the note your singer was trying to reach - but you can simply draw for a length of time the exact note you'd like it to be.
It's that simple! Auto-Tune will fix that specific note when it gets to it, and leave everything else untouched. You can go back to the arrow selection tool to tweak the start/end points of the pitch correction, but you can feel confident that AutoTune will not adjust anything you don't specifically tell it to.
Bring the (T) Pain
Auto-Tune is an incredibly deep suite of correction tools, and you can use the same interface to tweak the timing of phrases as well! From gentle nudging to a 'Hammer of Thor' approach to pitch you can really fix only what you need to in graph mode!