GET IN TOUCH WITH NEW HARMONICS!
Developed over four intensive years of research, planning, designing, programming and testing, AutoTonic finally rewrites the book on what's possible with MIDI processing engines. AutoTonic moves far beyond standard note transposing – offering you a complete new approach to play authentically in the most fascinating musical scales in world history or scales you create yourself.
Combining the power of advanced scale mapping with a patented and instant responsive keyswitch method that is placed at the closest possible point – right next to your note-playing fingers – AutoTonic is a highly creative songwriter production tool that is applicable to all genres of music.
PRODUCE MORE. PRACTICE LESS.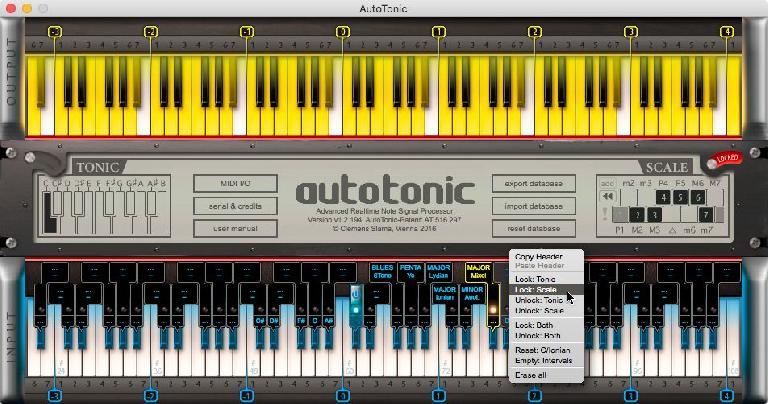 AutoTonic offers a completely new approach to keyboard playing by its patented keyswitch technique which allows to map any potential/possible scale in Western tonal music (which is based on 12 pitches) to your white keys in realtime. Note transposing has never been so easy, and this is what makes AutoTonic so incredibly useful and unique.
Realtime Key Mapping: lets you map any notes to your white keys in realtime
Unlimited Possibilities: any harmonic genre can be created, any scale you can think of*
Integrated Music Theory Database: comes with a library of over 50 prebuilt scale templates
Create Your Own, unique Scales: share them with your friends or save them for a later use
Max. Hardware Compatibility: no specific hardware required, any MIDI keyboard works
Max. Software Compatibility: works with any DAW or virtual instrument
*in western tonal music


AutoTonic comes with its own serial protection system (User Registration & Network Validation). No iLok required!
AutoTonic MIDI Note Transposer (Win/Mac) is available to buy from AutoTonic's web shop only, priced at $179 USD for the full version or $89 USD for a yearly subscription: that´s less than $0.25 USD per day!
A free 14-day demo license can be downloaded from the AutoTonic Website:
www.autotonic.net