Audioutlaw (November 19, 2018); Max for Live Device Developers release Boots N Kats, a new fully Automatic Drum Machine System for Ableton Max for Live 10.
Boots N Kats is the perfect drum machine for musicians and live performers who want to compose rhythm sections quickly, featuring an intelligent automatic algorithm that provides endless pattern combinations for spontaneous improvisational workflows.
Packed with a sample library of 400+ meticulously sampled drum sounds, this automatic drum system seamlessly integrates with Drum Rack in Ableton Live 10 Suite.
Our goal was to provide the ultimate Drum Machine for the electronic music creator. One that rivals and perhaps exceeds standalone hardware units in terms of sound and flexibility. Boots N Kats features a simple, familiar but powerful fully automatable interface.
Featuring 4 Modules - Kick, Snare, HiHat and Percussion. Included are knobs for Sample Selection, Tuning and Levels per instrument. This gives you direct access to the most valuable parameters needed to start shaping your drum sounds immediately.
No need to read a manual!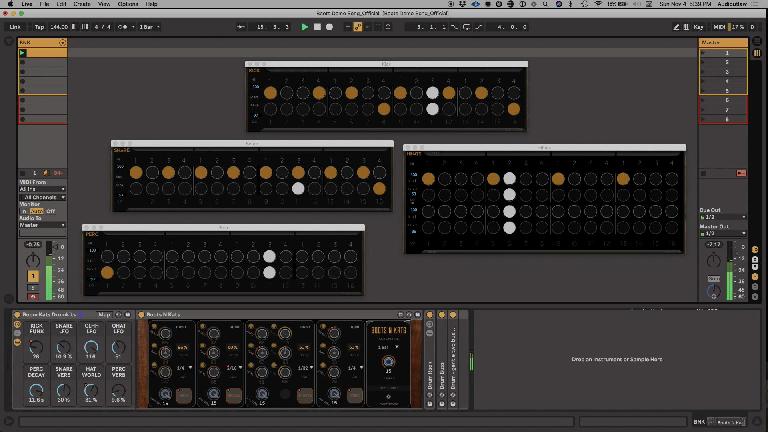 Select different rates for each module to create more dynamic and exciting polyrhythms. Your Hihats can play at 32nd notes while your Kick might play at 1/4 note intervals. You can also add swing to each module.
Use the included 400+ sound library or your own samples. Since Boots N Kats works with Ableton Drum Rack, there is no need to learn a new workflow. It is all right there!
The heart of Boots N Kats is its powerful sequencer. It appears as a popup window. You can enter notes by clicking or swiping multiple entries at once.
Each Module features 16 Patterns that can be played independently. The "Get Lucky" Button is used to generate endless pattern combinations of your custom or our preset patterns.
The "Automatic" section chains and plays the 16 available patterns together sequenFally in a sort of "Song Mode." You can choose for all of the patterns to change every 1 Bar, 2, 3 or up to every 16 bars!
Boots N Kats also features a dedicated Macro System that allows you to remap any of it's knobs to any Ableton parameter you wish!
Boots N Kats Automatic Drum System is available immediately through Audioutlaw.com and exclusively through Reverb.com.