Minneapolis (16 de maio de 2014) Audiofile, uma empresa líder em tecnologia de música, anunciou hoje uma grande atualização para Spectre, o tempo real suíte análise de áudio popular para OS X. A nova versão, caracterizado atualmente na Mac App Store e nomeou uma melhor New App, está disponível para 50% do preço original por um tempo limitado.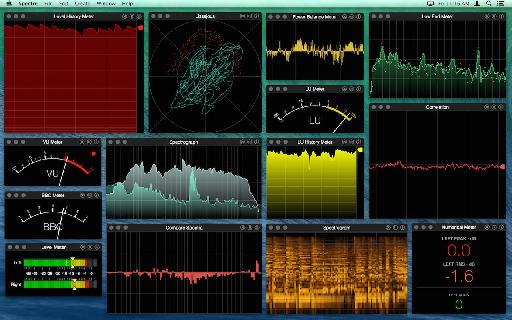 Ideal para os produtores todayfrom de trabalho profissionais de áudio para transmitir engenheiros para vídeo editorsSpectre é embalado com 20 diferentes metros multi-canal e multi-traço, incluindo Nível, VU, Spectrograph, Oscilloscope, espectrograma, LU e LU História. Com a versão 1.7, Spectre foi reescrito do zero para suportar as mais recentes normas de loudness, bem como torná-lo ainda mais poderoso e bonito.
"Spectre has always been incredibly accurate," said Matthew Foust, Audiofile Managing Partner and co-founder. "But the enhanced performance in version 1.7 makes your meters more detailed and responsive, providing an even clearer picture of your audio."
Além de seu upgrade significativo desempenho, metros actualizado da Spectre são agora ainda mais fácil de configurar. Além disso, eles estão agora Retina-prontos e totalmente otimizado para o OS X Mavericks, incluindo melhor full-screen e suporte a múltiplos monitores.
Novas adições e melhorias para Spectre incluem:
Melhorou muito o desempenho e estabilidade

Totalmente otimizado para telas Retina

Feixes de áudio possibilitará a criação de grupos de canais de hardware de entrada de áudio, tornando a configuração ainda mais fácil

Suporte de tela cheia Comprehensive

Medidor de configuração agora é construído em cada metro

Traços têm suas próprias configurações de análise espectral

Spectre inclui todas estas melhorias para seu preço original baixo, tornando-o ideal para estudantes e profissionais. E, para celebrar o seu lançamento, Audiofile está oferecendo um desconto de lançamento em Spectre por apenas R $ 49,99, 50% de desconto do preço original por um tempo limitado.
Para mais informações sobre Spectre, visite:
http://www.audiofile-engineering.com/spectre/

Para comprar Spectre através da App Store Mac, visite: