Kombinat Tri is a major update to our Kombinat/Kombinat Dva line of multi-band distortion and audio toolbox plugins. Featuring 13 different distortion and destruction algorithms, 13 filter topologies, a crossover filter, an envelope-triggered feedback loop, and our famous One Knob Kompressor, Kombinat Tri will take you new places in your search for unique sounds and methods. Audio samples and full description in our store.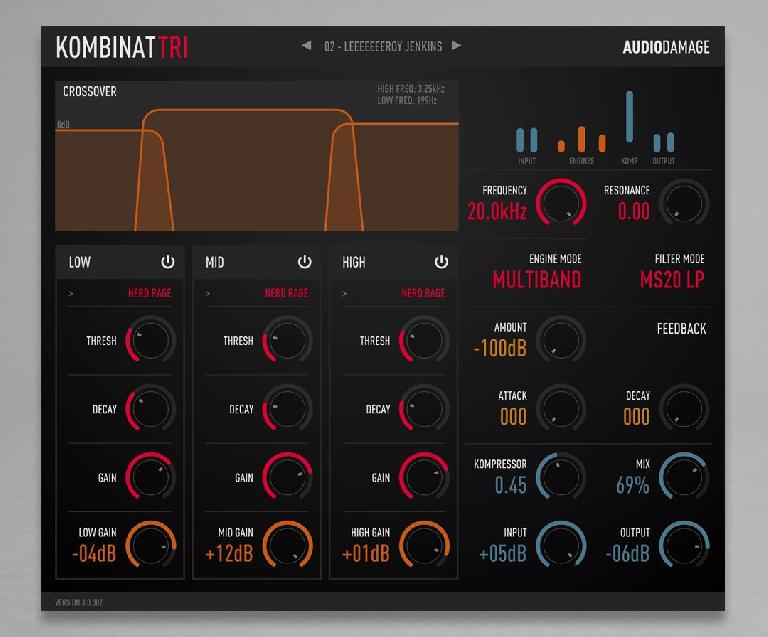 Kombinant Features
Crossover: Kombinat Tri features a DJ-style three-band isolator EQ for band-killing effects and extreme tone-carving on the front end. This leads to the three distortion engines, which can be run in crossover (multi) mode, or in series.
Multiple Distortion Types: Kombinat Tri has 13 different distortion and tone-shaping algorithms, and you can mix-and-match, with each of the three bands getting its own selector. From subtle tube-style clipping to the bizarre distorto-delay of the Nerd Rage algorithm, Kombinat Tri can cover all the bases without unnecessary complexity.
Feedback: If the algorithms weren't enough, Kombinat Tri has an internal feedback control, tied to an envelope follower. Results may vary, but are always hairy.
Filter: Kombinat Tri has 12 different filter topologies, from subtle 2-pole lowpass, through synth-style filters, to surgical notch. Several are self-resonant.
One-Kontrol Kompressor: A favorite feature of the original Kombinat and Kombinat Dva, the one-knob compressor, tuned for collapsing distorted signals to roadkill, remains in Kombinat Tri.
Mix Control: Kombinat Tri adds an oft-requested feature: a mix knob for better control over the signal path.
Presets: Kombinat Tri includes a selection of presets from Kombinat and Kombinat Dva, some all-new presets to take advantage of the new features, and a selection of Designer presets from Ken Flux Pierce and Don Gunn.
Listen to the audio examples on the Audio Damage website. Unfortunately, they've not made these available to embed on other websites.