"U73b by Audified is probably the most musical compressor I've ever tried or used — version 2, especially, has much more attention to detail."
- Bjorn Thorsrud (music producer, programmer, and audio engineer)
BOSKOVICE, CZECH REPUBLIC: host application and audio effects developer Audified is proud to announce availability of the second-generation version of its U73b Compressor — capable of running as an AAX, VST3, and VST2 plug-in on Mac (OS X 10.9 - 10.12) and PC (Windows 7, 8, and 10) and AU on Mac as an authentic emulation of the unique-sounding Sixties-vintage German broadcast compressor/limiter hardware with which it shares its name (and which, despite its origins, found favour in European mastering circles) — with improved algorithms and a number of other notable improvements, as of October 25…
U73b Compressor can be seen and heard in an introductory video (featuring Bjorn Thorsrud) here:
Audified's all-new U73b Compressor strikingly stands out from its predecessor — released to widespread critical acclaim back in May 2015 — from the get-go courtesy of a gorgeous GUI (Graphical User Interface) that not only makes its improved second-generation status clearer still by blazoning Nr. 2.0.0 below its name but literally leaps out of Retina-supporting screens… well, almost! As such, the GUI itself is effectively a game of two halves, comprising of an almost photo-realistic rendering of the hardware on which the plug-in is modelled and an area to display numerically editable parameters or menu functions and settings that are not available via the 'modelled module' — including LOAD (for selecting presets) and STORE (for saving presets), HPF (High-Pass Filter) on/off (to switch off the high-pass filter mode — with around 100Hz cutoff frequency and 6dB slope that helps create the unique sound of the U37b Compressor — when the bass roll-off might not be suitable for some instruments when mixing or when the plug-in is being used for mastering), and many more benefits besides (such as selectable display colour).
Colourful or otherwise, such improvements are more than simply skin deep. Digging deeper still, Audified's all-new U73b Compressor now features true side-chaining to control the compression via an independent signal (always accessible via the Side-chaining menu with Individual, Left, Right, Left+Right, and External settings); improved processing with added adjustable Oversampling (which, when turned on, enables the internal plug-in processing to run at a higher sample rate than is set in the DAW to help reduced aliasing distortion that is always produced by nonlinear effect processing and also improve high frequency processing); an automatic gain control option (Auto) with Ein (on) and Aus (off) settings; and -9dB default Kalib. (calibration) setting with an added value mechanism — note that the software model works with real voltages that are the same as those found in the original hardware circuitry (related to the dBu scale), but the DSP (Digital Signal Processing) in DAWs (Digital Audio Workstations) works with dBFS (Decibels relative to full scale) so users can (carefully) set the calibration to work within the correct operational range of the compressor effect.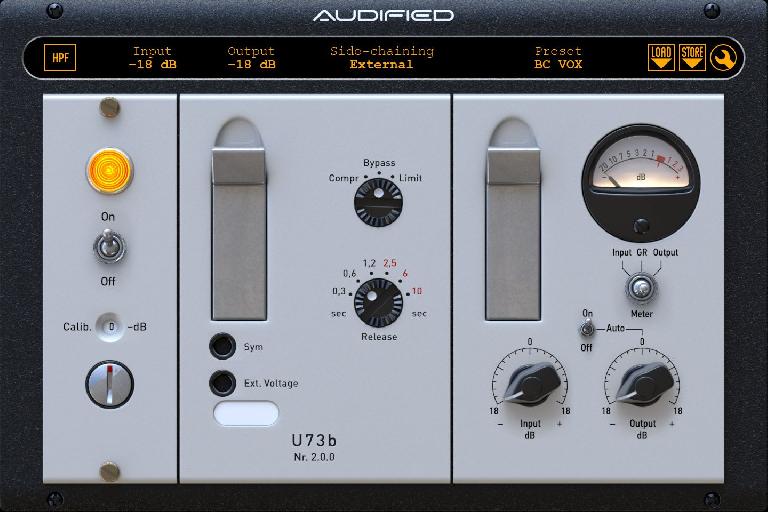 Either way, what is it, then, that made the original U73b hardware sound so special and become so sought after? After all, only by gaining an appreciation of its namesake hardware predecessor can Audified's U73b Compressor be truly appreciated in its own right. Time to take a whistle-stop magical history tour… working with the NWDR (Nordwestdeutscher Rundfunk) — responsible for public broadcasting in the German states of Hamburg, Lower-Saxony, Schleswig-Holstein, and North Rhine-Westphalia from September 22, 1945 to December 31, 1955, Telefunken developed the U73, an all-tube, three-stage push/push variable mu design (with a theoretical compression ratio of 100:1), during a three-year period, born out of a need to conform to the high standards set by the IRT (Institut für Rundfunktechnik) — the primary research institute for German-speaking public broadcasting organisations — while seeking a suitable solution for handling full-frequency response FM (Frequency Modulation) radio broadcasts. By building the U73 into a Danner double-cassette module chassis like its U76 sibling, the two Telefunken designs shared significant circuitry and components, though the U73 went on to become the fastest tube compressor ever built, thanks to its forward-triggered side-chain feature. Fully finalised, the design was licensed to TAB (Tonographie Apparatebau) in Wuppertal-Elberfeld, West Germany (as was), who manufactured this, the last tube compressor in the Telefunken/IRT grey series for almost 30 years, finally discontinuing it in 1980. Nevertheless, its premier price and fixed setup effectively ensured that U73s only made it outside of Germany for one specific (non-broadcast) application — as a final mastering compressor for vinyl-cutting lathes, mostly with an automatic release trigger. TAB even ended up making several versions of the U73 for Telefunken, the most well known being the U73b, used for producing audio recordings mostly, thanks to an added ability to change compression level, as well as external release time control and internal attack time control. Consequently, almost all records recorded and cut in Europe between 1960 and 1980 were mastered through a stereo pair — proof positive that things are not always what they seem!
So there it is. Intriguingly, what was once seen as a must-have mastering tool fell out of favour. Fortunately, times change — as does technology. Thanks to Audified's proven prowess, today the unique sound of the U73b is authentically available to any discerning DAW user as the new and improved U73b Compressor plug-in — perfect for mastering purposes, yet also lending itself beautifully to mixing drums, bass, guitar, vocals, and voiceovers. Vintage-sounding compressed/limited recordings are perfectly possible in this day and age with U73b Compressor, that's for sure!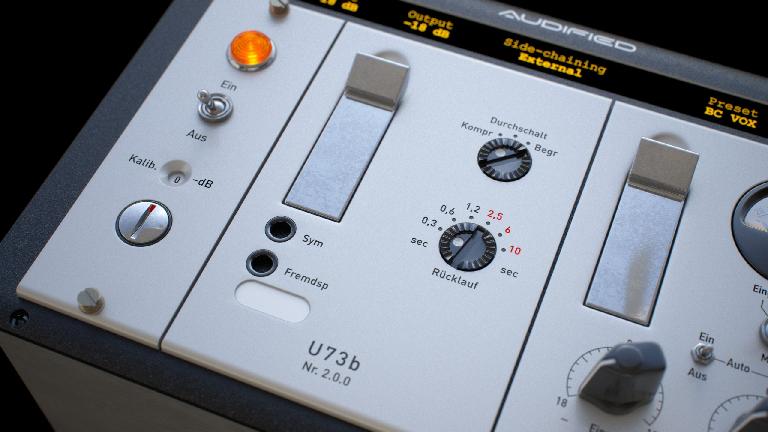 So why not give your recordings a unique-sounding (virtual) vintage makeover, making them sound just like they have been processed by an original U73b? As a creative, convenient, and cost-effective solution, with the second-generation version of U73b Compressor we're sure you'll like what you hear! However, if you don't like what you see, language-wise, now you can change the GUI from German to English. Easy on the eye. Easy on the ear. Just ask Bjorn Thorsrud… with a bachelor's degree in physics and music from the University of Nevada, Reno, and having engineered, mixed, and contributed production or programming to every Smashing Pumpkins record from 1998's Adore to 2012's Oceania, he should surely know what he likes!
U73b Compressor is available to purchase (as an iLok-protected plug-in) for $149.00 USD from Audified's online shop here: http://shop.audified.com/products/u73b-compressor (Customers purchasing U73b Compressor during its first week of sale will also receive inValve Effects and STA Preamp plug-ins — worth $49.00 USD apiece — for free!)
U73b Compressor is available to download directly from Audified from here: http://services.audified.com/download/u73b (Please note that the 30-day trial version does not require a serial number.)