BRNO, CZECH REPUBLIC: software applications, software effects, and hardware processors developer Audified is proud to announce availability of ToneSpot Drum Pro — the third entry into its growing family of one-shot channel strip-style processing plug-ins par excellence that are as easy on the eye as they are easy to use, this time aimed at improving the tone of any acoustic or electronic drums and percussion as another aptly-named Swiss Army knife-style solution, so speedy arrivals at appropriate, professional-sounding results are always assured.
Anyone already familiar with Audified's acclaimed ToneSpot Bass Pro and ToneSpot Acoustic Pro plug-ins with which ToneSpot Drum Pro shares its concept and operational arrangement — albeit as a time-saving means of effective entry to tips and tricks for best drum processing practice via settings based on analysis of thousands of renowned recordings — should immediately feel at home. However, the straightforward signal flow is equally suited to quickly getting newcomers to where they want to take their sound, starting with the Channel button; there users can select whether they want both sides of the signal to be processed, or only the left (L) or right (R) sides.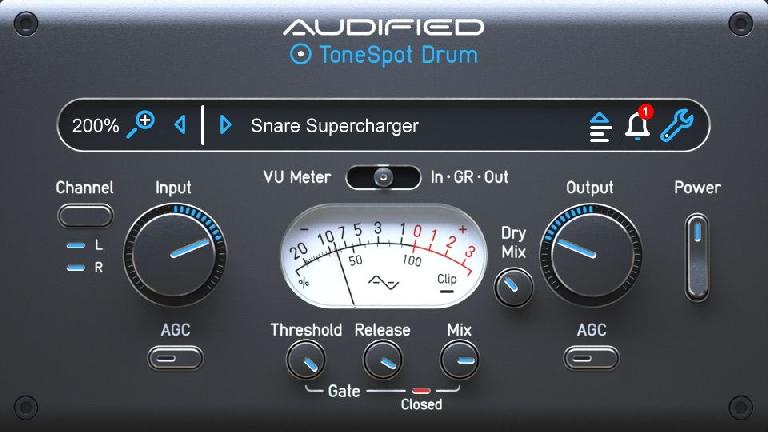 The Input knob allows the input signal strength to be set accordingly; alternatively, pressing the AGC (Automatic Gain Control) button sets the signal strength automatically, based on the calibration settings. Simply select Drum Type — Kick, Snare, Toms, OH (overheads), Room, and Bus — and ToneSpot Drum Pro's processing prowess is already heading in the right direction from the outset.

Onwards towards the desired result, the Character section allows users to change the tone of their drums via three Type — Natural, Modern, and Vintage — settings; there they can also add additional, self-explanatory — Bright, Scoop, or Lo-Fi — Character features, or any combination of all of those settings. The SBG (Sub Bass Generator) section lets users adjust the Cut-Off frequency and also the Intensity of the generator itself to give the tone what it needs. That tone also benefits from the Gate section, attenuating any audio signals that register below its Threshold setting.
Price
ToneSpot Drum Pro is available to purchase for a time-limited introductory promo price of $49.00 USD until July 11, 2019 — rising thereafter to $99.00 USD
ToneSpot Drum Express — featuring the same processing power as its bigger brother, but with a reduced control count — will soon be available to purchase for a time-limited introductory promo price of $19.00 USD — rising thereafter to $49.00 USD — from Audified's online shop.