BOSKOVICE, CZECH REPUBLIC: host application and audio effects developer Audiffex is proud to announce availability of inTone2 — a multifaceted multichannel effects processor, software mixing console, virtual instruments host, and flexible multitrack zonal player for Intel Core Mac (OS X 10.8 or higher) with CoreAudio-compatible audio interface and Intel Pentium 4 or AMD Athlon 64 and newer PC (Windows 7 or 8) with ASIO-compatible audio interface — as of July 16…
Multifaceted may well be an oft-overused word, but it's one that can comfortably be applied to inTone2. Why? Well, its many different features are ideally suited to many different musical applications. So what, exactly, is inTone2? Truth be told, it can be (almost) anything the musical user wants (or needs) it to be! It's a simple jamming tool as well as a sophisticated playback machine. It's a live production mixer that processes multiple audio inputs with studio-quality effects plug-ins. It plays audio files and allows users to play virtual instruments while changing tracks, effects, or instrument configurations in next to no time! Time to take a guided tour, then.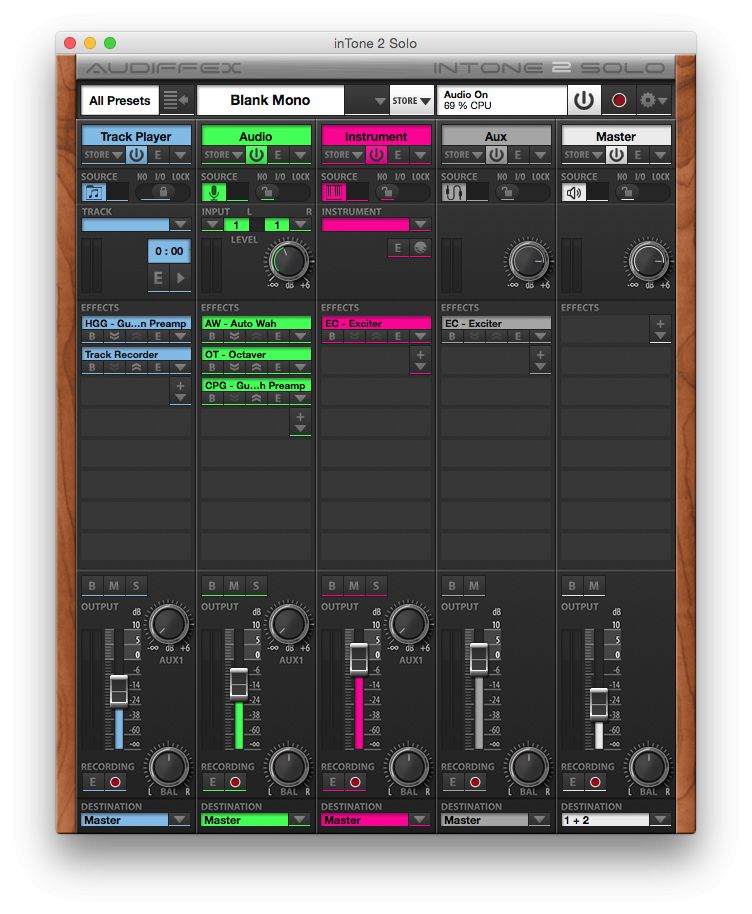 inTone2 SOLO.
Begin by routing any audio interface inputs into an audio chain in inTone2. Each audio chain features a BAL (balance) control; EFFECTS section; volume fader; B (bypass), M (mute), and S (solo) buttons; AUX 1 and AUX 2 sends; and individual RECORDING ability. Any audio chain can be routed to any audio interface output or inTone2's internal Master chain. Simply said, inTone2 acts as a virtual amplifier for electric instruments or live effects unit for vocals. Virtual instruments such as soft synths and samplers of course can also be brought into the musical mix. Moreover, multiple virtual instruments can quickly be made to sound together, thanks to inTone2's ingenious virtual instrument chains.
Cueing up inTone2's TRACK PLAYER reveals an advanced MP3/AAC/WAV/AIFF file player, allowing users to create playlists, change speed and tuning of songs, and loop the playback — perfect for early adoptee Richard Scheufler, one of the most significant musicians in the contemporary Czech Republic music scene. As a multi-instrumentalist, vocalist, composer, music arranger, producer, and — last but not least — teacher, he notes, "I also use inTone2 for teaching my students." Since inTone2 is made by musicians for musicians, music schools, and students, it's hardly surprising that the application is such a good fit for the likes of the talented Mr Scheufler.
Studious musicians — amateurs and professionals alike — almost always need to record themselves, though. Fortunately for them, inTone2 does not disappoint. Indeed, it allows any user to record the audio signal of any track at almost any point in the signal path. Record the whole mix, record the Master chain, or simultaneously record multiple tracks of the live mix ready to mix them at a later date. Daring users can record unprocessed audio or, conversely, can even add a TRACK RECORDER module at any position within the EFFECTS section!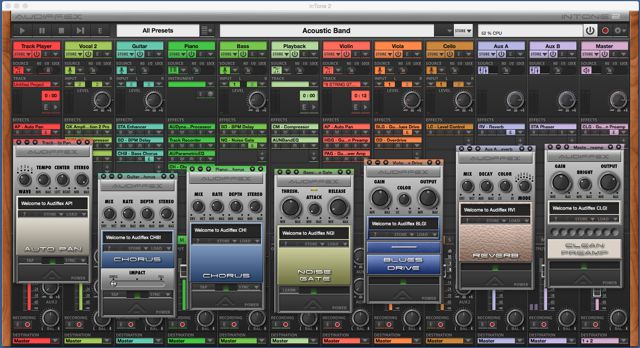 inTone2.
Speaking of effects, every track in inTone2 features eight audio effect slots. Get going creatively courtesy of 36 effects included in inTone2, ranging from dynamic effects to EQs, amp simulations to filters and beyond. Users can easily enlarge their effects collection by adding additional Audiffex plug-ins, including ampLion Pro (aimed at guitarists), GK Amplification 2 Pro (aimed at bassists), and much more besides, as well as AU-, DirectX-, and VST-compatible third-party plug-ins. Plug (in) and play, perhaps?
Players preferring a more hands-on approach can connect any MIDI controller and decide what inTone2 parameters they would like to control live while playing. Turn knobs, move faders, switch effects on and off, change presets… possibilities are endless. Almost.
As implied by its numerical name, inTone2 has history. Who better, then, to take us back to the future than the head of Audiffex's development team, Lubor Přikryl: "When we released our first two sets of guitar pedals, we noticed that there was no application dedicated to live performance, allowing users to chain our effects or those from third parties and then quickly change presets. So we created RT Player, a realtime effects application controlled by a special MIDI controller, and then GT Player, a software-only version of RT Player. At the same time, M-Audio released their first audio interfaces designed specifically for use with guitars. They created a complete live system for guitarists by bundling their Fast Track audio interfaces and JamLab Personal Guitar System with our GT Player software, which proved to be an incredibly successful solution. Later we wanted to extend the live performance software to other instruments and musicians, so we developed the InTone family. InTone Keys was bundled with all M-Audio keyboards, for example, while other variants were bundled with audio interfaces. All of those applications had graphical user interfaces resembling real-world rack effects processors, but this collaborative project ended when M-Audio was acquired by other owners. So InTone2 is, in fact, a completely new application. We abandoned the rack-based interface in favour of a software mixing console approach, developing everything from scratch. There is not a single line of the old code in inTone2, which is much more flexible and versatile than ever before."
While inTone2 represents remarkable value at $49.00 USD, those effectively wishing to 'try before they buy' could consider checking out inTone2 Solo in the first instance, a fully-functional, lightweight version of inTone2 — limited to one TRACK PLAYER, one audio track, one instrument track, one AUX send, and one master chain — for free! Flexibility and versatility comes cheaper than thought possible, perhaps… and all without compromising on quality.

inTone2 for Mac and PC is available to purchase for $49.00 USD and directly download from Audified's online shop here.
inTone2 for Mac is also available to purchase for $49.00 USD and directly download from Apple's Mac App Store here.
inTone2 Solo for Mac and PC can be obtained for free from Audified's online shop here.
inTone2 Solo for Mac can be directly downloaded for free from Apple's Mac App Store here.
Watch well-known Czech Republic multi-instrumentalist, vocalist, composer, music arranger, producer, and teacher Richard Scheufler working with inTone2 here: