Attractive New Overlays For Moog Minitaur and Sirin Synths Will Make You Swipe Left
The Moog Minitaur and Moog Sirin analog synthesizers just got more attractive... literally, thanks to these overlays from Oversynth.com.
Oversynth.com is proud to announce a new collection of overlays for the Moog Minitaur and Sirin desktop synthesizers. The overlays include labeling for the additional functions included in the version 2 firmware for the Minitaur and Sirin. They also include numerous notes from the manual such as how to save presets, set the MIDI channel, explanation of the various EG Release modes, listing the available modulation sources (LFO shapes), etc. As such, the overlays function as a cheat-sheet for all the front panel functions, making it much easier to program them in a live performance situation. The designs use large fonts and high contrast graphics for easy viewing in low-light.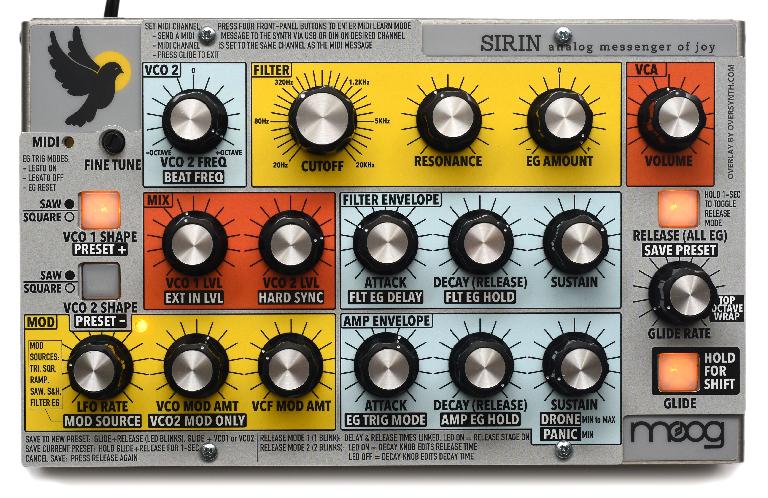 Five designs are currently available:
Blackphase (color-matched to the Minitaur)
Whitephase (black text on white background)
Parrot (color-matched to the Sirin)
Color Map (controls are color-coded based on synthesizer function)
GRNDMTHR (color-matched to the Moog Grandmother synthesizer)
All of these designs will work with both the Minitaur or Sirin.
The overlays are printed on a highly durable, waterproof, and 100% recyclable polyester sheet (not vinyl, fiber, or plant-based). The matte finish is designed to minimize reflections from ambient light for maximum readability. Overlay installation takes 5-10 min and involves removing the front panel knobs and three screws. Complete installation instructions are provided on each product's webpage.
You can watch an installation video here:
Our overlays are custom manufactured in small batches based on customer demand. We ship worldwide from Wilsonville, OR, USA.

Overlays are available now from www.oversynth.com for the Moog Minitaur and Sirin, as well as a variety of other synthesizers such as the Moog Mother-32 and DFAM, Elektron Model:Samples, Korg MS-20 Mini, Dave Smith Instruments Evolver Desktop, and Behringer Neutron.
Learn how to design sounds using Moog synths here.