Ask.Audio Live Lectures & Highlight Reel Videos
Martin Sitter (Ask.Audio's CEO) discusses the recently ended Live Summer MasterClass Series, including Highlight Reel.
I'm a guy that believes in numbers. When I'm looking through our backend stats, it always concerns me when I see a "666" (as in, we had 666 people join Ask.Audio yesterday?!?) and when I see a "123" I marvel at the coincidence of being there just then, at that moment in time. So when I noticed that our Summer MasterClass Series saw 512 students enrol, I took a moment to pause:
512. 16-bits. It's one of my favourite numbers … so I take that as a great sign.
The Fall MasterClass Series Is Announced
Before I get into the Summer Session that's passed, I'd like to let you know that we're going to do it again. Over the next 2 weeks, I'll be announcing a new series of New MasterClasses beginning October 3rd (2016). Just like the Summer Session, the Fall Session will be free. While the lectures have yet to be announced, you can join the Fall MasterClass session now. We're capping this session at 1,024 students, so if you're interested, sign-up soon. I'll send you further information about the lectures once they are announced:

Enrol For The Fall MasterClass Series - Beginning October 3rd!

If you want more information about our MasterClass Sessions, here's a MasterClass I did myself, which discusses the Summer MasterClass Series that's just past. Check it out:

Watch The Summer MasterClass Series Wrap-Up & Highlights
About The Summer MasterClass Session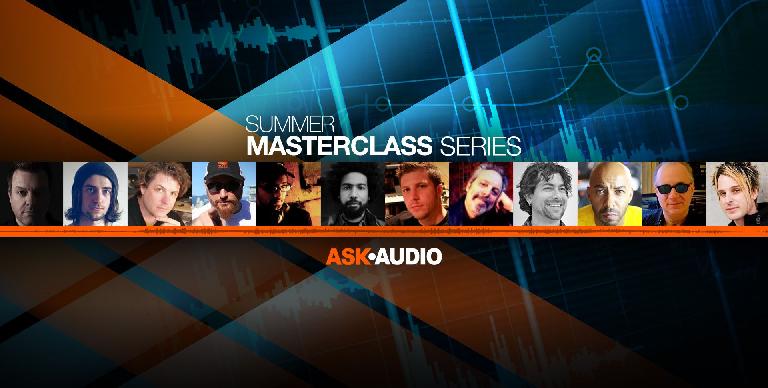 The Ask.Audio Summer MasterClass Series featured 13 Live Lectures with Instructors from the Ask.Audio Academy. We challenged each of these instructors to create a 1-hour lecture on a topic they really enjoyed, and we then streamed these lectures live as students watched. But importantly, our live lectures are 2-way, so students enjoyed the lecture tips, but also got to ask questions along the way.

You're going to see a lot more Live Lectures at Ask.Audio going forward. We feel the opportunity for our Academy members to interact with Instructors is an incredible service. Having Ask.Audio Instructors actually *mentor* you in your music productions is an opportunity you can't get anywhere else. Our Live Lectures provide Exclusive access to some of today's best audio producers and educators - AND THEY ARE FREE!

Live lectures form the centre of the community we're building at Ask.Audio. Here's a video where I talk about this:
Great Moments In Education
Ask.Audio's Live Lectures provide an interactive experience that loads to great moments in education. Because Students can Question and Interact with the Instructor, there is an intimacy in the live lectures you just can't get from watching an On Demand course. It's all about shared experiences, and the single most important thing I noticed about the Summer MasterClass Session is that our engagement metrics went through the roof. We had up to 70 students in each MasterClass, and right from the beginning I noticed that if 70 students started the class, 70 students also finished it. Students almost always stayed right to the end.

The reason our students remained so engaged is that our MasterClasses were jam-packed with incredible moments in education like the ones in this video:
Live Online Classes Are Coming
We ran the Summer MasterClass Session to stress test our new Live Streaming Lectures Technology. We've put a lot of effort into building what I feel is a revolutionary new online learning environment. This isn't a webinar series cobbled together from off-the-shelf services like gotowebinar or Google Hangouts. We built our own streaming servers and we're streaming in FULL 1080P HD, with pristine 128-192 kbps stereo audio. Importantly for a live *audio* education service, our live lectures provide audio that is not noticeably compressed, so our lectures sound as great as they look. No other service comes anywhere close to offering this incredible audio & video quality – we're dedicated to the things that actually matter for your education!

We've already announced out first full, Live Online Class - Logic Pro X For Beginners with Booker Edwards. This Live Class contains a combination of Live Lectures, On-Demand Courses, and Quizzes from our Online Training Library. Students that complete the quizzes and all other class assignments will get a completion certificate.

Sign-Up For Our First Logic Pro X Live Class!

So what's the cost to take this course? If you're an Ask.Audio Academy member, it's included in your Academy Subscription. And so are ALL Ask.Audio Classes that we'll be running (stay tuned). Take ALL the Classes you want, GET MENTORED by our Instructors, and enjoy every benefit our service has to offer – FOR JUST $15 PER MONTH!! If this isn't the best value in education available anywhere, I don't know what is …
The Future Of Ask.Audio Is LIVE!
I love our new Live Online Lectures & Classes, and I know you will too. As any educator knows, "socratic dialog" (or the "back and forth conversation" between student and instructor )is the cornerstone of a classical education. Students need to talk to instructors. Real learning takes mentoring. Having an experienced pro answer your questions is invaluable. The price we've put on it is $15 per month, but the education you'll receive is priceless. Join the Ask.Audio Academy, support what we do, and in return we'll support your development as an artist by bringing you incredible education.

Thanks for supporting Ask.Audio!