Arturia releases Acid V: corrosive bassline machine
Combining Arturia's benchmark modeling authenticity with creative & experimental enhancements, Acid V brings the classic acid sound into the modern production era for today's music makers.
Acid V is a software instrument inspired by the cult-classic Roland TB-303 that pushed the underground into overdrive. Reactive ever-evolving bass grooves, mutated sequences fizzing with distortion, and revitalized rave experimentations await.
Here's what's included
Little box, big bass
A simple synth that changed bass for good, reborn in plugin form with component-level accuracy, capturing the pure sonic essence of a certified classic for today's producers.

In constant motion
Acid V is all about movement; users can instantly spawn jagged polymetric sequences, hypnotic scale-based patterns, and endless sonic mutations.

Rave revitalized
The strobe-lit dance movements of the '80s right through to modern day share the same analog DNA; now it's ready to be manipulated, reinvented, and transformed in any DAW.

A mutated classic
Steer the 303 sound into experimental territory with upgraded features & effects delivering sounds far darker, deeper, and more impactful than the original.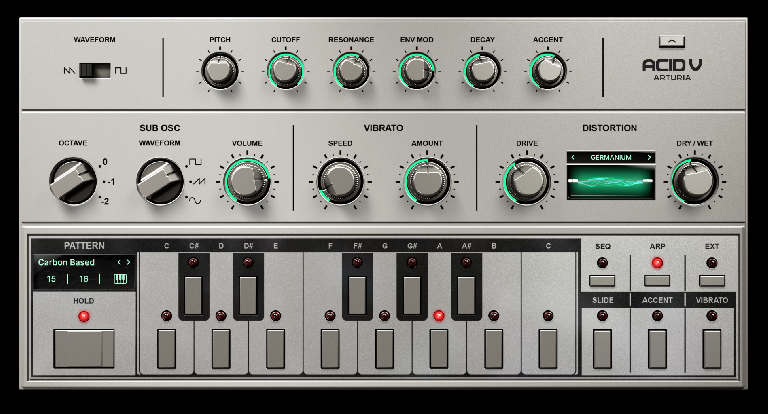 This is no ordinary 303 clone. Acid V has been deliberately mutated with fresh and experimental features designed with explosive sonic reactions in mind.
Acid V: Introductory offer
To celebrate the launch, new & existing users can unlock limited-time introductory discounts on Acid V, plus a bundle with V Collection 9. Users can login at arturia.com to unlock their exclusive discounts, available until September 14th.