Arturia Pigments Review: Painting With Sound
Pigments is Arturia's flagship new software synthesizer, and a true original in its sound and design. Noah Pred thinks it may just be the best instrument he's used in years...
Arturia have made a name for themselves with impressively faithful, largely sample-based virtual emulations of classic analog synthesizers. Having made further strides in recent years with analog keyboards and drum machines of their own, it was only a matter of time before they released a virtual instrument of their own design from the ground up. Despite their pedigree emulating vintage gear and recent forays into hardware, I must confess I was not prepared for just how innovative, well-conceived, and well-executed Pigments turned out to be.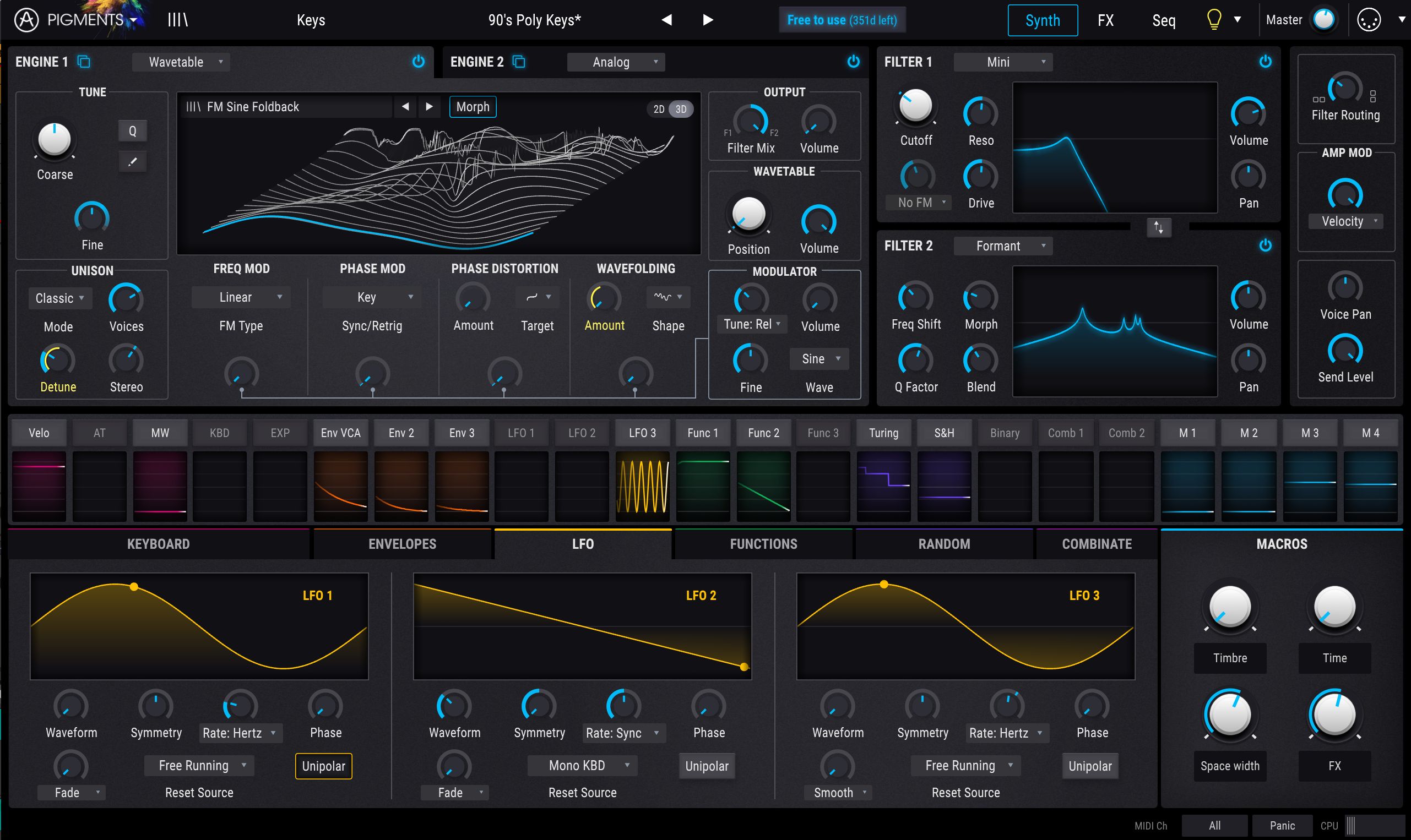 Hundreds of well-organized presets provide a quick glimpse of this versatile synthesizer's potential. Arranged by Type, Style, and Bank, and designed by a range of respected producers, each preset comes with a brief description – along with helpful tips for parameters to tweak to get the most out of each preset. You can easily Favorite presets, and for the truly compulsive organizers, add them to custom Playlists for grouped reference, accelerating workflow when focused on projects in, say, a specific genre.
At its core, Pigments is comprised of a pair of oscillator engines, both of which can be set to either Wavetable or Analog mode. The latter provides a trio of oscillators, selectable from sine, triangle, saw, or pulse, along with a dedicated noise oscillator that sweeps from red to white to blue noise. For added harmonic flexibility, hard sync can be enabled for oscillator 2, and frequency modulation can be applied to oscillators 1 and 2 from either oscillator 3, the noise generator, or a blend between the two. An analog Drift dial provides the sort of pitch inconsistencies typical of analog systems that might be in need of repair.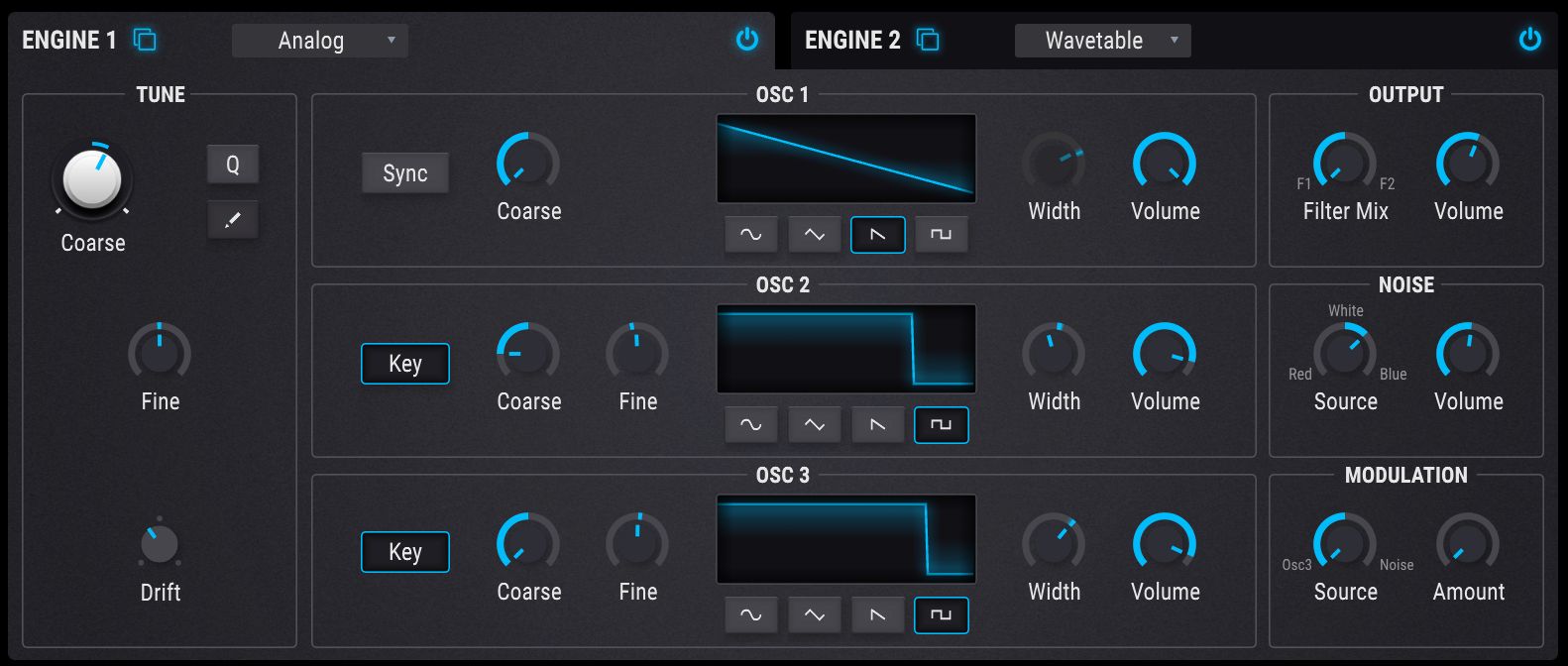 With the huge popularity of analog and modular synthesis, it's no surprise that wavetable has become increasingly popular in the virtual synthesis realm, and Arturia takes full advantage with Pigments. Five Wavetable libraries come included: Building Waves, for more basic components; Natural, for organic recorded tones; Processed, for more digital sounds; Synthesizers, for classic emulations; and Transform, for wilder, untamed wavetables. Better yet, you can easily import any folder of WAV files to create your own wavetables, as Pigments sequentially reads out each WAV file as a series of adjacent oscillators that can be scanned via the Wavetable Position dial.
Sources
With your own custom source material – be it beats, vocals, or field recordings – the import feature alone makes Pigments an incredibly powerful creative tool. The Morph toggle allows smooth interpolation from one wave to the next, while a powerful Unison mode allows for all kinds of voice stacking – with a unique Chord mode to select specific Unison voicing rather than the conventional detune effect. Four dedicated Wavetable oscillator effects provide incredible flexibility at the core of any timbre, easily adding a variety of harmonics for punch and tone: Frequency Modulation, Phase Modulation, Phase Distortion, and Wavefolding. These are all controlled by a dedicated in-line Modulator oscillator, and the resulting transformations are perhaps best viewed in the 2D visualizer, while Wavetable Position adjustments are likely better observed in 3D mode.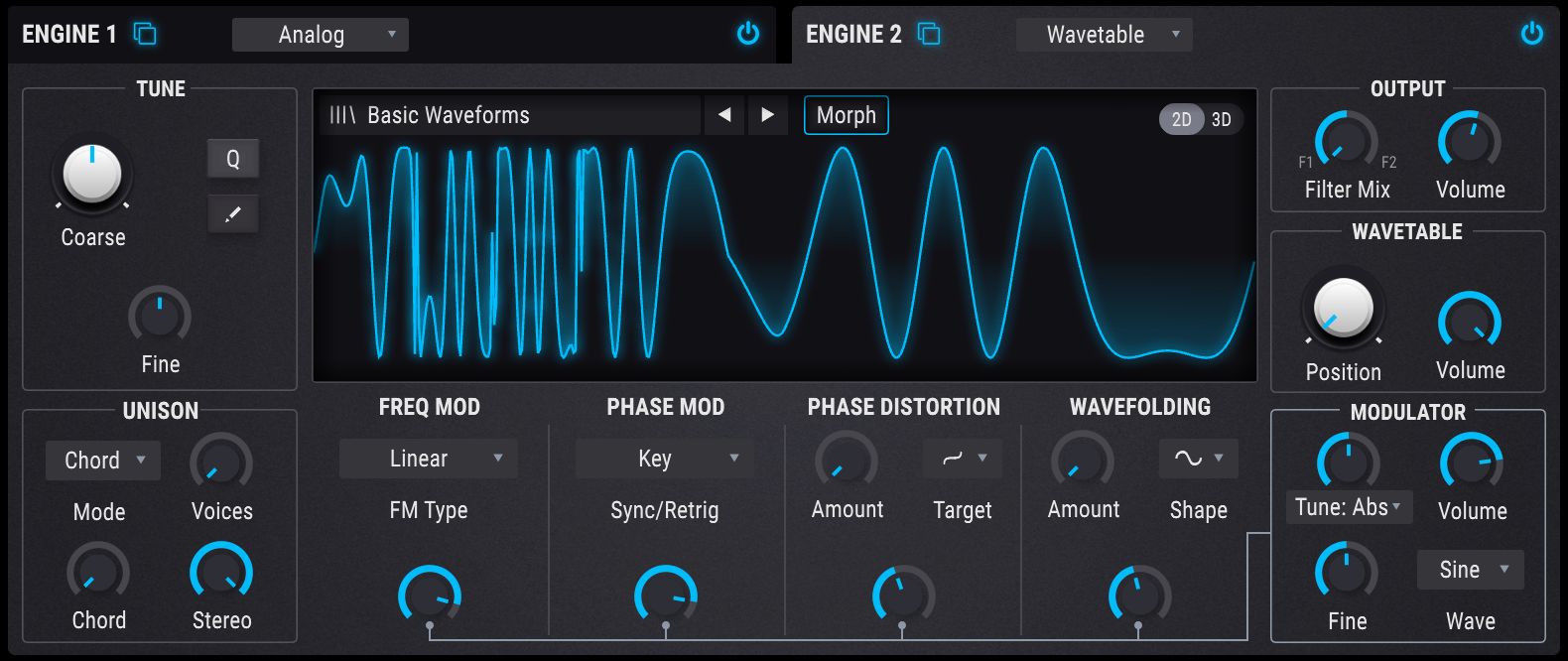 A pair of powerful filters take full advantage of Arturia's impressive programming history, with filter circuits modelled on a number of significant past emulations reproduced here, along with some unique options to boot. MultiMode provides a standard complement of 6- to 36-pole LP, HP, BP, and Notch filters; SEM delivers a morphing filter; Matrix 12 delivers 7 filter types; Mini gives a driven LP; Surgeon is an option for more utilitarian purposes; Comb provides sweepable metallic harmonics; Phaser offers up to 12 poles; while the morphing Formant imposes flexible vocal characteristics as desired. Each oscillator can be routed to either filter or a blend of the two, while the two filters can be run in serial, parallel, or a blend of serial to parallel via the Filter Routing dial.
Powerful color-coded modulators dominate the bottom half of Pigments' elegant and immaculately laid-out GUI. Keyboard functions, three Envelopes, three LFOs, three customizable Functions (much like customizable freelance LFOs – or Envelopes in one-shot mode), three separate Random generators (Turing, Sample & Hold, and Binary), two modular-inspired Combinators, and four Macro dials can easily be assigned to any parameter throughout Pigments that sports a ring around it.

A middle strip between the modulator editing area and the main parameters above show the active modulation sources with a real-time display of their activity; click on one and a color-coded ring appears to click and drag up or down on any parameter to apply it. In this mode, the middle modulator display section shows all current assignments of that modulator, where they can be creatively sidechained to another modulation source selectable from a drop-down menu, temporarily deactivated (a surprisingly helpful function), or deleted entirely.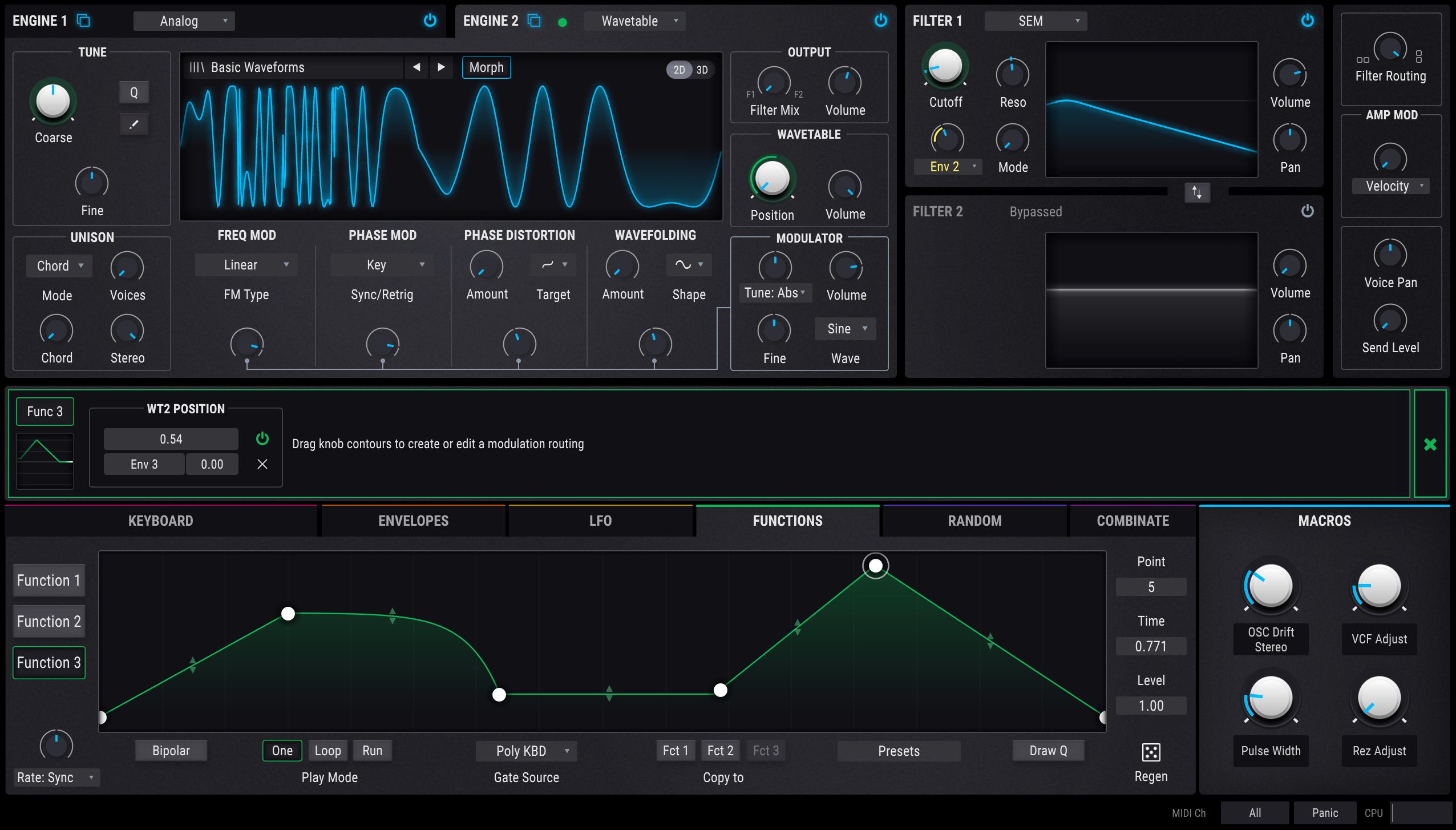 Function 3, customized, assigned to wavetable position, and sidechained to Envelope 3; you can save your own custom Function shapes via the Presets menu at bottom. 

Modes
Using the keyboard input as a trigger for the Sample & Hold delivers a random value with each note triggered that can be assigned as needed. The powerful Combinators allow you to merge any two modulation sources via mathematical or musical functions to make a completely new modulation signal. With the ability to modulate nearly any modulator parameter with another modulator, and sidechain them further, Pigments provides nearly unlimited control for everything from extremely funky rhythmic envelopes to twisted, evolving soundscapes.

Speaking of soundscapes, two insert effect busses and a further return bus can each contain up to three effect units, selectable from Multifilter, Parametric EQ, Compressor, Distortion, Overdrive, Wavefolder, Bitcrusher, Chorus, Flanger, Phaser, Stereo Pan, Delay, and Reverb. Drag and drop functionality allows you to easily swap effect locations to test different signal paths, while the two insert busses can be configured in serial or parallel. All the effects sound impressive, largely bypassing the need for any external processing.
As if that weren't already enough to make Pigments a one-stop solution for all your sound design needs, it also comes with a powerful built-in arpeggiator and scaled, polyrhythmic sequencer. Weighted randomization options allow for the sort of musical idea generation conventionally associated with inscrutably patched modular rigs – but Pigments makes it intuitive and easy.

In the end, what arguably matters most with any instrument is how it sounds – and everything Pigments produces, from thick bass to expansive pads and scintillating leads, sounds rich, full-bodied, and, without hyperbole, fantastic. Thanks to top-notch filters, innovative modulators, great DSP, intuitive yet stylish design, powerful sequencing capabilities, helpful tooltips, and a wealth of other impressively executed features that I have yet to encounter elsewhere left me more inspired than I can remember feeling with a virtual synth in many years.
Whether you're an experienced producer looking for a flexible sound design tool or a beginner looking to boost your synthesis chops with great sound quality along the way, Pigments should be at the top of your list.