Arturia FX Collection 4: Review
Packed with 30 powerful plugins, Arturia's FX Collection 4 offers a wide range of effects to enhance your music production. In this review, we take a look at the new plugins that have been introduced.
Arturia's FX Collection keeps on growing. When first launched in 2020, the collection included 15 plugins. Now 3 years later, FX Collection 4 is a bundle of 30 effect plugins, showing Arturia's prolific output in the world of audio processing. That's a lot of plugins! In this review, we're focusing on the new ones: Rev LX-24, Rotary CLS-222, MS-20 Filter and Dist COLDFIRE.
REV LX-24
REV LX-24 is a recreation of the famous Lexicon 224 digital reverb. Introduced in 1978, this groundbreaking digital reverb became THE reverb sound of the 80s. And now, you can get the same distinctive reverb sound in an affordable plugin… Isn't it a great time for making music?
The interface of Arturia's plugin is inspired by the style of the original Lexicon hardware's controller, complete with sliders and LED display. Responding to customer feedback, Arturia made the excellent decision of eliminating the superfluous vintage 5 1/4 disk, PC keyboard, and mouse graphics that were present on the GUI of the first version of the plugin. The graphics looked cool but were taking too much screen estate. Kudos to Arturia for listening to their customers.
With 8 algorithms to choose from and an array of buttons and sliders, the front panel offers all the controls needed to fine-tune your reverb sound. The Decay, Bass Offset and Cross Over sliders all work together to determine the overall decay time. Initially, we were intrigued by Arturia's choice of incorporating a Bass Offset parameter instead of dedicated Bass and Mid decay sliders like those found on the original hardware. In practice, this decision proves to be well suited for a plugin—the Bass Offset parameter makes it possible to adjust the overall decay time with a single click while maintaining a consistent ratio between the two frequency bands. Very handy!
Note that sliders change position when switching between the algorithms, but you can click on the Lock button if you prefer to keep them in place. Additionally, the Mode Enhancement button applies modulation to the reverb tail, and the Decay Optimization button automatically adjusts the decay based on the audio source. There are also 3 buttons to switch between 3 converter types whether you prefer an authentic vintage vibe or a modern and transparent sound.
While Standard mode is good for quickly setting up a reverb, diving into Advanced mode unlocks more options and offers a modern graphical user interface. All the controls available on the front panel are still there, but the visual display makes it easier to understand exactly what they do. In a way, Advanced mode gives you the best of both worlds: the highly desired Lexicon sound in a modern interface. For these reasons, we prefer working in the Advanced panel.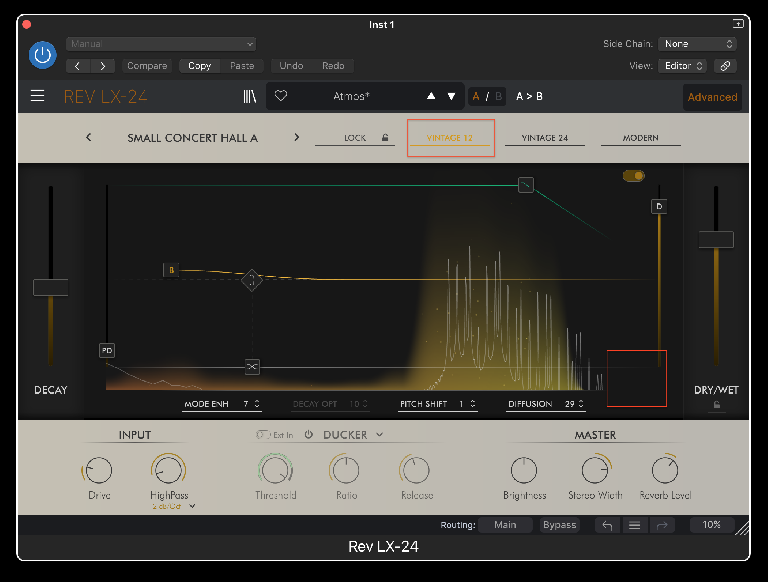 Vintage-12 is the mode to choose to get an authentic recreation of the original hardware in its 12-bit vintage glory! Notice how there's no reverb signal above 8 kHz (no yellow colored cloud) .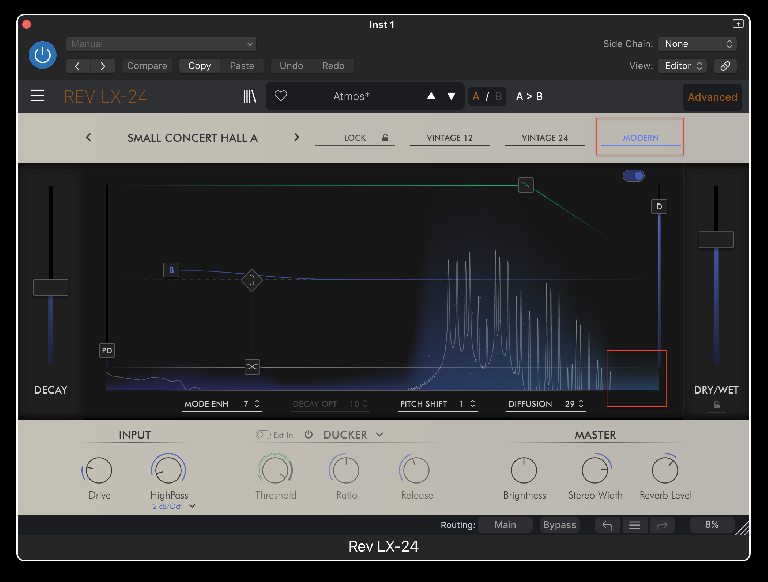 Choose Modern mode for a pristine reverb sound. See how the reverb signal is back above 8 kHz (the blue colored cloud).
One of the additional function available in Advanced mode is the Dynamic section which gives you 3 options. The first is Ducker, which lets you apply sidechain compression to the reverb via the internal source or an external sidechain input. This can be used to duck the reverb when the sidechain signal plays, and raise it up when it stops. A common application of this would be to get a really dry and upfront vocal sound when the vocalist sings, and then automatically increase the reverb signal when the vocalist stops. You would normally need to set up a reverb and sidechain compression effects on a bus in your DAW to achieve the same effect, so this really streamlines the process.
The Tremolo option introduces the ability to modulate the reverb using an LFO for creating unique and unconventional effects. The third option is Gate, an easy way to recreate the classic gated reverb sound of the 80s (perfect for channeling your inner Phil Collins!).
Overall, the Arturia's REV LX-24 stays true to the sound of the original hardware, but improves on it by adding new features and a modern interface. Even if you already have other reverbs in your plugin arsenal, REV LX-24 has the potential to become an instant favorite. And with an extensive selection of presets available (101 to be exact), you can explore a wide range of reverb sounds without having to tweak anything. Other Lexicon reverbs are available on the market, but Arturia's version has the advantages of being more versatile and more affordable.
Rotary CLS-222
Rotary CLS-222 is a recreation of the Dynacord CS-222 rotary speaker emulation. So interestingly, this second new effect is an emulation of an emulation!
For those unfamiliar, a rotary speaker (also known as a Leslie speaker) is an effect commonly used with drawbar organs. By mechanically rotating speakers, it produces a swirling sound similar to a chorus. Recreating this distinctive acoustic phenomenon electronically has always been a difficult task, but the Dynacord CS-222 successfully nailed it... and this is why it was used extensively by legendary guitarists David Gilmour of Pink Floyd and The Edge of U2. However, locating an original rack unit has become increasingly difficult, but thankfully, Arturia's plugin now offers the same characteristic sound in a plugin format.
Arturia's CLS-222 faithfully replicates the controls and look of the original. It features a Pre-Amp section, giving your sound the warmth of optical or valve processing—you can even turn off the rotary effect and use the plugin solely as a preamp to warm up your sound
The Rotary Effect and Speed Control sections enable adjustment of the rotary effect itself. Just like its hardware counterpart, the plugin offers options to fine-tune the stereo image of the effect according to your preferences: Mono, Stereo 1, Stereo 2, and Super Stereo modes. It's even possible to turn that knob past Super Stereo to get an even wider sound.
In typical Arturia's fashion, the Advanced panel gives you even more controls over the effect. This is where you'll want to go to control the high pass filter or to precisely set the speed of the bass and treble, in Hz or in musical values. There's also a small but beautiful graphical display to visualize the effect in real time.
Although this plugin may not find its way into every mixing project you work on, it'll certainly be a good pick when comes the time to recreate the distinctive sound of a Leslie speaker. Don't hesitate to explore and experiment with it. While rotary speakers are commonly used with organs and electric guitars, the CLS-222 plugin can be applied to a wide range of audio sources as synths, drum loops, and even vocals, for some interesting modulation effects.
Korg MS-20 Filter
Korg's MS-20 is known for its gritty resonant filter, so why not create a dedicated filter plugin? That's exactly what Arturia did—and of course, they've added a bunch of extra features to it.
The MS-20 Filter plugin font on the interface is clearly a nod to the debut album Homework by Daft Punk. Although never confirmed, it's widely believed that the Korg MS-20 was used to filter the main lead sound of the French electronic duo's unforgettable track "Da Funk".
So what makes this plugin different than other filter plugins you ask? First, it faithfully reproduces the distinctive sound of Korg's semi-modular synth's 6 dB/oct High Pass and12 dB/oct Low Pass filters. Second, the on-board Distortion can produce some seriously heavy tone, with the option to place the distortion either before or after the filter for completely different results. By cranking up the Peak settings, the filter can self-oscillate, producing a very intense sound. For those who prefer a more controlled experience, there's a Limit Resonance option available, but honestly you'll probably want to turn that safety option off and hear that filter scream! Another thing that sets the MS-20 apart from other filter plugin is the Stereo control that offsets the cutoff frequency on the left and right to create wide stereo effects.
Click on the Advanced tab to reveal plenty of modulation possibilities. The Envelope Follower option reacts to the dynamics of the incoming signal. There's a 16-step Sequencer with Forward, Backward, Back and Forth, or Random playback options. The third option is a Function Generator section which is basically an advanced LFO that enables you to draw custom waveforms by drawing their desired shapes. All these 3 modulation options can be assigned to specific parameters using the tiny knobs located alongside the knobs.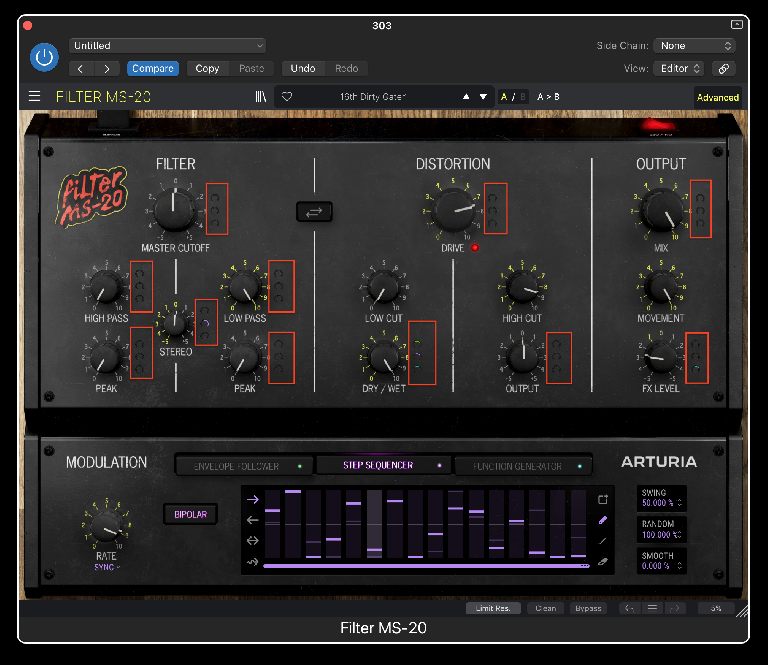 The Advanced tab offers lots of modulation option, including a 16-step sequencer. Use the little knobs next to each control to set the modulation amount.
If you're looking for a versatile and powerful filter plugin, Arturia's MS-20 Filter plugin is an inspiring tool that will fatten up whatever you pass through it. Another great addition to the FX Collection!
Dist COLDFIRE
Last but certainly not least is Dist COLDFIRE. As the name implies, this is a distortion plugin, but why COLDFIRE? Simply put, because this plugin covers all types of distortion, from cold digital bit crushing to warm analog drive. In truth, labeling it merely as a distortion plugin is an understatement, as it's an incredibly versatile plugin.
In contrast to most Arturia plugins, which often seek to replicate famous hardware, Dist COLDFIRE was designed from scratch by the talented Arturia team. Its interface style is similar to the clean and modern design of Efx FRAGMENTS, another original Arturia creation.
First of all, it's a dual-engine plugin so you get two independent distortion paths (A on the left and B on the right) that can be morphed in all kind of cool ways. You get to choose from 11 distortion types: Bit Inverter, Bit Crusher, Wavefolder, Rectifier, Waveshaper, Transformer, Force, Tape, Tube, Germanium, and Transistor. Many of these distortion algorithms offer additional modes, so lots of possibilities there.
There's also a pre and post filter for each distortion path. Note that you'll need to click on the Advanced panel to reveal the filter controls. Doing so will also reveal an incredible amount of modulation options at the bottom. In total, you can activate 6 independent modulation sources that can be set to an LFO, an Envelope Follower, a Multi-Segment Function Generator or a Step Sequencer. Pretty mind-blowing for a distortion plugin. It'd be fantastic if guitar pedals could do that!
And that's not all... there's also a built-in Dynamics section with a choice of Compressor, Multiband or Limiter, plus a Feedback section that can even create delay types of effect. Arturia's Dist COLDFIRE is definitely not your standard distortion plugin. In fact, it's probably the most versatile distortion plugin on the market today. From gentle overdrive to complete audio destruction, it can do it all.
What about everything else?
Now that's just the 4 new plugins added to the collection, but in total, there are 30 plugins included: five compressors, four filters, three delays, five preamps and EQ, six spatial and reverb plugins, three distortions and four modulation plugins. There's a lot of focus on emulating vintage hardware, but Arturia always adds a modern twist and new features to their recreations. Also, all plugins in the Arturia Collection now support Apple Silicon, and they all have a hi-res resizable 4K interface.
Conclusion
Even at its full price of $499, the FX Collection 4 is a good deal, but with the current promo offer of $299 it becomes an incredible bargain. You're essentially paying around $10 per plugin, which is a huge saving compared to purchasing each plugin individually. For this reason it's really worth getting the whole collection if you're a new user. For those who already own a previous version of the FX Collection, simply log into your Arturia account to discover your personal upgrade rate.