Arturia Debuts MicroFreak, PCB Synthesizer With CV, Pressure Sensitivity And Sequencer
This cool little synth, just announced by Arturia, has a pressure sensitive playing surface, multiple synth engines and it's more affordable than you might expect. Here's the lowdown.
At NAMM 2019, Arturia has announced a brand new, ultra-portable hardware synth and it looks pretty darn cool. The best of both worlds, MicroFreak combines a multi-mode digital oscillator with a fat analog filter for an amazing blend of cutting edge and time-tested sound.
"That's a funny looking keyboard"
That's right, it is. It isn't really even a keyboard. It's a PCB. Super-flat, with no moving parts. Will it track lightning-fast synth solos? You bet. Better than a traditional keyboard, actually.
Will it let you be expressive? Of course, it's not only pressure sensitive, but also offers poly-aftertouch. This means each key can control parameters in a different way depending on how much you touch.

You can also use its USB, MIDI, and CV outputs to control instruments in your DAW and modular synths. This also means that you can also use MicroFreak as a controller to experience polyphonic aftertouch with cutting edge software instruments.
PCB KEYBOARD
MicroFreak isn't your average synth. It has a flat PCB keyboard with pressure sensitivity and polyphonic aftertouch. Easy to play, and lightning fast. It's got a wild "Spice" and "Dice" sequencer, and CV connectivity so you can wire it in to your modular rig.
MULTIPLE ENGINES
The awesome MicroFreak oscillator has multiple engines, including Karplus-Strong, Wavetable, and Virtual Analog. We've also teamed up with Eurorack legends Mutable Instruments, and MicroFreak includes the inimitable voices of their Plaits module with added paraphony.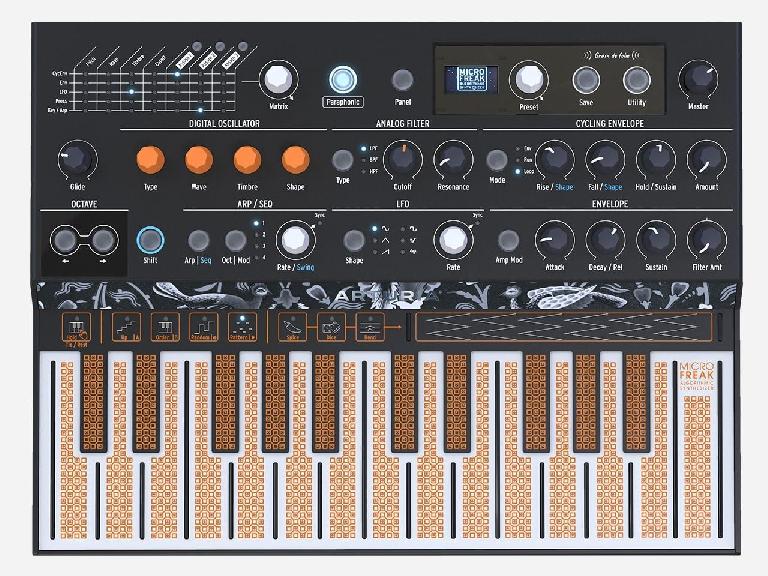 Main Features
Synthesizer with 192 preset slots and 128 factory presets
11 Digital oscillator with variable mode, including collaborations with Mutable Instruments
Analog State Variable Filter, 12dB/octave, resonant, Low Pass, Band Pass, High Pass
ADSR envelope
Cycling Envelope offering two modes
Envelope
LFO
LFO with Sync: Sine, Tri, Saw, Square, Random, Slew Random
Modulation matrix with 5 sources and 7 destinations (3 custom destinations)
Monophonic or Paraphonic modes - Up to 4 voices
25-key capacitive keybed with polyphonic aftertouch
Capacitive touch strip
Crisp OLED display for editing and parameter values
Powerful arpeggiator
Up, Order, Random, Pattern modes
Spice & Dice Gate randomizers
64-step sequencer
2 patterns per preset
4 automation tracks per preset
CV / Gate / Mod outputs
USB, Clock and MIDI in and out
6.35mm master and 3.5mm headphone output