Arturia AudioFuse: First-Look Video Overview
Arturia's long-awaited audio interface, AudioFuse, is finally here! We've never seen so much interest in an audio interface so got hands-on with this first-look video to see what makes it so special.
First introduced at NAMM in January 2015 the AudioFuse is the first audio interface from Arturia and has, evidently, taken a while to get to market. We'd guess there's been a lot of perfecting, testing and quality control going on behind closed doors and at first glance this 24-bit USB audio interface looks like it was worth the wait.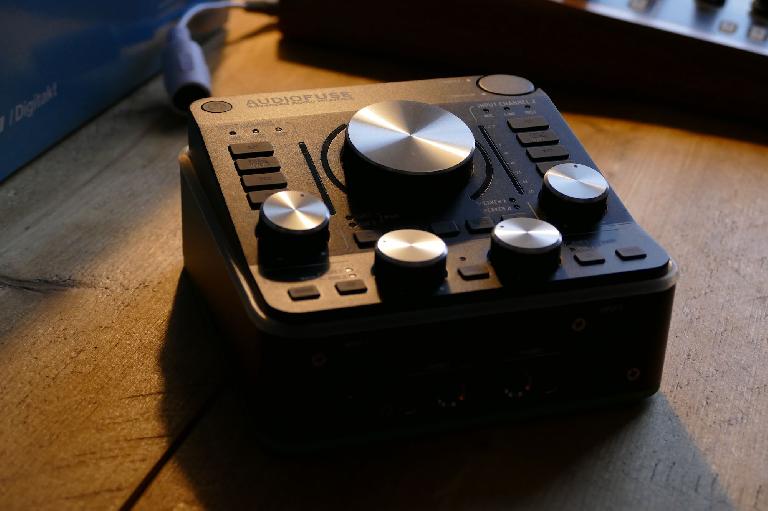 We've had the AudioFuse in our hands for just a few hours and felt we had to make an unboxing / overview video of one of the most eagerly awaited audio and MIDI interfaces we've come across.
Check out the first-look Arturia AudioFuse video below:
Size It Up
One of the first things we noticed when holding the AudioFuse is how easy it feels to hold in one hand. At the same time it's solid, a little on the chunky side to accomodate all the controls and connectivity ports, and obviously well constructed.
When you consider how fully featured this unit is in terms of controls and connections it's impressive AudioFuse isn't heavier or bigger than it is. When compared to an Apogee Duet 2 the unit isn't as long, about the same width and obviously taller. But there's no need for a breakout cable: you simply attach your devices and cables direct to the AudioFuse.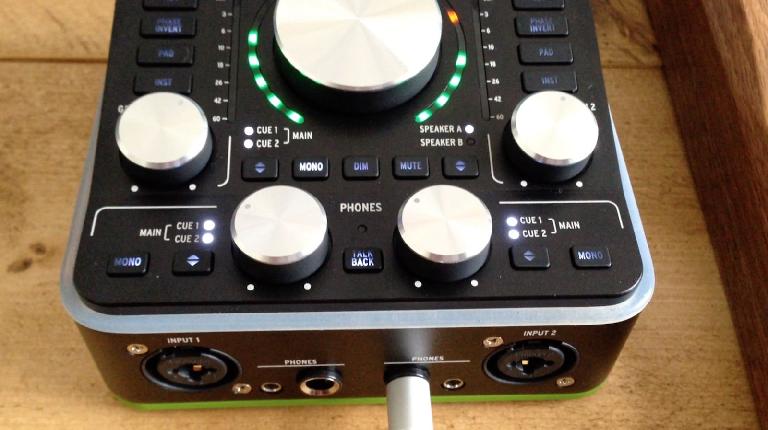 The base of the AudioFuse is rubber which means it won't slip on most desks or table tops. Another interesting addition is the cover. This leather based cover goes over the top controls panel of the AudioFuse - great if you're popping it in a bag or don't want wandering hands to adjust controls. And all the ports on the front and rear are open so you don't need to discconect your entire studio in the process.
Something For Everyone?
The AudioFuse is a 24-bit USB audio and MIDI interface. It comes with two MIDI adaptors that allow you to connect standard MIDI devices to the unit itself. It can handle a sample rate of up to 192 kHz which is what you'd expect for the price and comes with Wordclock, S/PDIF, ADAT, two XLR TRS combo ins, phono inputs, line ins, two lots of headphone outs with levels that can be controlled independently, two pairs of speaker outs, and more (see the specs on the Arturia website).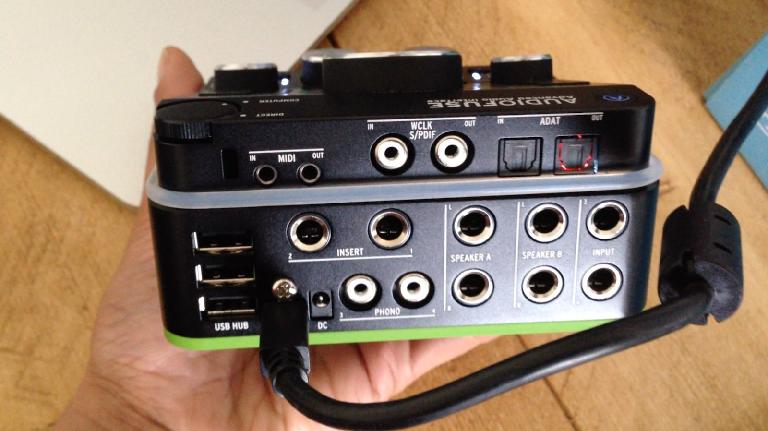 For such a small, portable interface, Arturia have tried to make this a one-stop solution for a wide variety of music studio needs. Whether you're a recording musician, producer, DJ or MIDI synth player, there's something here for everyone. I particularly love the inclusion of 1/4" and 1/8" headphone sockets on the device itself. After all, how many times have you misplaced that 1/4 to 1/8 adaptor, eh!
I should also mention Arturia tells us AudioFuse works with Mac, PC, Linux, iOS and Android. I've only had a chance to test Mac OS so far and it's been flawless.
Plug It In And Go
With so many controls on top of the AudioFuse I was pretty excited by the prospect of not needing to download lots of software to get this setup. I'm not knocking the utility of said software provided by other audio interface companies, but when things go wrong with an OS, DAW or computer software update a worthy audio interface that won't function because its software won't work properly is beyond frustrating. No worries for the AudioFuse on this point though. Plugging it into my Mac was as simple as can be. The included USB connector does have two USB connectors, so make sure to plug the one into your computer with the thicker cable.
Other than that, on a Mac running Mac OS 10.11.6 El Capitan I plugged in the AudioFuse (without the AC adaptor), it powered on, was listed in the Audio MIDI Setup immediately and recognized by Logic Pro X within seconds. Once I'd selected the correct input in Logic, audio was coming through cleanly and I was able to adjust levels and gain controls directly on the unit itself.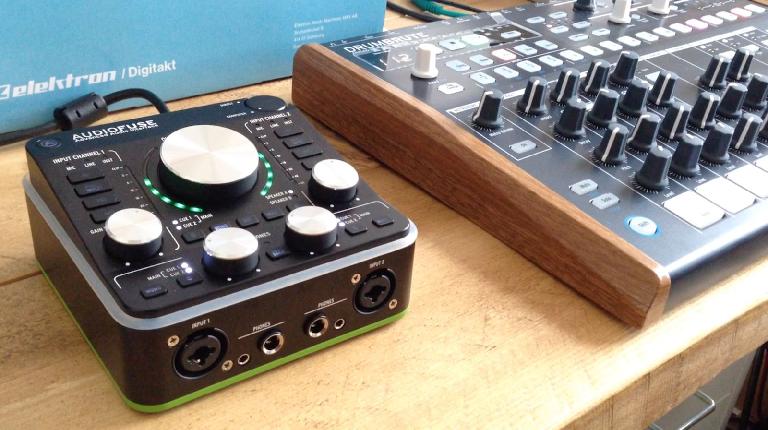 In terms of audio quality, at 44.1kHz recording the DrumBrute analog drum machine sounded as good as I expected it would. I've tested out a couple of microphones and the preamps feel quite flat, low-noise and haven't added extra color which isn't present to the overal sound.
One Touch
If you connect XLR or instrument cables to the inputs one and two on the front of the AudioFuse it'll intelligently recognize the source.
AudioFuse has a useful TalkBack button which uses a built in microphone to feedback the producer's voice to headphone-wearing talent. A nice touch.
I can't stress enough how much more enjoyable it is having a button or a knob available for a function at your finger tips. Personally, the last thing I want when recording is to trawl through software menus or put my instrument down in order to adjust a setting on an audio interface using more than one hand or multiple taps or presses. And by including most every function you can think of with its own dedicated button on AudioFuse, Arturia have removed that potential for distraction from the recording process.
Verdict?
This is not a review of the Arturia AudioFuse. It's a first impressions article after an hour or so. I need to spend more time playing with AudioFuse before passing any kind of verdict. But my first impressions are positive. So far, I really like it! AudioFuse has the audio interface design and functionality on the unit I've been wanting for a long time. AudioFuse is not only nice to look at, but it gives you access to every control you might need on an audio interface while recording. And so far the recording quality hasn't disappointed.
In all honesty, I'm hoping Arturia don't ask for this unit back too soon as it has quickly found its own spot in my studio setup. Either way, I'm seriously considering buying an AudioFuse when I'm done with this review model.
Stay tuned to AskAudio for a full review after a more extensive test in the near future.