Eating noodles, social networking, and recording & mixing music are activities many of you reading this can probably relate to. And so can Callie and Dave Moore, the creative duo behind Callie Moore music. Their deep and touching guitar-based songs have been hugely popular, thanks in part to the music itself and their intimate video-blogs on YouTube. In fact, Callie's YouTube Channel has garnered over 77,000 subscribers and in excess of 4,000,000 video views in little over a year-and-a-half!

I caught up with Callie and Dave to talk about their music, music videos, success on YouTube, the tools they used to create their music & videos as well as their love of macProVideo.com, and so much more...
Rounik Sethi: To those who haven't heard you before, how would you describe your music?
Callie Moore: Well, the album that we have out now, Zen Garden, is very folky. It's kind of jazzy/folk with some Latin percussion to it. I took a lot of inspiration from Ani DiFranco for that album. Since then, to be honest, as far as my style [since then] Dave will often get frustrated with me saying, "How are we going to make an album, Callie?" These tracks are all so different!' So, I have so many huge influences from different genres that I just create whatever comes out. I love all sorts of pop, rock, bluegrass and jazz... So we just have a lot of fun.

RS: That's very varied! Are there any artists that helped you define your sound on Zen Garden?
Dave Moore: I think on Zen Garden Ani DiFranco is probably one of the most key influences on the whole album. In fact that whole album has a lot of consistency to it. You could also look at some of the finger-picking style artists we've seen over the years as having inspired us.

CM: Honestly, I'd say Ani DiFranco is the biggest influence on the first album. I feel that since we've put our album out there and started our YouTube channel my music has almost totally changed and the influences have just broadened.

RS: So, I'm embarrassed to say I'm not familiar with the music of Ani DiFranco...
CM: Well, that's ok! (laughs). She is an indie artist who's put a huge stamp on folk music. I feel like she started a whole indie movement showing people that she could succeed without being with a big record label.

DM: In fact she's one of the most wealthy women in the world because of how well she's done through her career with her own record label, Righteous Babe.

RS: Thanks. Callie, I believe your father is a musician, too. How did that shape your musical background?
CM: Yes, my father is my hero. He's awesome. While growing up ever since I was born he's been in all sorts of bands. He's always played music. He plays the guitar, mandolin, fiddle (mainly!) and has played in bluegrass bands, western swing bands and rock bands, too. So he has a very versatile music taste.

He's always been my hero and number one fan at the same time.

DM: And he's also a full-time musician. It's what he does for a living now.

RS: And what about you, Dave? Tell us about your musical background and what you play now.
DM: I play a lot of Latin percussion instruments, drum kit, electric guitar. I can fiddle around on the bass and usually come up with decent hooks to add to or build songs from. I think that really outlines most of the instruments I play. There's other stuff that I pick up and play, like mandolin...

CM: Dave has a fantastic musical ear. He's really good at coming up with hooks and riffs on any given instruments that sound awesome. I'll often add things into songs that he came up with.

DM: Callie makes it into songs, where I just make it a snippet of something that sounds cool and never goes anywhere. (Laughs)

RS: Sounds like a very organic composition process: You both come up with ideas and fuse them together. Would it be right to summarize it in this way?
CM: Yeah. And it's really grown to be that because it's hard, as a songwriter, to trust somebody else coming into my composition process. When we were first married it wasn't so much like that. For the first album I wrote all the songs and we had an opportunity to record it and we had no idea what we were doing with the process in the first place. But I just said this is what I think we should do. It was mostly me saying we should have this and this and Dave would suggest adding a drum kit and other ideas. But honestly, it took me a while to let go more, and it's become more wonderful since I have. Now, it's a more enjoyable process and we create better songs than I could just by myself.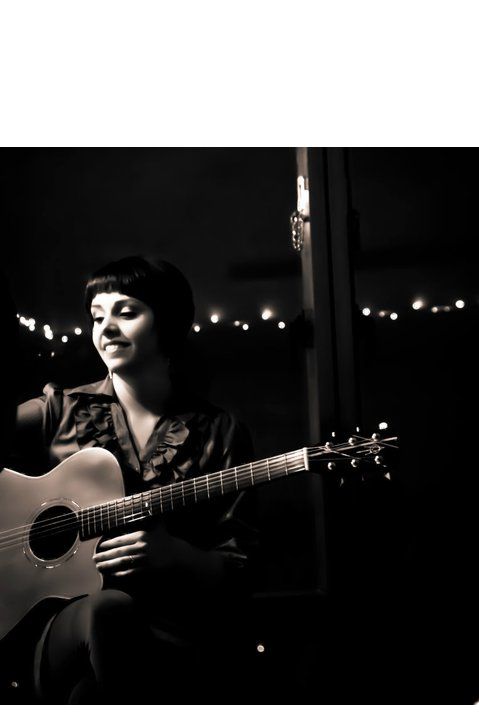 RS: Thanks. Do you want to add anything to that Dave?
DM: Well, I think something of interest is that when Callie and I first met and began getting together musically it was more like a musical competition. (Callie and Dave laugh!) We'd compete with licks and different types of styles and playing. I think as we got closer and closer and ended up getting married some of that traveled on with us for the first years!

I somewhat gave up and put the guitar down for couple of years and picked up playing Latin percussion instruments because I worked for a Latin percussion company at the time. I absolutely loved it. I'd always wanted to be a percussionist, spending time playing drums and focusing on other things. And that really helped Callie accelerate and at that time she began writing a lot of the songs that are now on Zen Garden. So, as far as our history goes, there's some unique attributes to how it all comes together in the end on the album.

CM: I think a lot of people, like our YouTube audience, will look at us and think, "Oh, it's so perfect and they just were meant for each other and they fit perfectly…" It's so funny. It took a lot of work to be in a really comfortable place where we create well together.

RS: Wow. I'd never have guessed! Well, talking about YouTube, since Zen Garden was released it looks like your channel on YouTube has literally taken off! Did you anticipate such a large following in such a short space of time?
CM: Well... What happened was... I was working on the album, Zen Garden, which was a rough process and actually took two years to make and it was released in June 2010 and at that time I didn't even have a YouTube channel at all. So, I thought maybe I'll release a music video and a few people will come listen to it... Now, I have some famous relatives, i.e. the Shaytards. I knew they had a huge audience and would help me, which was great... but I did not expect what happened to happen!

So, the first music video I put on YouTube wasn't even a song from the album, but was a cover of Eleanor Rigby by The Beatles. We just did it for fun and made a music video. And then Shay (on the Shaytards channel) gave me a shout-out. Then from nowhere I was flooded with thousands of people. I don't know. Maybe I didn't understand the magnitude of what the Shaytards were doing on YouTube. I knew they were huge and popular but it didn't sink in that so much of their audience would come and listen to me.

I was so blessed. It was an amazing thing to have their help and they were wonderful. But immediately I was overcome with this feeling like, 'What? People are listening to me and they actually care?" So, I thought I have to do some more music videos and keep these people interested. This is so valuable that people care what I'm doing with my music. So we immediately started Vlogging. We didn't really know what we were doing, we were just having fun. But people started feeling like they got to know us and our daily lives and it's been a cool experience!

DM: And before we knew it we had 75,000 subscribers.

RS: Wow. And you've got over a million channel views, too. This is quite a success story so far.
CM: Yeah!

RS: That's incredible. And this is basically just from being yourselves, having fun, making good music and music videos!
CM: I never realized what daily blog or vlogs could do for you. I thought: Oh, people don't want to see my daily life... see us shopping for guitars and sitting at home eating food. That's not interesting. But so many people watch those and they feel like they know me and, in some cases, I'm their friend and it makes them more interested in hearing my musical progress.

RS: Wow. Well, I guess if they knew you were eating noodles last night then noodle-lovers would definitely feel a lot closer to you.
CM: (Laughs!) Exactly!

DM: It's fun too because if they're locals then they kind of know where we go and they start finding ways to contact us and they start recognizing us in the subway. In a restaurant or in a mall.

RS: Really?
DM: Yeah. We've been recognized a number of times... even right outside of our house. Here in Singapore, after the first few weeks we actually threw a Christmas party and we were blown away with how many people showed up to a small house concert. We definitely didn't have enough room! We had to split it into two days as we had to reject more than half of them on the first day. It was great fun.

RS: So has YouTube been your primary way of connecting with your fan base then?
CM: It has. It's been the only way thus far.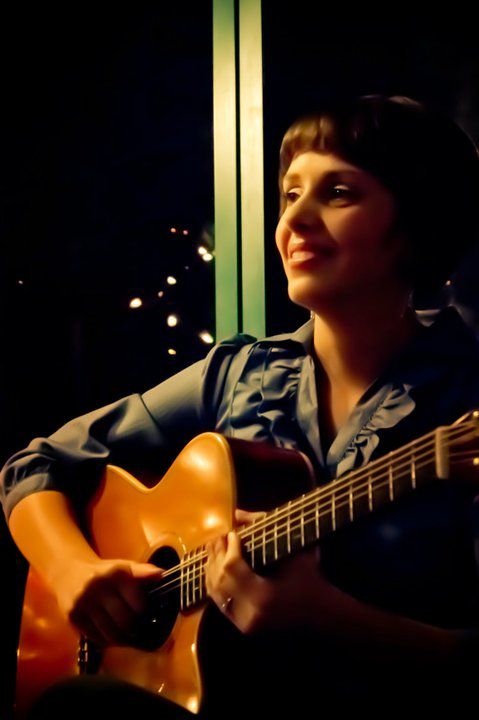 RS: And I've been following your Twitter account, too.
CM: Yes, which started as soon as we started YouTube. Everybody was asking if we were on Twitter so I thought I'd better start that up as well!

DM: And then it was pushing Facebook too, doing some additional things there. You don't want 60,000 people following your normal, personal account so we created a fan based page. So there's been some learning experiences to say the least!

CM: When I first started Twitter I thought isn't that just the same thing as Facebook is for... now I'm totally addicted to Twitter!

RS: So, do you find it a problem being recognized when you're out and about?
CM: I haven't had any issues with it thus far. Pretty much every time it happens I think it's so neat! If someone recognizes me, on the bus or somewhere... every time it happens I feel so lucky and have so much gratitude towards this person caring to watch my videos and support me. I try to take the time to have a conversation with them.

DM: I think if we were the size of the Red Hot Chilli Peppers it might get annoying that everywhere you go you have 600 people following you. We don't quite have that yet. (laughs)

CM: Who knows! And who knows if we'll ever get sick of it.

RS: Cool. I want to talk more about your music... I've listened to some of your songs on YouTube and love the inspiring lyrics and sensitively played and arranged instrumentation. At the same time it feels like a lot of production has gone into it... Can you tell us about the hardware and software you used to make your music?
DM: The album was recorded in a small and simple home studio which basically comprised of a Pro Tools LE rig and stock preamps. We used a number of different microphones but the one for vocals we really settled on was the RØDE K2. Since then we've built up a larger selection of mics, but the K2 had a surprisingly decent sound.

Other than that we used Mackie monitors, simple overheads: SM81s, SM57s, SM85s. Then as we went on to making our own stuff we began recording in our apartment in Utah. We bought Logic Pro which turned out to be the saviour for us to understand how to produce our own music and record. Fortunately, a lot of the tracks we made then with inexpensive mics (overall a very inexpensive setup) people really liked! It came out OK for YouTube!

RS: So a lot of people talk about Logic's 'steep learning curve'. So how did you tackle it?
DM: Well it started out with trying to use YouTube videos to get started. And by the time we came to Singapore you know there was a lot of stuff we just didn't know. In fact we'd produced about 12 songs without using any kind of book or video-based learning.

CM: Lots of trial and error!

DM: Yes. When you listen to the music you can hear it in and out. Once I moved here and we bought the new setup, running Apogee convertors, Universal Audio Pres and compressor, Avalon units, Neuman mics, etc. which helped improve our sound. But besides buying all the new gear the biggest difference—and I don't mean to be cheesy or anything or to try and sell it—was really signing up for the online training through macProVideo.com!
It made all the difference to the production of our music, simply because there were so many tools I didn't know existed. And even if I saw them as options I didn't know how to use them or utilise them! Just the simple Logic 101, which is something like 200 videos... and there's some really core content to give you the tools to manage your music; how to record properly, mix properly, etc.

I was like a carpenter with no tools before. All I had was a hammer, and there's only so much you can do with a hammer... I mean you can cut a board in half with a hammer if you try it long enough, but it ain't pretty! (laughs)

That's how I'd describe how our music was before compared to now you know... I had a hammer before but now I have the entire wood-shop!

RS: Well, we're thrilled to find out that you're macProVideo customers! And of course we're happy to know we're helping to facilitate your creative processes. That's what we aim to achieve!
DM: There are so many people we engage with on YouTube as well. I can hear the differences between somebody that understands how to their music creation tools and someone that doesn't, and I have no problem advising them to take a look at the videos at macProVideo.com! Like our brother-in-law who's going to be starting off doing recording as well. In fact we're recommending macProVideo.com to him!

RS: Thank you so much! Well, I wanted to talk about your music videos, too. Yesterday I saw the video for your song October on YouTube. Beautiful song! What's your process for creating your music videos?
CM: Well, when we first started music videos there was a lot of trial and error. We used iMovie which was pretty easy for Dave to figure out. In fact, I think there's probably a lot of women who could identify with this... I was just this girl writing songs who didn't know how to edit video, even with iMovie I felt so intimidated! I'd sit there next to Dave and watch him edit and I thought I could do some of it, too. Slowly it got to the stage where I figured out iMovie and got to do all the editing... My poor, wonderful husband has a full-time career!

It got to the point where we upgraded to Final Cut Express and only just purchased the new Final Cut Pro X. It's amazing to watch the Final Cut Pro X tutorials (by Michael Wohl) for me... I was an intimidated girl who's now learning new software. I never thought I could do anything like this before. I love that the videos are so short and thorough and I can find the one little topic I need to know... They're great. I'm actually now enjoying editing videos and feeling really confident about it. When Dave comes in the room and says "Wow, what are you doing there? I don't know what you're doing", and I'm thinking Wow! Look at me! (laughs)

DM: Yeah, basically what took me about 6 months to figure out—which I didn't know if I was doing it right or not—only took Callie 3 days to figure out with the help of your Final Cut Pro X tutorials! You know if you want to be productive, you need the right tools!

RS: So, you had this competitive streak when it came to your music, does that extend to the videos, too?
CM: Umm... No, it really doesn't. Dave is...

DM: ... Too busy? (laughs!)

CM: He's happy to lay as much as he can on me now. When we moved to Singapore it was a big change for me as it was the first time that I didn't have a full-time job and that I could focus entirely on music. But, from the beginning with video, Dave has been really good being the videographer and working the camera and suggesting shots. It's an area we work pretty well together.
RS: Well, the videos are certainly well-shot. Does it make it easier for the editor?
CM: Yeah! One of the first videos we made was for our song Being Alone. We went down to the parking garage. I thought it would just be of me singing , you know at several different angles! Then Dave suggested I stand there and dance around the drum set a little bit. I was like, what??

DM: That was one of my faves. We shot it in a basement parking garage at 9.30 at night. There I am playing drums and people coming down out of our elevators not knowing what is going on!

CM: We didn't have a plan. It just happened!

DM: Perfect. It was just perfect. We shot it on the spot and everything worked well.

CM: Except I didn't know I could be embarrassed in front of my husband until we began filming and he says, "Why don't you walk over and have this sassy attitude and dance around the drum kit?" I was thinking, 'What?? OK. I'll do my best!' It was fun!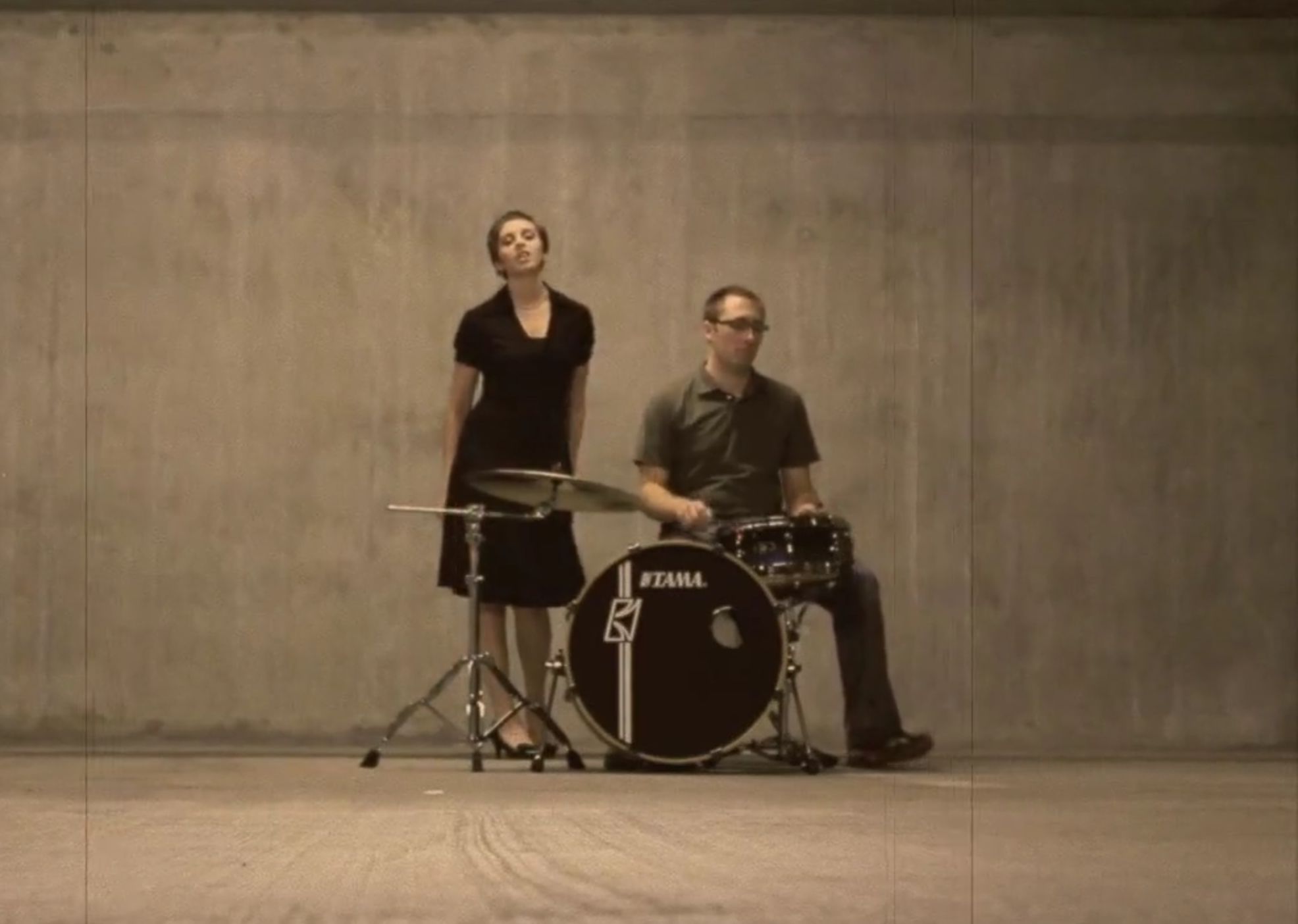 RS: Many of your songs feel like candid, personal stories. What's your songwriting process? Do you go for lyrics first or melodies first?
CM: It happens for me differently always. But, if I have a great guitar line and I come up with a few lyrics that fit, if they don't have any meaning to them I'll start over even if the song is almost complete. I do put a lot of emphasis into lyrics, but it happens always differently. Sometimes words just pop into my head and I write them down, sometimes I'll start with a melody, sometimes I'll start writing a song in the middle... But the best tool I have for songwriting is my iPhone. There are so many random videos recorded of me on my iPhone of just singing some melody that just comes into my head. I try not to let these ideas escape and I've built several songs now that way.

RS: So, the new album... Tell us more about it! Will it be similar in style to Zen Garden?
CM: It'll be very different from Zen Garden.

DM: So, you asked earlier whether our competitive nature spurred on over into the competitive realm. Where Callie and I work really well together is that I put more emphasis on our audio production and direction in terms of recording, etc. She puts more emphasis on the video and focusing on the attitude, design and editing of the video. With this album we have used electric guitar, acoustic drums, electric bass. The style is more towards (laughs) a variety of different sounds! Can we name one or two of the songs?
CM: Yes!

DM: We have one song from the album called Half-life and it sounds like something you might hear from Radiohead but with a female influence. The lyrics are pretty deep. Then you have the stark difference between that and a song we've just tidied up which we're considering getting some horns on. The song is called Revolution and it's pure jazz but brings in a mixture of rock and jazz. It could be compared to something that Colbie Caillat or Jack Johnson would put out.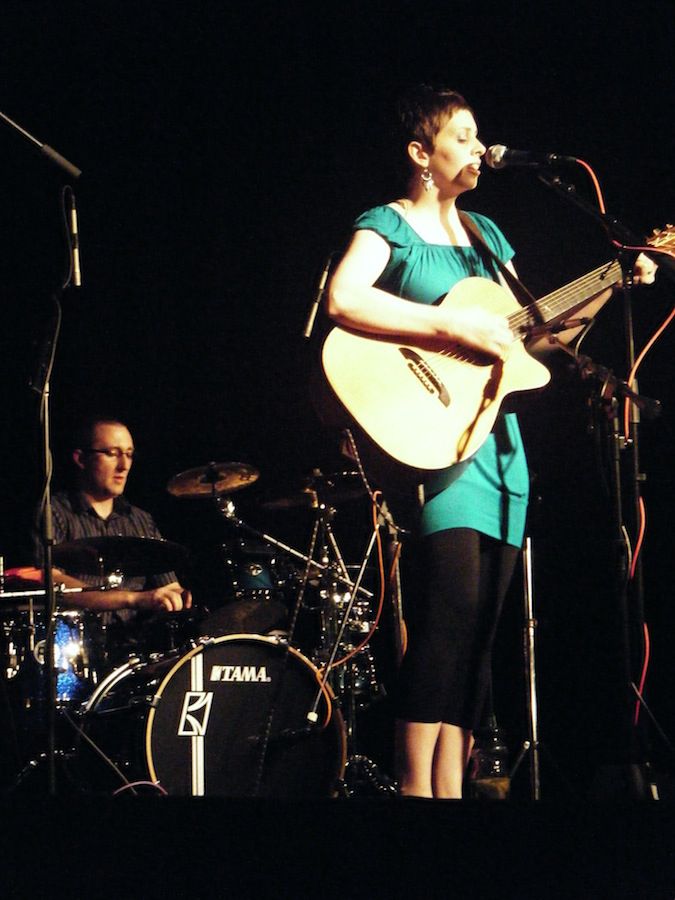 RS: Very stark differences in sound then!
CM: He teases me about it sometimes saying how are we going to make an album Callie?

RS: What's the name for the album?
CM: Yes, we're calling it This Chaos. The message is that this chaos is the beauty of us. The songs are very different in their influences and sound. I just wanted to portray the many emotions that you go through in life. All the chaos it is to be human. There're sad songs about coping with death and others on a different range of emotions.

DM: We're recording this in our apartment. We've got a recording booth that occupies what was our guest bedroom! We've also gone ahead and re-recorded October which'll be on the album. Our place here has high ceilings and nice acoustics. We actually recorded a girl's choir for October and it sounds amazing! I didn't have to put any kind of reverb or anything on their voices as it came out perfect!

Again, I got some the ideas from some of the production videos at macProVideo.com. There's a tutorial on Producing Guitars that I only watched maybe 10 videos from that and got a bunch of ideas and inspiration to apply on our new album. There's another video on producing drums by the Singing Canary boys. I thought I could do that! It's all been really inspiring and I've felt like I've gotten a lot better drum sounds out of my drums and with less microphones. It teaches you how to save money as a budget musician. I mean you could spend a few hundred dollars a year for a full subscription to macProVideo or you could go out and spend $3,000 on an extra mic that you don't need! It's a no-brainer!

RS: Thanks again! That's awesome! So when are you releasing the new album?
CM: Well, I think it'll be summer of next year. We planned on this fall, but as we continued working on the album we realized that we didn't want to sacrifice the quality... and we have some surprise projects that we'll be releasing before next year. We don't want to pass up on these collaborations...

DM: But it's you guys' fault we're taking so long! Every time I watch another set of MPV tutorials I learn new things and I think 'I should try that!'

RS: Well, OK. We're sorry to all Callie & Dave fans that they've taken an extra few months to finish the album! I'm sure it'll be worth the wait.
CM: It'll take longer and have nicer quality.

RS: So, what music (aside from your own) are you listening to now?
CM: Lately I'm really submerged in Incubus. Stuff I listen to doesn't necessarily sound like the songs I'm working on at the time. It's a weird phenomenon... I love Muse...

DM: ... Bloc Party. Oh, you're gonna laugh at this but I love Britney Spears!

CM: I can't believe you're admitting this!

DM: I know. It's really odd, actually. For some reason I've really taken to her music. It's really weird as I'm not into dance music but I love Britney Spears' music.

We've also been listening to Lady Gaga, Kings of Leon, Modest Mouse, Pin Back. They've all been influences over the past months.

CM: And there's a band called Nico Vega. I think they're out of L.A. They're still underground.

DM: Yeah. Awesome! They're fun to listen to!

CM: As far as the heavy stuff I'm listening to and the music I write, I feel like no matter what musical phases I go through I never lose my folk influences that add that softer balance. That's what came from my Dad. I had a such a wonderful childhood growing up with his music that even when I want to avoid writing songs like that I can't!

RS: You guys seem to be really busy! What do you guys do when you're not working on the album, shooting and editing videos, watching tutorials at macProVideo and, just working?
DM: Eat!

RS: And then you film it and put it on YouTube, right?
DM: Exactly! Well, it's a good point. Life is really busy for us right now. We get out and about and play in Singapore, go shopping, hang out with YouTube friends.

CM: We love movies, too.

DM: Yeah, so eating, going out and having fun! And window shopping for more musical equipment.

CM: Which I think is a good sign that it's still fun and a passion we love!

RS: Thank you very much, guys!
DM: Thanks to you and it's been great to go down memory lane in this interview. And a big thank you to macProVideo because when I stumbled across your site I didn't know what to expect. I watched some of the trial videos and though, 'why can't all education be like this? Why can't I get my Masters degree like this?' It makes so much more sense. I'm entertained by the videos, learning from the videos. Every time I turn around there's something new being published. For example (at time of interview) there're new Motion 5 videos which is great because we downloaded the application and we're both totally lost. So we headed over to macProVideo to see if you had any videos. Sure enough a couple of days later there's an announcement that macProVideo has Motion 5 tutorials!! So you guys have been great to publish new content on applications that everybody is going to be using for video.

Being YouTubers and our own audio production team we couldn't do it. We couldn't make things sound and look professional without you guys. So kudos to macProVideo!

RS: Thanks. I'm still feeling choked up from watching your music video for October. Can you tell us about the story behind it?
CM: October was a wonderful, wonderful experience. You know my sister, Katilette, is on YouTube with the Shaytards... and our mother passed away when we were young from breast cancer. This was when I was about 8 years old. Katilette had been on YouTube for a couple of years and when October came around—Breast Cancer Awareness month—she called me up and said she was going to do a video on breast cancer as she felt comfortable talking about it now. She asked me if I'd like to do anything. We also have another sister that makes beautiful, beaded jewelry which she sells online and she was donating some of her proceeds to breast cancer research. So I did want to do something but I had a week to make a song.

I wrote that song in a day. All day I just sat in the living room writing that song. It was a really rough day. Dave came home, we listened to the song and cried. Then we were in a rush, and we recorded it over several takes and I went on to YouTube asking for help from our viewers to submit a video with a message of hope for anyone who is struggling. So they submitted those videos and we included them.

DM: It was hard because we had almost 200 responses!

CM: It was emotional and hard to narrow them down. It was an amazing experience watching the submitted videos, almost a spiritual awakening for me, because I had to relive some hard emotions and end the week with the feeling that I'm not alone in it. It's been one of the most beautiful experiences.

DM: Even though the recording of the song isn't fantastic the message really comes through. I remember taking 21 takes to record the drums because 20 of those takes I was crying and had to stop half way through. You can even listen to the song and hear the errors. They're still there, but it really doesn't matter because the emotion still comes through on the song. That's the thing about music: it doesn't always have to be perfect when you've got pure emotion.

RS: Well, the raw emotion in your vocals, Callie, really touched me.
CM: Thank you.

RS: It's been really wonderful talking to you both. Thanks for taking the time out to share your music and experiences on The MPV Hub!
Check out:
Callie Moore Music YouTube Channel