I've always had a soft spot for IDM and glitch based electronica. In fact there are two artists in that genre that you're guaranteed to find in my iTunes playlists, BT and Trifonic. When I heard that Brian Trifon (half of Trifonic) is also a macProVideo.com customer and Logic user I was glitching itching to find out more about his creative processes.
In this exclusive Hub interview, Brian talks about his musical background, his experience working in BT's studio, how the video art collaboration with Scott Pagano evolved, why he loves macProVideo.com tutorials, and what he's currently working on.
RS: Hi Brian, and welcome to The MPV Hub!
BrT: Hi! Thank you for having me.

RS: Please tell us about you and how you got into music.

BrT: Sure. Basically I started out as a guitarist. I still think of myself in some ways as a guitarist. I was into the whole Heavy Metal, shredding and rock guitar thing. At some point I realized that wasn't quite going to pan out. But I was also very interested in music production, especially towards the end of the 90s in electronic music and I began to explore that at the time. I got Logic and, although I still had my 4-track tape recorder, began learning it. Then in the early 2000s I got involved with electronic production and I had the opportunity to intern in BT's studio as an audio editor. Meanwhile, I was in college getting a degree in Jazz guitar.

So, it was a very busy time. After I graduated I ended up working there (BT's studio) doing audio editing and synth programming over the course of about 4 years. Over that time it developed from being an audio editor to working on the sounds and pieces of music and compositions. I was doing a lot of the guitar parts in the projects at that time. So, it ended up being a really good development period.

RS: So, which of the BT projects did you work on?

BrT: The main thing was his album 'This Binary Universe". I did most of the guitars and some programming on that record. Then also the film projects from that time. I did programming on the movie, "Stealth" and additional music for "Catch and Release". Those were the main things.

RS: Well, "This Binary Universe" is one my favorite albums!

BrT: Awesome.

RS: Were you involved in the infamous BT signature stutter edit effects?

BrT: (Laughs!) Well, in the sense of editing things together... It's just sort of a production technique. So, I don't think I was involved in any infamous part of it. It's certainly one of the many techniques in assembling music. That's just BT's trademark thing that he does and he's the specialist in that area. But, yes.

RS: So, after working with BT you got together with your brother and formed Trifonic. How did that come about?

BrT: The experience with BT was awesome and I realized it was time to move on and I wanted to work on my own music and to develop artistically and individually. My brother and I had always wanted to collaborate on music because we have complementary skills. He's very good with lyrics and arrangement and I'm good at the tweaky stuff, technical and music theory end of things. It was a way that we could come together and work on something. So, I moved up to the San Francisco Bay area and my brother was already here. It was the perfect opportunity to get together. He quit his job and we spent a year just working every single day, like a full time job, creating the album "Emergence".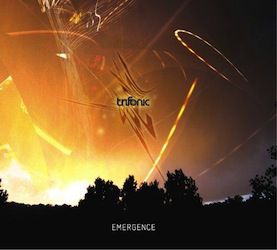 RS: It's a great album and was critically acclaimed! In fact it's another highly played album in my iTunes Library.

BrT: Well, thank you.

RS: Aside from the music on the album, one of the stand out moments from the album is the video for the song "Parks on Fire".

BrT: Yeah. That was a wonderful thing. Scott Pagano created the visuals. He's one of my best friends and an amazing artist. I would never usually have the opportunity to work with him, in the sense that I can't afford his amazing work (laughs).

So, he needed to create a video for a video art project and he needed a piece. Then he wanted to use the audio for "Parks on Fire" and so I could use the video. Obviously I benefited much more from that collaboration.

RS: Oh, I don't know. It's a beautiful piece of music!

BrT: Thank you! But it was really a wonderful thing. He is high profile and and an amazing artist and not something I'd normally have the opportunity to be involved in. We were both interested in having it 100% match with what's going on with the music. So I actually provided him with full stems of "Parks on Fire". I actually had to narrow it down, so I gave him 64 tracks so he could see and line up every little thing that happens visually in the music.

RS: Ha! You narrowed it down to 64 stems. (Laughs)

BrT: Yeah. That track took forever. I mean it was on and off, over the span of a year and a half. It wasn't like I cranked it out in an afternoon and it was all done.

RS: Sure! It's intricate. So, what DAW did you use when making the album "Emergence"?

BrT: It was all pretty much Logic and a little bit of Pro Tools. Logic is what I feel most comfortable in and over the course of time I've built a library of sounds and presets that I've developed from years of working in it.

RS: Did you mainly use Logic's built-in plugins or any 3rd party stuff?

BrT: Both. One of my favorite Logic instruments, which is prominent in "Parks on Fire", is Sculpture. It's just such a great instrument because I like things which are synthetic-sounding, but I particularly like organic sounds that you can't exactly tell what it is. Sculpture is so amazing because it allows you to create these electronic sounds that have the characteristics of something in the physical world but are just a little bit bizarre or different! So, in the case of "Parks on Fire" the main melody is that rolling kind of sound...

RS: Like a vibrating stretched string...?

BrT: Yeah! In Sculpture, bouncing is one of the objects that can disturb the string and others like striking the string, etc. It's just so cool you can create new instruments like that.

RS: Sculpture seems to be very popular amongst sound designers and with good reason. For example, I know Spectrasonics used Sculpture to create some of the more abstract patches that appear in their instrument, Omnisphere.

BrT: That's cool. Yeah, it definitely makes sense because I think it is such a special instrument. Other than Sculpture the EXS24 is just great, too. It's so convenient in that it's so efficient. I tend to use that a lot. Many sounds on the Emergence record are based on guitars. I recorded a lot of guitars, processed the audio and chopped them up. So, I'd say a big part of Logic for me is just working with the audio and guitars and assembling things in that way.

And as for 3rd party stuff well, I have all the Native Instruments stuff, like Komplete 7. You know all of their stuff is really great as well.

RS: Nice. So what about hardware? What do you use or have in the Trifonic studio?

BrT: I have an RME Fireface 800 which is the main audio interface. Then there's Dynaudio BM6A monitors. In terms of actual synths and things like that, I've got an Access Virus TI Polar, a Roland SH 09, which is a really cool mono synth from the late 70s. It's amazing because it's basically one oscillator and a sub-oscillator and a low pass filter and that's it. Yet it has the most musical, biggest sound just because it's a really good filter and a really good oscillator. Then there's a Roland Juno Alpha, which is an analog synth but with a digitally controlled oscillator. It's a somewhat cheesy 80s synth but it's responsible for the classic hoover techno sound. So that's why I got it... I was able to find it on Craigslist for $70! (laughs)

Then I have a lot of guitars: 10 guitars, 2 basses, lots of pedals and amps and things. That's pretty much it: guitars and a few synths essentially!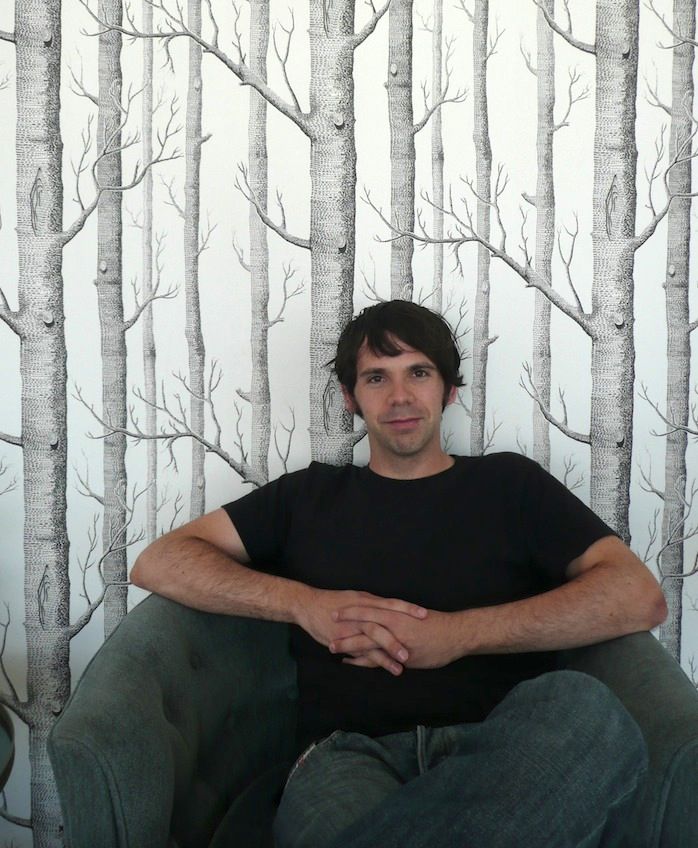 Brian Trifon - rarely outside of the studio!
RS: Sounds like a cool studio to hang out in. Talking again about "Emergence". Are you working on a new Trifonic album?

BrT: Definitely. I've been working on tracks for the last several years. Possibly an album, but if not then definitely an EP. It's one of those things that's hard to decide. Do you put out an EP or pull together a few more tracks and have it be an album... My brother and I would much rather have quality over quantity. As much as we hate to make people wait we want to release things we can fully stand behind. So it might end up being an EP but hopefully it's going to be stuff that we're really happy with and that'll mean other people will be really happy with.

RS: Can't wait to hear it when it comes out. Any idea or rough guess when you're aiming at a release?

BrT: Well, we don't have a confirmed date yet. Probably beginning of 2012 or perhaps end of 2011.

RS: Is Trifonic playing live anytime soon?

BrT: Yes. Just more recently I played a show in Salt Lake City, Utah which was really cool. There's more stuff booked in September and October in Oregon and possibly Austin, Texas. So, definitely getting more involved with doing live shows. It's something that I want to enjoy more and explore.

RS: So how can people find out about these shows?
BrT: Probably best through our Facebook page. I'd normally recommend our website but we've been a little behind in updating that. So visit our Facebook page for the most up to date information and our Twitter account, too.

BrT: Recently I've been working a lot on video games. Over the last couple of years I've been doing a lot of session work for some of the larger video games. For example, Assassins Creed 2, Borderlands, Assassins Creed Brotherhood and the composer for that is Jesper Kyd. So I do a lot of guitar sessions for him. Sometimes I do sound design sessions, you know musical sound design, not sound effects. Also, more recently I've been working on the 10th anniversary of the original Halo game at Pyramid studios. Halo: Combat Evolved Anniversary is what it's called. Essentially, our task was to recreate the original score by Marty O'Donnell and Michael Salvatori, which is an amazing score! So, Paul Lipson and Lennie Moore transcribed, re-orchestrated and re-recorded all the orchestral material. Tom Salta recreated all of the percussion and some of the synth elements and then they brought me in to recreate the electronic textures and ambiences in the spirit of the original but updated for 2011/2012. It's been a really awesome project to work on. So the last several months I have been immersed in that.

RS: When's Halo: Combat Evolved Anniversary coming out?

BrT: November 15

RS: Cool. I was really thrilled to find out that you're a macProVideo.com Online Subscriber and have been watching the macProVideo.com Tutorial-videos for a while now!

BrT: Yeah! I found out about macProVideo.com because of Redmatica's Keymap. I bought that program because I could see all the amazing things it could do. I then began reading the manual which was pretty deep and thought I really need to watch someone that's using this program. You know time is an issue with me as I'm very busy. So, I was trying to find some good videos for Redmatica software and that's where macProVideo came up. I think you were the only place that had tutorial videos on Redmatica products. That's what initially caught my interest.

Then just knowing that to have access to the library of everything else was great. Especially the fact there are a lot of programs that I have or I'm slightly familiar with but I want to dig in deeper. It's always good to be able to have a reference for things like Final Cut, or Logic, even though I'm very comfortable in Logic. It's just nice to have everything there to be able to look up. It's especially good when time is of the essence. So having access to tutorials where I can just watch something and assimilate the information is very important.

RS: Thanks, Brian! Do you have any favorite MPV tutorials you've particularly enjoyed? (I'm putting you on the spot here!)

BrT: (Laughs). Yeah, you are! Let's see with recent ones. I'm always curious about things related to guitars, so the Logic's Guitar Recording Toolbox tutorial by Toby Pitman. He was doing some really interesting things with layering different models of the same amp. Basically, treating it like having different microphones on different cabinets and creating whole different channel strips for it. I thought that was a very clever thing and I've been exploring that approach with both Logic's amp modeling plugins, as well as other 3rd party amp modeling software, using that multi-track approach which has been really, really useful.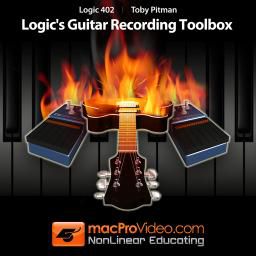 Logic 402 - Logic's Guitar Recording Toolbox
RS: Yeah. I love Toby Pitman's tutorial videos and his MPV Hub articles, too.

BrT: Yeah. I loved his approach which was interesting and very creative! I appreciated it very much.

RS: I'll pass that on to him! So, what advice do you have for anyone trying to break into sound/music for video games?

BrT: It's to find the people that are doing it and get to know them. There's also that Game Audio Network Guild that a lot of people get involved that way. There are courses like at Pyramid. But it's the same as anything, if you're a film composer, an electronic musician or video game audio person then you just want to go where those people are and make yourself useful. I think that's the best way to get into anything, to show interest and show you're willing to put in the work. So, find out who's doing it and go get to know them. (Laughs)

RS: Go buy them a beer?

BrT: Yeah, (laughs) exactly or ask them if you can intern for them or assist them for free. Making yourself valuable to them is a great way to get involved and in a basic way, start to experience things and then grow your résumé and reputation.

RS: As you've said, you're incredibly busy working on multiple projects right now. But, if you get time, what do you get up to and how to chill out when you're not in the studio?

BrT: Ha! That's a good question. I'm not sure. It feels like it's been so long. Outside the studio I enjoy pretty low-key stuff. Things like hanging out with my girlfriend, eating good food and drinking delicious coffee. One of the wonderful things about the San Francisco Bay area is it's such a beautiful place and there's so much outdoors stuff you can do here. I like to go running in the hills or hiking. This is a great place to be for all that. I feel like I spend so much time in a studio in front of a computer that when I'm not doing that I like to be outside in the fresh air, that kind of thing!

RS: It's been a real pleasure talking to you Brian. Thanks so much for taking the time out to do this interview for The MPV Hub!

BrT: No problem! It's been great and I've been excited to do it so it's really cool.