Arcadia: Immersive Music, Lightning, Robotics, Tech Spectacle Comes Home to Bristol
One of the most stunning and immersive music, light and circus events of the past 5 years, Arcadia, came home to Bristol in September and Ask.Audio were there to see, hear and feel the spectacle.
The Spider from Arcadia made its debut at Glastonbury 2010. And it's likely if you put Arcadia in any festival around the world it will grab the headlines. On an early September evening just as the summer began to wane in Bristol, UK a giant mechanical spider that wouldn't be out of place in an apocalyptic nightmare, set about entrancing an expectant crowd with lights, music and theater in the same city it was conceived.
On Ask.Audio we're more used to reviewing music-making hardware and software rather than events. However, Arcadia, founded in 2007 by Pip Rush and Bert Cole, is more than "an event". Arcadia fuses together cutting-edge, and often environmentally friendly, technology to create a sensory experience greater than the sum of its parts. And these elements that make up this spectacle are well worth exploring first.
Watch the video by Arcadia from the Bristol event:
A Recycled Past
The Spider at the heart of Arcadia looks like something out of a sci-fi novel. It's tooled up with integrated lighting, lasers, 3 hydraulic cranes that can fire 10 metre high jets of CO2 and up to 50 foot fireballs are dispensed from flame cannons (not pointed at the crowd fortunately). The sound system is controlled by a mixer and two Pioneer CDJs that you might find in any good club setting. This all sounds impressive on paper, but when combined with the L-Acoustics sound system that creates a 360 degree sound field, the science gets forgotten as you become immersed in the performances.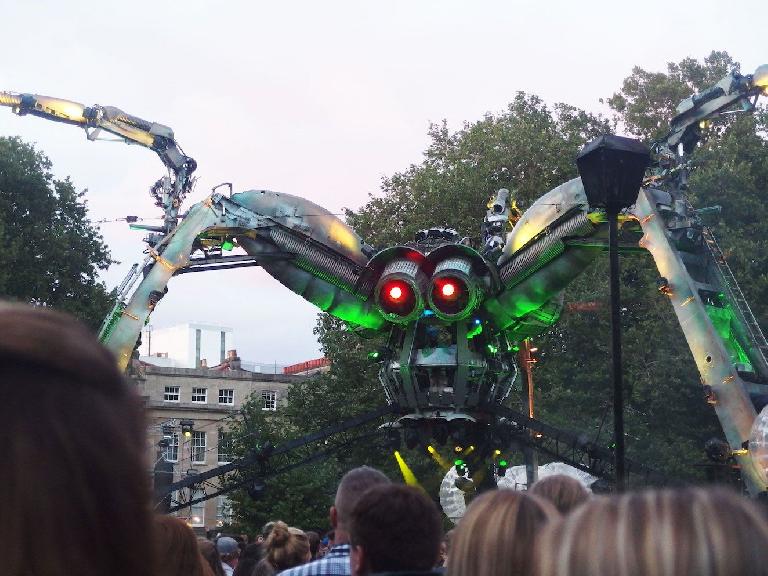 Our friendly Spider is made from recycled and discarded military machinery and industrial components. The scanners are from a high-tech HM Customs and Excise van, and various elements on the spider are from gazelle helicopter tails and fighter plane engines. We're talking high-end tech that's gone into creating a mammoth machine that is both intimidating and inspiring in equal measure. Think Terminator landscape as the backdrop to performance art that'll blow your mind and we're getting close to scratching the surface of what Arcadia is all about.
Performing The Technology
The Friday night lineup at Arcadia Bristol included Leftfield and Bristol's own Drum n Bass hero, Roni Size with Reprazent. And with Rush and Cole reportedly looking to work with more DJs and producers, future Arcadia events promise to continue pushing the boundaries of sound much like they already do with the visuals. Where normal music stages facilitate left, right, back and forward movements by artists, Arcadia encourages more. Musicians and DJs can walk or dance between elements of the Spider stages via the central booth where the CDJs are housed, and this allows headline acts to interact with the audience in a more 3 dimensional way.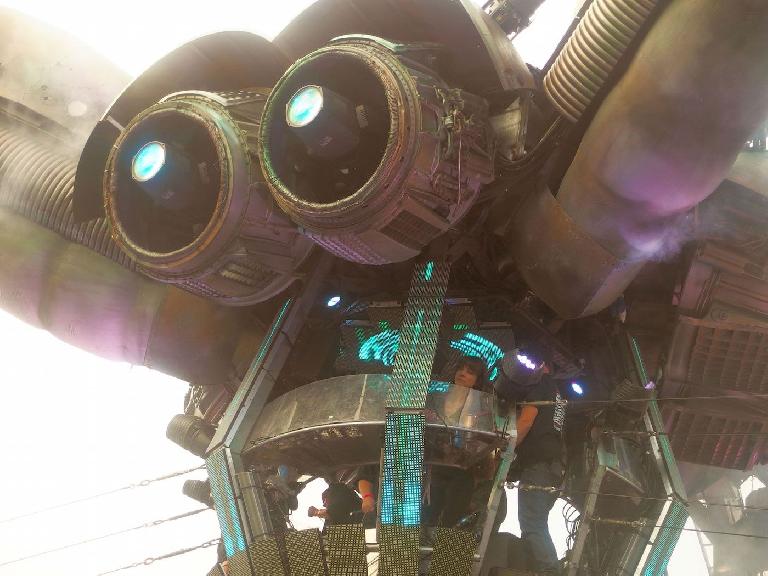 However, it's the circus-style performance, "Metamorphosis" I'd like to focus on. A 30 minute theatrical show preceded the headline act in Bristol and this was the most immersive aspect of the evening. It's difficult to put into words. The sum of their parts, as impressive as they are, don't do justice to the overall spectacle. There were three miniature spiders that scuttled back and forth from the main sculpture, dancers in giant transparent balls, acrobats rotating and spinning upside down, and Tesla coil operators shooting lightning arcs that modulated the music itself!
The Tesla coil operators, also known as The Lords of Lightning, combined with the acrobatics, lasers, lights and evocative sonics around them to create something truly breathtaking through their dance movements and lightning effects. If Arcadia is heralding a new age in tech-circus and music performance, then we have exciting future events to look forward to.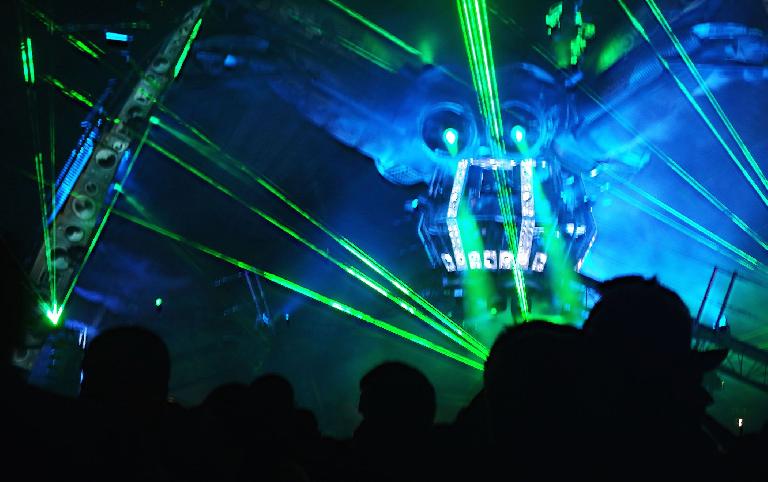 Coming Your Way?
While Arcadia isn't exactly designed to be an audience-centered interactive experience, it is an immersive one. With the right musical acts, Arcadia is a sensory feast. And, when you consider Arcadia's construction is 99% recycled materials with a biofuel powered flame system, this is an eco-friendly show that looks to the future without compromising on the tech or the experience.
If Arcadia is due to come to a city near you it's well worth checking out. Prices in Bristol were steeper than most music events (about £40 GBP) but you'll probably not see or experience anything like it at another venue.