It's no secret that the past couple of years has seen iOS and MacOS platforms coming closer and closer together. We're seeing Apple pushing the idea of universal apps that run on both (all three if the iPhone is included) platforms. And MacOS has certainly taken design tips from its tablet cousin which probably enables an easier creation journey for developers too.
For musicians and producers and DJs, we're still waiting for a major app or DAW like Logic Pro or Ableton Live to be made available on all platforms. Right now, Apple Logic Pro X runs only on MacOS, which is understandable as it is a big, complex beast of a DAW. A slimmed down, but capable, version of GarageBand is available for iPad and iPhone. And there is limited communication between therse versions to allow anyone to start and create ideas on an Apple mobile device and continue refining and producing on a desktop or laptop.
News that the latest version of XCode 11.4 beta now includes support for universal purchases is not groundbreaking, but is evolutionary. This will enable developers to create a single, cross-platform bundle of their app... and for the customer to buy said bundle once and have the app work on MacOS, iPadOS and iOS.
We believe it's another step towards Apple merging all platforms. Indeed, the iPad Pro will only continue to become a more powerful and suitable platform to create music on, so it figures that eventually Logic Pro (11?) will be on it too. While we don't know when that will be... (we don't have a crystal ball) we wouldn't be surprised if Apple weren't already working on this behind closed doors.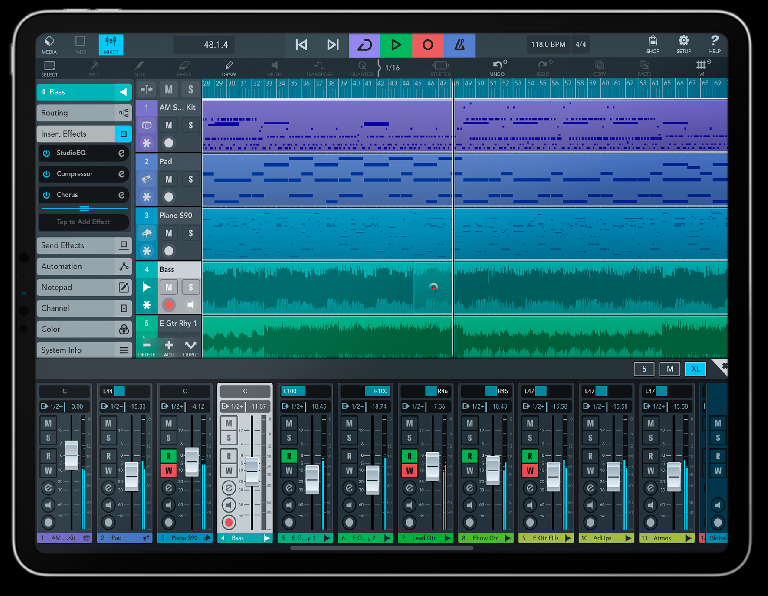 Steinberg's Cubasis is already available on iPad providing the most suitable Cubase features for tablet users.
What we do know about Universal Purchases:
Starting in March 2020, you'll be able to distribute iOS, iPadOS, macOS, and tvOS versions of your app as a universal purchase, allowing customers to enjoy your app and in‑app purchases across platforms by purchasing only once. You can choose to create a new app for these platforms using a single app record in App Store Connect or add platforms to your existing app record. Get started by building and testing your apps using a single bundle ID with Xcode 11.4 beta.
MacRumors feel "the change will be convenient for both developers and customers, as iOS and macOS users will be able to make one purchase for a cross-platform app. Developers will also be able to create discounted Mac and iOS bundles for the first time.
"According to Apple, universal purchase is enabled by default for Mac Catalyst apps that are created using the Xcode 11.4 software. New Mac Catalyst apps will use the same bundle identifier as an iOS app."
Moving on from Logic, DAWs like Cubase which already has the powerful and capable Cubasis DAW on iOS, might eventually be tempted to merge apps and sell via the Mac App Store in the future. Don't hold your breath though. Digital Audio Workstations are much more complex than your avergae app. Just because it's possible to have a full-blown version of Ableton Live or FL Studio or [insert your favorite DAW here] running on iPad, Mac and iPhone doesn't mean it's a good idea. There are still some aspects of iPad's interface which make it less convenient a device for certain functions compared to a laptop of desktop computer. Certainly the power of a MacBook Pro, iMac or Mac Pro for running big sample libraries cannot be matched by devices running iOS yet. Additionally, the smaller screen real estate on iPhone doesn't lend itself to diving deep into larger mixing or arranging scenarios either.
Used together, all three devices can help perform interesting roles, so it'll be curious to see how, or if, developers will eventually choose to create a universal version of a fully-featured DAW... and which DAW will be the first completely universal purchase in the Apple ecosystem.
Learn the DAW of your choice (Ableton Live, Bitwig, Cubase, FL Studio, Logic Pro, Pro Tools, Studio One... in the Ask.Audio Academy
here
.