In the previous post on creating chorus effects in Logic we explored how to create a chorus by duplicating a region in the Arrange area and using the Chorus plugin and the options available in Logic 9's Pedal Board plugin. Following on from Part 1, let's continue by exploring how to use the Delay Designer to create chorus and harmony effects in Logic Pro...
Method 4 - Delay Designer
Logic's Delay plugins can be a good starting point for creating a chorus style effect. Let's insert the Delay Designer on to your channel strip and work with a single tap delay.
Press the Play button in Logic's transport and you'll notice that the one delay is set 1607ms after the original signal! This is set too high to create our chorus effect. First turn off the Sync button. Then drag the letter 'A' under the vertical line to the left until the tool tip reads about 5.0.
You can change the mix of the chorus effect by adjusting the dry and wet levels in the Mix area of Delay Designers interface.

You can create more taps by clicking in the highlighted area in the picture below: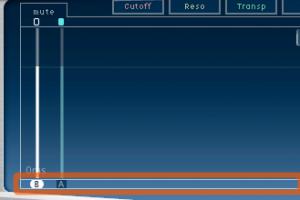 Move the newly created taps to different delay values. Adjust each tap level by dragging up/down on the tap's vertical line. You've just created a multi-tap chorus effect! Remember to save your favorite presets.
Method 5 - Creating harmonies using Delay Designer
This last step involves creating a subtle vocal harmony effect using the Delay Designer. In essence this involves creating one tap delay which will be transposed to a different pitch than the original. I've moved the tap delay to about 50ms. Now click here to turn on the pitch for the selected tap and set the pitch transposition in semitones and/or cents (100 cents = 1 semitone).

You may wish to create extra taps for more complex harmonies and chorus effects. The decision is down to you how rich and thick and 'harmonious' you want your track to sound!

I hope you have enjoyed exploring these 5 chorus techniques. Thanks for reading!