Santa Monica, California, October 7, 2014 - Apogee Electronics, industry leader in digital audio recording technology since 1985, is pleased to introduce the all new Ensemble '" a 30x34 Thunderbolt 2 audio interface for the next generation of home, project and professional Mac-based studios. Blending the best of Apogee's acclaimed innovations from products like Symphony I/O, Duet, Quartet and JAM with groundbreaking new features and the power of Intel's Thunderbolt technology, Ensemble provides everything you need to record, edit, mix and master professional quality audio on your Mac using Logic Pro, Pro Tools or any Core Audio based DAW.

At 1.1ms, Ensemble offers the lowest round-trip latency performance available in any all-in-one audio interface, 8 mic preamps featuring Apogee's Advanced Stepped Gain™ circuitry, front panel Guitar I/O, built-in talkback functionality, and the most comprehensive user interface of any Apogee product. Ensemble's proprietary Thunderbolt audio driver and full 32-bit playback path provide incredible CPU efficiency, allowing you to leverage the power of your Mac to monitor through a DAW with native plug-ins and simplify your workflow.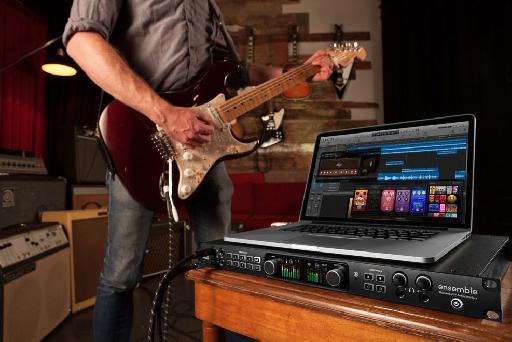 Launched in 2007, the first Ensemble redefined the possibilities of the personal studio interface and set new standards of quality, simplicity and value. Ensemble quickly became a preferred product for hit-making producers, artists and engineers and won numerous awards and industry accolades. With 30 years of digital audio expertise, Apogee has completely redesigned Ensemble to provide customers with every advantage necessary to elevate their creativity and sound quality of their projects.

Ensemble Highlights
Thunderbolt 2 Mac audio interface'