Note du rédacteur:
L' Apogee GiO a causé tout un émoi dans le monde de la musique numérique. Il a été décrit comme l'interface guitare complète par Apogee et attend certainement la partie! Alors qu'il est plus courant de trouver des contrôleurs en forme de claviers et des consoles de mixage, le GiO prend la forme d'une boîte de pédales qui peuvent être contrôlées avec le robinet d'un pied.
Comme les autres contrôleurs, le GiO pouvez contrôler les plugins d'effets, plugins instrument
Mais Gio ne sont pas exclusivement pour les joueurs de guitare! Confiance Steve H pour fouetter son iPad et adopter une approche alternative à l'aide d'un Gio.
Steve H ne pouvait pas attendre pour mettre la main (et les pieds) sur une seule et promenades nous à travers son expérience GiO sur trois jours ...
Jour 1, 16:00 - En attente
Ok. Donc je suis en attente au studio pour le camion de livraison (il pleut) ... Je sais que ma nouvelle Apogee GiO a été expédié. Malheureusement, je suis aussitôt dirige vers New York pour rencontrer des amis et écouter de la musique électronique, vraiment sauvage. J'ai eu envie d'essayer ce contrôleur MIDI fraîche / Audio Interface / dispositif de Stomp Box depuis un moment maintenant!
Jour 1, 23:00 - Sur son chemin!
Retour du concert ... reçu un courriel d'Apogee ... My Gio va être là demain!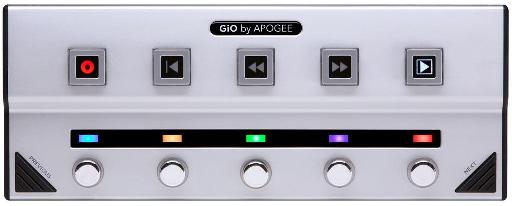 Jour 2, 1 heures - Déballage
Eh bien, c'est ici et il est tard.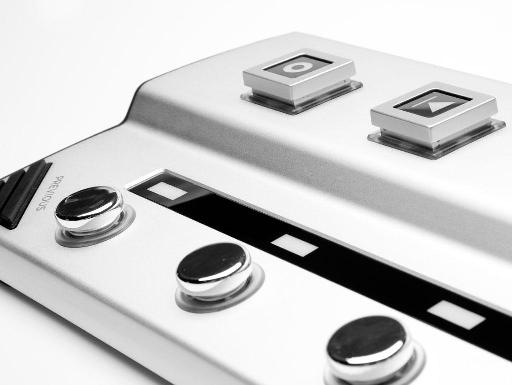 Jour 3, 10 heures - branché!
J'ai branché le câble USB inclus, a installé le logiciel inclus, démarré Logic Pro, a sélectionné les GiO dans mes préférences audio et il est prêt à aller. Les commandes de transport flash dans un motif rythmique pour vous laisser savoir que c'est le démarrage jusqu'à ... Apogee très branché!

Non-Brainer Setup
The GiO software DVD includes the audio drivers that will appear in all the "sound" preferences when a GiO is detected. This GiO option also appears in Logic's Audio Preferences (See image below).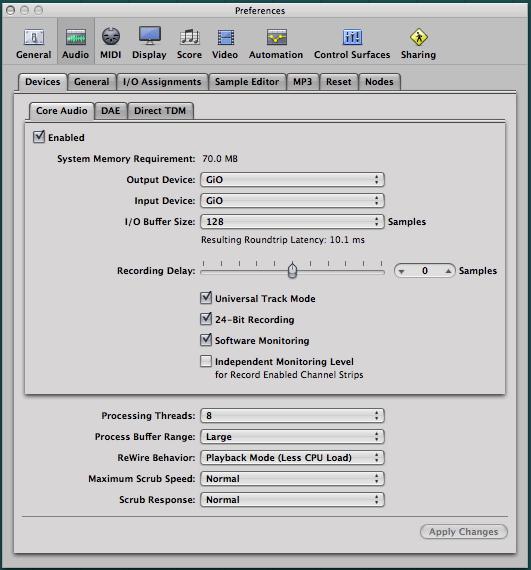 ... and magically, GiO's Controller Surfaces Setup and Controller Assignments in Logic are also now installed. Cool!! (See images below)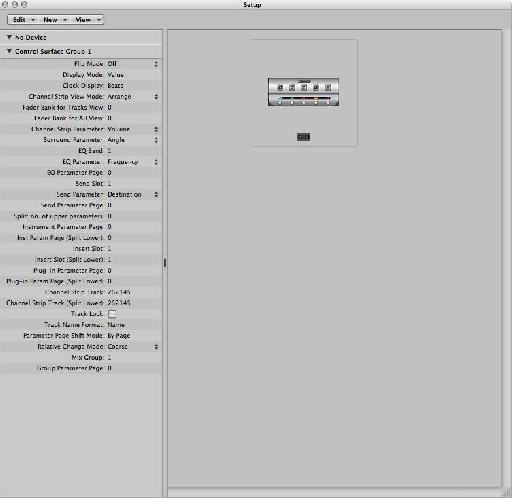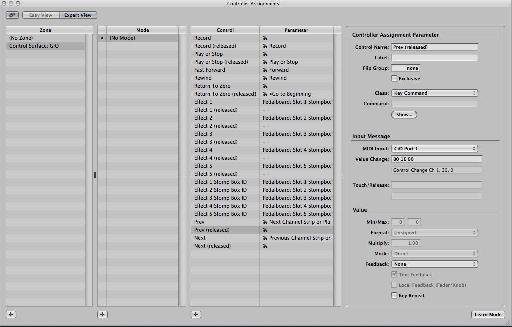 Ces paramètres complexes déterminent ce que tous les boutons sur l'interface du SCAD réellement faire et ce qu'ils contrôlent et à moins que vous êtes extrêmement bien versé dans la programmation de surface de contrôle dans Logic, je ne recommanderais pas à jouer avec eux!
iPad répondre Gio. Gio Rencontrez iPad
OK. Maintenant il est temps confession.
GiO logique
GiO est naturellement configuration de travailler avec Pedalboard Logic plug-in et les bandes de canaux de Logic (jusqu'à ce que je commence jacking avec le logiciel du contrôleur!) Qui est totalement cool avec moi!
Avec Pedalboard inséré dans le canal de la bande sélectionnée GiO s'anime.
Vous pouvez individuellement activer et de désactiver tous les (en fait 5 au total) de la machine virtuelle stomp-boîtes dans votre Pedalboard plug-in.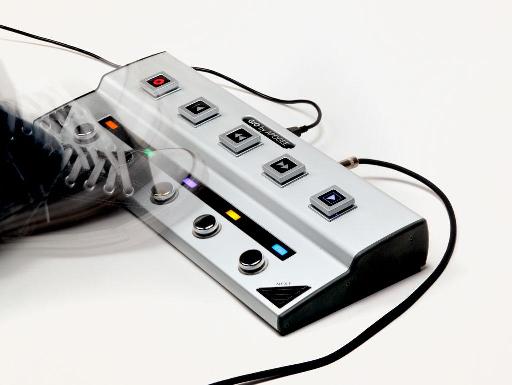 Steve Verdict - Le Stomp Ultime!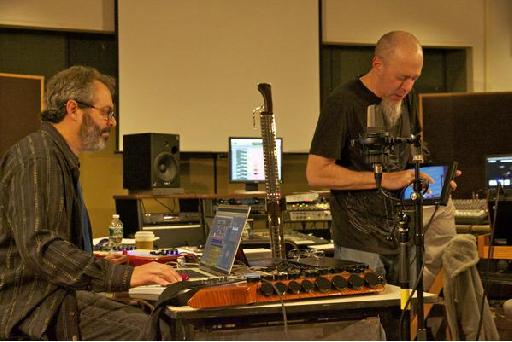 Steve H et Jordan Rudess Masterclass à Purchase College
Il ya beaucoup de contrôleurs MIDI pieds là-bas qui sont plus programmables, complexe et compliquée, et ils travaillent avec n'importe quel DAW.
Alors maintenant, je vais passer les deux prochains jours la conception et la programmation de mes réglages Pedalboard personnalisée de sorte que lorsque je prends mon iPad et le brancher sur mon GiO je serai prêt à hurler partir avec quelques solos incroyables électronique!
Vous pouvez écouter de Steve H et Dream Theater Jordan Rudess sur le site de Steve ici .
... Et macProVideo.com parraine un atelier Steve Logic H dans la boutique d'Apple à San Francisco le Janvier 28, 2011at 17:00 (lors de MacWorld), suivi par Steve et Jordan Rudess joue en direct à 19 heures.
Départ tutoriel Jordanie Clavier Wizardry ici.