Editor's Note:
The Apogee GiO has caused quite a stir in the world of Digital Music making. It's been described as the complete guitar interface by Apogee and certainly looks the part! While it's more common to find controllers in the shape of keyboards and mixing desks, the GiO takes the form of a stomp box which can be controlled with the tap of a foot.
Like other controllers, the GiO can control effects plugins, instrument plugins and recording functions. However, the GiO has been designed to seamlesmosly integrate with Logic & Mainstage's Pedalboard and Garageband 11's new amps.
But GiO's aren't exclusively for guitar players! Trust Steve H to whip out his iPad and take an alternative approach to using a GiO.
Steve H couldn't wait to get his hands (and feet) on one and walks us through his GiO experience over three days...
Day 1, 4pm - Waiting
Ok. So I'm waiting at the studio for the delivery truck (it's raining)... I know my new Apogee GiO has been shipped. Unfortunately I'm soon heading into NYC to meet with some friends and listen to some really wild electronic music. I've been wanting to try out this cool MIDI Controller/Audio Interface/Stomp box device for a while now! Darn, got to run. No GiO yet!!
Day 1, 11pm - On Its Way!
Back from the concert... got an email from Apogee... my GiO is going to be here tomorrow!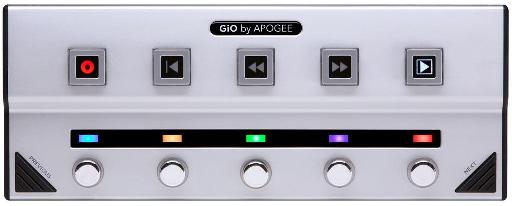 Day 2, 1am - Unpacking
Well it's here and it's late. I've been producing tutorials all day and I'm tired. The studio is empty and I've unpacked the GiO. First impression: It's amazing how well-made this interface is! It's really solid, heavy (not sliding around the floor), sturdy and feels like it can handle a ton of stomping. "Hey Igor, put on your Frankenstein boots and try this bad boy out!". The buttons are nicely sized for my foot (Size 12) and generously spaced. Great for boots. (Igor's boot size is 17.5). Too tired though... I think I'll wait until tomorrow to put it through its paces.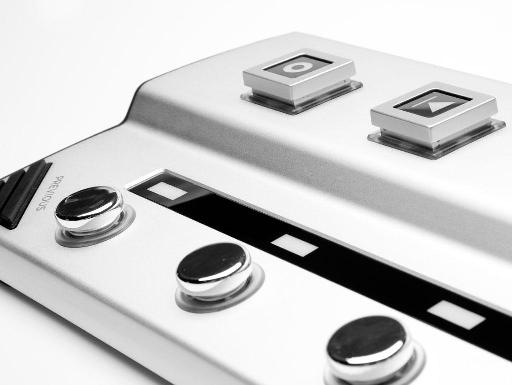 Day 3, 10am - Plugged In!
I plugged in the included USB cable, installed the included software, booted up Logic Pro, selected the GiO in my Audio Preferences and it's ready to go. The transport controls flash in a rhythmic pattern to let you know that it's booting up... very Apogee hip!

No-Brainer Setup
The GiO software DVD includes the audio drivers that will appear in all the "sound" preferences when a GiO is detected. This GiO option also appears in Logic's Audio Preferences (See image below).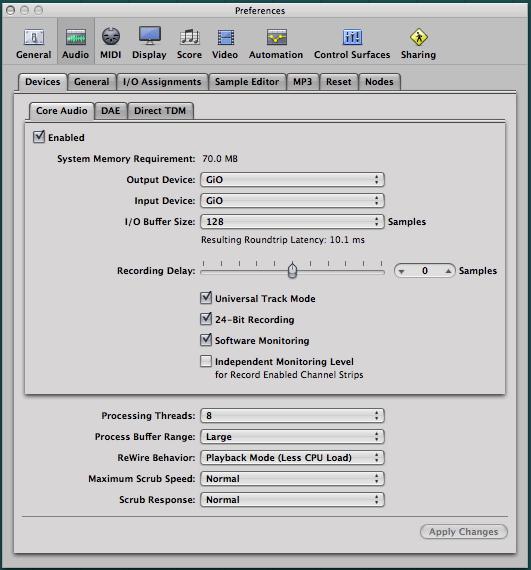 ... and magically, GiO's Controller Surfaces Setup and Controller Assignments in Logic are also now installed. Cool!! (See images below)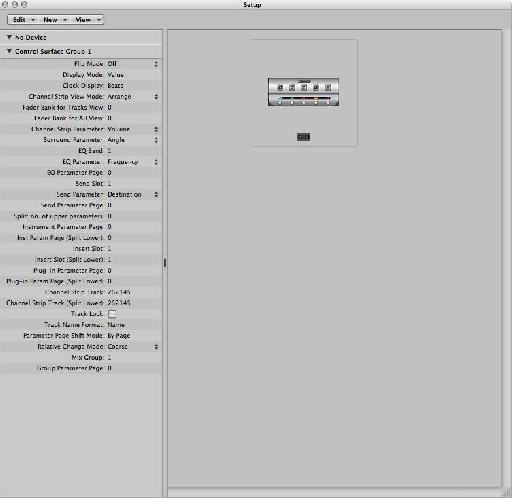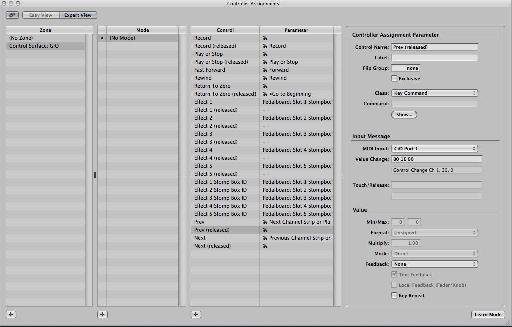 These complex settings determine what all the buttons on the GiO's interface actually do and what they control and unless you are extremely well versed in control surface programming in Logic I wouldn't recommend playing with them! Of course, that's not going to hinder my insatiable curiosity! Now, when my GiO is detected on the USB bus Logic will automatically select the GiO zone in the Controller Assignments. Just in case, there's a Key Command (Command+K in the US set) where you can select whatever controller zone you need to be active.
iPad meet Gio. Gio Meet iPad
OK. Now it's confession time. I'm a lousy guitarist (as all my tutorial fans already know) so, I'm going to leave my beautiful Black American Standard Telecaster (I love the maple neck) in its case and instead I'm going to whip out my iPad and play one of my favorite music apps, MorphWiz by my colleague and friend, Jordan Rudess of Dream Theater whose Keyboard Wizardry tutorial can be found at macProVideo.com! I'm putting together a live electronic music set where in some of the pieces I play my iPad and I really want a way to live process my "Pad" and that's where the GiO is going to put my feet to work and free up my fingers.
GiO Logical
GiO is naturally setup to work with Logic's Pedalboard plug-in and Logic's channel strips (until I start jacking with the controller software!) which is totally cool with me! So here's how it all happens:
With Pedalboard inserted in the selected channel strip GiO comes alive. As you select and build your virtual stomp-box Pedalboard (or choose a preset) GiO is watching and waiting. It knows what stomp-box you've inserted (at least its color), where you've inserted it AND it even matches Pedalboard's stomp-box colors to the corresponding switches on GiO's rock solid surface. How cool is that?
You can individually turn on and off all (actually 5 in total) of the virtual stomp-boxes in your Pedalboard plug-in. You can also advance through all of Pedalboard's presets (if it has key focus, very important!) or the channel strip settings if the Pedalboard plug-in isn't visible. You can also use the GiO's huge transport buttons to control Logic's transport with your feet! And, if you so choose, you can jam your favorite foot controller pedal right in the back of GiO to wah-wah just like Jimi (wishful thinking). For my live electronic performances, though, I love changing the channel strip setting by "stepping" (haha) through a folder of my user channel strip settings!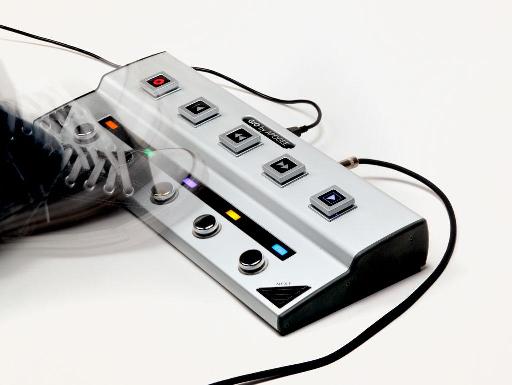 Steve's Verdict - The Ultimate Stomp!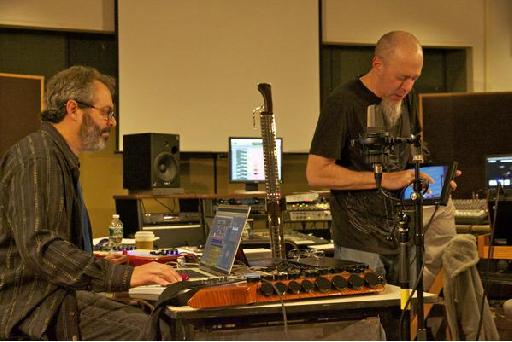 Steve H and Jordan Rudess Masterclass at Purchase College
There are plenty of midi foot controllers out there that are more programmable, complex and complicated and they work with just about any DAW. But that's not what GiO's all about. GiO is built for Logic & Mainstage, and specifically, Logic's Pedalboard plug-in. This is where the GiO excels. In this world of "I can do anything" gadgets it's refreshing to come across a well designed singularly focused controller that does exactly what it's designed to do!
So now I'm going to spend the next couple of days designing and programming my custom Pedalboard settings so that when I grab my iPad and plug it into my GiO I'll be ready to wail away with some amazing electronic solos!
You can listen to Steve H and Dream Theater's Jordan Rudess on Steve's website here.
...and macProVideo.com is sponsoring a Steve H Logic Workshop at the San Francisco Apple Store on January 28, 2011at 5pm (during MacWorld) followed by Steve and Jordan Rudess playing live at 7pm.
Check out Jordan's Keyboard Wizardry tutorial here.