Amsterdam, Holland, September 11, 2014 - Apogee and Avid® (OTC: AVID) are pleased to announce two new Avid Artist Suite products for music recording and stereo audio post, Pro Tools® | Duet and Pro Tools® | Quartet. These solutions feature Avid branded versions of Apogee's award-winning Duet and Quartet audio interfaces, each paired with Avid's industry-standard Pro Tools 11 software for Mac and Windows customers.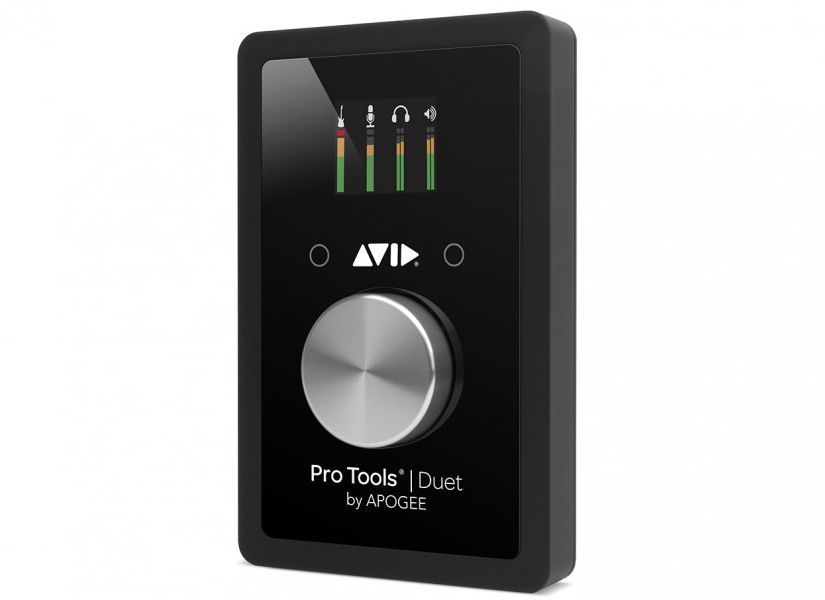 Pro Tools | Apogee Duet edition.
"We are very excited to be working with Avid as the premier I/O Connectivity Partner," said Betty Bennett, Apogee CEO and Co-Founder. "Our two paths have been intertwined since the early days of the digital recording revolution. While Pro Tools | Software was first defining an exciting paradigm shift in our industry, we were perfecting AD/DA conversion and hardware technology for digital audio. Our first collaboration was in 1997 and featured Apogee's AD-8000 as a front end for the Pro Tools | 24 MIX system. Today we are very pleased to join forces once again in offering customers these two outstanding solutions."

Defining Digital Audio - The Path to Partnership
Apogee's hardware and Pro Tools | Software have both played significant roles in the advancement of digital audio recording. In 1985, Apogee's founders developed special technology that addressed the inherent brittleness and distortion heard on the new listening medium of the day, compact discs (CDs). Apogee's unique 924 and 944 anti-aliasing filters were used in high-end Sony and Mitsubishi digital recording systems to make the CD format sound warmer and more like analog. These Apogee products were key to the acceptance and acceleration of early digital recording and established Apogee as a leader in the field. Around the same time, Pro Tools (then Sound Tools) was forever transforming the recording and editing workflow by bringing it to the computer and making it more efficient and flexible than ever before. By 1997, Apogee was developing premium standalone digital audio converters. Apogee's AD-8000 became very popular among professional Pro Tools users. Today, Apogee's Duet and Quartet audio interfaces, as well as Avid's Pro Tools | Software, are regarded as some of the highest quality tools available for music creation among industry professionals and aspiring artists.

Pro Tools | Apogee Quartet.
Pro Tools | Duet Highlights
2 IN x 4 OUT USB audio interface by Apogee with Pro Tools 11 software by Avid

Works with Mac OS X and Windows platforms

Pro Tools IO Control EUCON™-enabled software for advanced control (requires download)

Record performances in up to 24-bit/192 kHz resolution

Connect mics, instruments, and more to high-quality I/O:

Two combination mic/instrument/line inputs

Two 1/4" balanced line/speaker outputs; one stereo headphone out

USB MIDI I/O for a MIDI keyboard or DJ controller

Premium AD/DA conversion delivers sonic fidelity and precision

Dynamically optimized mic preamps provide up to 75 dB of transparent gain

Selectable Soft Limit® protects against digital distortion from clipping

Take control with two configurable touchpads and a multifunction controller knob

Keep an eye on levels and settings with a full color OLED display

Achieve better sounding audio tracks, virtual instruments, and plug-ins

Create with Avid's industry-standard Pro Tools | Software

Sold and supported by Avid

Price: $1,099
Pro Tools | Quartet Highlights
12 IN x 8 OUT USB audio interface by Apogee with Pro Tools 11 software by Avid

Works with Mac OS X and Windows platforms

Pro Tools IO Control EUCON™-enabled software for advanced control (requires download)

Record performances in 24-bit/192 kHz resolution

Connect mics, instruments, and more to high-quality I/O:

Four combination mic/instrument/line inputs

Eight channels of ADAT/SMUX input via Toslink

Six 1/4" balanced line outputs for three speaker sets or 5.1 monitoring

One stereo headphone output

USB MIDI I/O for a MIDI keyboard or DJ controller
Premium AD/DA conversion delivers sonic fidelity and precision

Dynamically optimized mic preamps provide up to 75 dB of transparent gain

Selectable Soft Limit® protects against digital distortion from clipping

Take control with three configurable touchpads and a multifunction controller knob

Keep an eye on levels and settings with two full color OLED displays

Achieve better sounding audio tracks, virtual instruments, and plug-ins

Create with Avid's industry-standard Pro Tools | Software

Sold and supported by Avid

Price: $1,899
Web: http://www.apogeedigital.com/products/pro-tools-duet-quartet