SANTA MONICA, CA, USA: trailblazing pro audio manufacturer Antelope Audio is proud to announce it is taking preorders on Orion Studio Synergy Core — advancing its acclaimed audio interface series' workhorse with 'hot-rodded' hardware from the ground up to include six ARM-based DSP (Digital Signal Processing) processors paired with two proprietary FPGA (Field Programmable Gate Array) chips.

This creates Antelope Audio's state-of-the-art Synergy Core effects processing platform (producing phenomenal onboard computing power to free up host computers from running the cutting-edge company's effects); upgraded D/A (digital-to-analogue) converters (capable of delivering 130dB dynamic range on both pairs of monitor outs) and discrete transistor mic preamps (perfectly matched to bring out the best in Antelope Audio's acclaimed Edge and Verge modelling condenser microphones); and access to today's fastest, most versatile data connection, Thunderbolt™ 3 (with custom high-performance, low-latency drivers for Mac and Windows.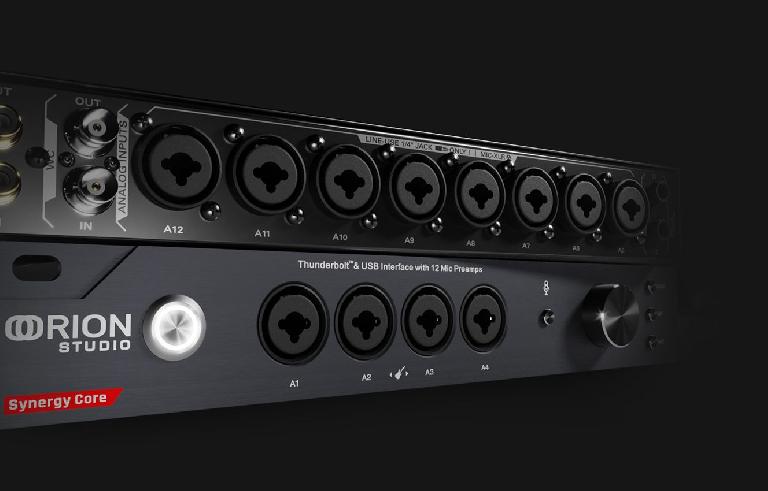 Thunderbolt™ and USB connections combined with 12 of Antelope Audio's discrete mic preamps, extensive analogue and digital I/O totalling 30 simultaneous inputs and 22 simultaneous outputs (including DC-coupled I/O for CV control of analogue modular synths), upgraded D/A conversion, and unprecedented onboard processing power with access to those 50 included real-time effects make for a well-oiled machine like no other audio interface in its class. To power up Orion Studio Synergy Core is to see and hear this 'hot-rodded' workhorse make light work of any recording or mixing project put in its (superior signal) path!
Pricing
Orion Studio Synergy Core is available for preorder — priced at an RRP of $2,795.00 USD — through Antelope Audio's growing global network of authorised dealers. Or order online directly from Antelope Audio via the dedicated Orion Studio Synergy Core webpage (https://en.antelopeaudio.com/products/orion-studio-sc/), which also includes more in-depth information.