Amplitube 3 has a number of different ways you can control it's parameters in real time. Host Automation, MIDI Controllers and IK Multimedia's dedicated Hardware Controllers can all be used to morph, switch and sculpt your tone on the fly.
In this quick tip I'll guide you through the various ways you can control this powerful amp software in Logic Pro. The steps are similar for other DAWs.
DAW Automation
When automating Amplitube in a DAW you'll first need to assign your parameters to one of the 16 host automation slots. These will show up in your DAWs track automation list like so.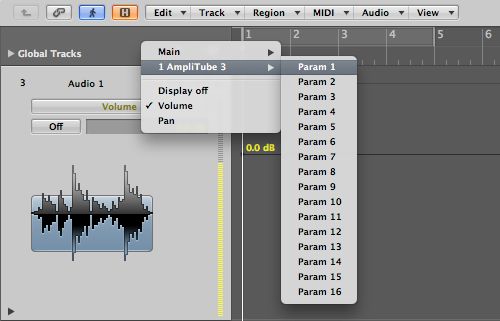 When assigning any Amp, Stomp, Cab or Rack parameter to one of these slots the best way to do this is to Control-Click (Right-Click PC) on the desired parameter (in this case Volume) then choose 'Assign Automation' and simply choose the slot you want!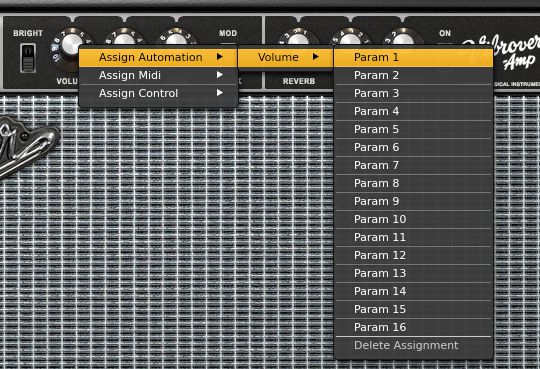 You can assign parameters by accessing the Automation window located in the bottom right of the plugin as well.

The disadvantage of this is you'll have to physically go and find the particular amp you're using from the Plug-In Parameters List which can be a bit confusing if you don't know quite which product library it comes from.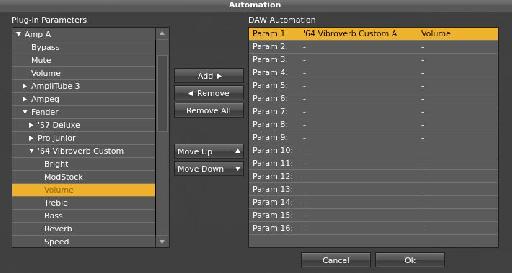 Saying that the Automation window is where you can edit your assignments like adding and removing etc. It's also where you'll need to go if you want to assign parameters that don't belong to the main interface, like Global and Module parameters which are located in the toolbar strip at the bottom of the plugin. These parameters can't be assigned by keyboard shortcuts.
If I wanted to assign '