Mit Truesonic Series Lautsprecher noch dominierenden Lautsprecher im ganzen Land, Alto Professionelle diese Woche die Verfügbarkeit der mit Spannung erwartete neue kündigte Black Series , eine komplette Linie von Top-Level-Lautsprecher und Subwoofer, die jeweils für anspruchsvollen Standards mit Premium-, Zweck abgestimmt Komponenten, Wireless-Funktionalität und immense eingebauten Macht.

Erhältlich in 10-Zoll, 12-Zoll und 15-Zoll-Modelle verfügen Schwarz Lautsprecher einen 1,75-Zoll-Hochtöner und Class-D-Leistung.

Nun setzen die Black Series gegen jede andere Lautsprecher ... und wir haben gesagt, Bernard Werner, Director of Engineering, Alto Professional (@ Alto_Pro). Die Ergebnisse in unserem Live-Schießereien, jedes Mal, sind sich einig. Diese Lautsprecher führen zu einem konkurrenzlos günstigen Niveau. Die Menschen sind wie weggeblasen.
Entwickelt und abgestimmt in den USA, kommt jedes Schwarz Lautsprecher optimiert mit einer 90 x 60 Abdeckung Feld und einem ausgiebig getestet Hochfrequenz-Wellenleiter. Schwarz Lautsprecher sind ausgestattet mit Wireless-Technologie und sind fernsteuerbar über die kostenlose Live-Laufwerk Lautsprecher-App für iPhone und iPad, die zur Verfügung stehen kostenlos aus dem App Store im Dezember.
Drahtlose Steuerung ist unglaublich nützlich, vor allem, wenn die Lautsprecher aufgehängt werden oder schwer zu erreichen, sagte Bernard Werner, Director of Engineering, Alto Professional. Die Live-Laufwerk Funktionalität können Sie verlassen den normalen Mix-Position zu optimieren und die Feinabstimmung Lautsprecher-Einstellungen via DSP so Ihr System klingt perfekt.
Perfekt für High-End-Club-Installationen, mobile DJs und andere on-the-Road-Anwendungen, hat jeder Black Series Lautsprecher stahlverstärkten Gummifüße, ein Stahl pulverbeschichtet Kühlergrill und eine schwere Sperrholz Kabinett, das in abgedeckt ist ein robustes, sehr langlebig, kratzfest und verfügt über komfortable, individuell geformten Griffen. Jedes verfügt über einen eingebauten Mixer mit zwei Mic / Line Combo-Eingänge, Lautstärkeregler und symmetrische XLR-Mix-Ausgang. Schwarz Lautsprecher kommen mit bis zu 12 M10 Flugpunkte für Schwebedecke, und jeder ist auch Multi-Winkel, so dass für den Einsatz als Bühnenmonitor.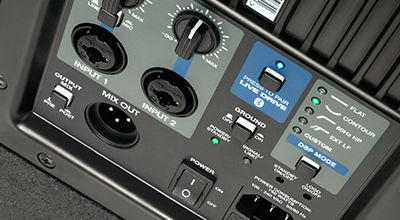 Der Black Series hat zwei Subwoofern zur Auswahl: die Black 18 Sub und Schwarz 15 Sub. Diese 2400-Watt-Aktiv-Subwoofer verfügen über 18-Zoll und 15-Zoll-Langhub-Wandler, bzw., und einstellbarem Pegel und Polarität Kontrollen. Sowohl Black Series
Black Series Lautsprecher sind jetzt nun mit Preisen von $ 749 (Black 10), $ 849 (Black 12), $ 949 (Black 15).
Web: