Cumberland, RI USA (November 16, 2015)— Alesis (www.alesis.com), the world's leading manufacturer of electronic instruments and tools for today's musicians, today introduced their revolutionary new MIDI controller, the VX49. The new keyboard provides advanced control of virtual instruments and DAWs via a full-color, high resolution 4.3-inch screen, a 49-key premium keybed with aftertouch, and intuitively placed, performance-friendly hardware controls. The VX49 is a truly inspiring and unprecedented workflow experience for producers and keyboardists alike.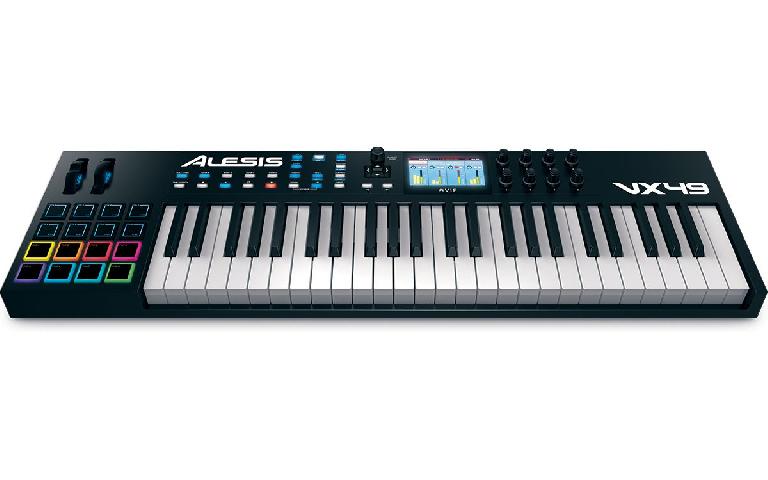 VX49 is powered by the included Virtual Instrument Player (VIP) software. The VIP software lets users intuitively access any VSTi virtual instrument in their computer directly from the keyboard. Using the built-in "tagging" function, users can quickly filter and search through every single patch in their plugin library, potentially saving hours of time for those who need to find a sound quickly. After a plugin is selected, VIP auto-maps the VX49's controls to the selected plugin, and displays the plugin parameters directly on the VX49's full-color display for a full 1:1 workstation style experience.
In addition to loading and controlling plugins, with the VIP software the VX49 creates a "multi" directly from the keyboard. A "multi" allows users to combine up to 8 patches from 1 or more plugins, with the ability to layer, mix and pan these patches all at once. Users can even set keyboard splits, and transpose individual patches within their "multi." This advanced sound design feature enables users to create all new sounds that can be saved and recalled at any point in the future.
The VIP software can also create "setlists" that provide quick on-demand access to virtual instruments for live performance. With a single button press on the VX49, the player can switch to the next plugin needed for their set—without ever reaching for the computer.
Features:
Integrated 4.3-inch high-resolution full-color screen with dedicated interface buttons
Screen provides 1:1, real-time feedback of plugin parameters
Includes Virtual Instrument Player software--- load, play and control any VST plugin quickly
Custom 49-key Alesis semi-weighted keybed with aftertouch
8 performance-ready 360-degree knobs
4 banks of 8 velocity- and pressure-sensitive drum pads with RGB illumination
Roll mode, time division, transport, arpeggiator, and tap tempo buttons
Functions as a standalone MIDI controller or controls your plugins and DAW simultaneously
Includes software: Ableton Live Lite, Vacuum Pro, Loom, Hybrid 3, Xpand!2, Velvet, Transfuser, Eighty Eight Ensemble
"The VX49 is a huge step forward for serious keyboard players and producers," said Walter Skorupski, Product Manager for Alesis. "Players can access and manipulate virtual instruments right from their keyboard, without ever being distracted by a computer. The entire creative/performance process is so smooth, seamless, and natural. VX49 and VIP doesn't slow the artist down—it works with them to maximize their experience and creative potential. We're unlocking VSTs to feel like real hardware instruments. This is the way it's supposed to be."
The Alesis VX49 has a U.S. retail price of $399.99. It will be available in the 4th Quarter 2015. www.alesis.com/vx