Ash Vale, UK (July 7th, 2015) '"Akai Professional, a leading manufacturer of keyboards, mixers and production equipment for performers and recording artists, today announced the introduction of their new MPD Series of pad controllers. These new controllers are a product of over six years of detailed customer research and user feedback. The result is the most capable and user-friendly line of pad controllers Akai Professional has developed to date.

All models feature new, ultra sensitive Thick Fat MPC pads creating an amazingly responsive user interaction. They also have an expanded control set to maximize the sounds and effects available to the user, iOS compatibility using the Camera Connection Kit and over $400 of free software (Big Bang Drums and Big Bang Cinema from Sonivox, Ableton Live Lite, and Software Preset Editor).
Building on the success of Akai Pro's previous MPD18, MPD26 and MPD32, these new pad controllers introduce greatly enhanced control capability to support the artist's creative efforts:
The MPD218 has red light-up MPC pads and a greatly expanded control set of 6 knobs in 3 banks vs. one control on the previous MPD18 model.

The MPD226 has an expanded control set of 4 knobs, 4 faders, 4 buttons in 3 banks for 36 total controls vs. 12 controls on the MPD26

The MPD232 boasts an all-new 64-channel 32-step performance sequencer, which the MPD32 did not have.

In addition users enjoy intuitive control editing right from the front panel on the MPD226 and MPD232, and all three models can be programmed via the included easy-to-use Preset Editor, so musicians of any level can enhance their performance right away. This is one of the many things that distinguish the Akai Professional MPD218, 226 and 232 from everything else.
A recap of the new MPD Series features:
MPD218: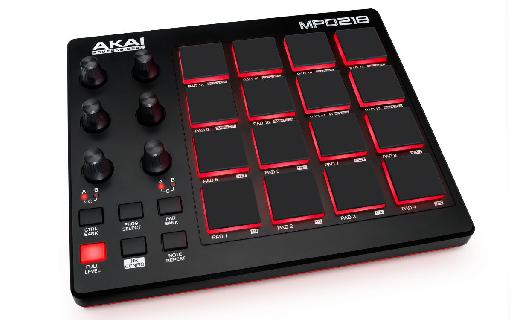 16 Thick Fat backlit MPC Pads with Velocity and Aftertouch

48 assignable pads accessible via 3 banks

18 assignable 360-degree potentiometers accessible via 3 banks

MPC Note Repeat and Full Level

iOS compatible using the Camera Connection Kit (sold separately)

16 configurable presets

Includes Ableton Live Lite

USB powered, no AC adapter required
MPD226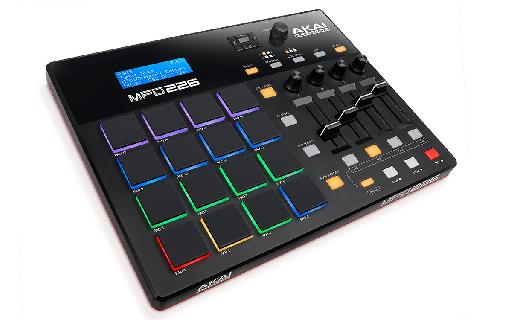 16 Thick Fat RGB illuminated velocity- and pressure-sensitive MPC Pads

64 assignable pads accessible via 4 banks

4 assignable faders, 4 assignable Q-Link knobs, 4 assignable Q-Link buttons

36 assignable controls accessible via 3 banks

Classic MPC Note Repeat, MPC Swing, 16 Level, Full Level and Tap Tempo

30 presets total, with configurations for most popular DAWs

iOS compatible using the Camera Connection Kit (sold separately)

MIDI In and Out jacks for controlling external gear

Dedicated Transport controls

Includes Ableton Live Lite

MPD232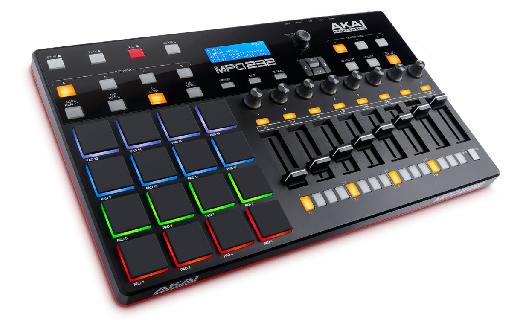 64-part, 32-step sequencer to control pad events

16 Thick Fat RGB illuminated velocity- and pressure-sensitive MPC Pads

64 assignable pads accessible via 4 banks

8 assignable Q-Link faders, 8 assignable Q-Link knobs, 8 assignable Q-Link buttons

72 assignable controls accessible via 3 banks

Classic MPC Note Repeat, MPC Swing, 16 Level, Full Level and Tap Tempo

Dedicated transport controls

iOS compatible using the Camera Connection Kit (sold separately)

30 presets total, with configurations for most popular DAWs

Works with virtually any MIDI software or MIDI hardware

MIDI In and Out jacks for controlling external gear

Includes Ableton Live Lite

'The MPD218/226/232 family marks an important evolution in our pad controller series. Six years of research and customer feedback has led directly to some of the most capable pad controllers we've ever developed,'