Latest version of acclaimed composition software features audio track recording, clip launching, real- time audio warping, Audio and MIDI drag-and-drop, along with enhanced QLinkTM control.
Cumberland, RI USA (January 9, 2017) — Akai Professional, a leading manufacturer of music equipment for performers and producers, is showing their MPC 2.0 at Winter NAMM, the latest version of their acclaimed music production software. Compatible with Mac and PC, MPC 2.0 works either alone as your main DAW or integrates seamlessly with your current DAW as a VST or AU plug-in. It's available with Akai Professional's MPC X, MPC Live, MPC Touch and MPC Studio Black.
Reimagined GUI:
MPC 2.0's redesigned GUI offers a vastly improved creative experience that enhances MPC's revered workflow. Combining a reimagined mixer layout outfitted with resizable faders, an adaptive channel strip, a dedicated audio track editing window, resizable waveform view and much more, MPC 2.0 presents the ultimate platform for unrestricted creative versatility alongside must-have tools that deliver unprecedented surgical control.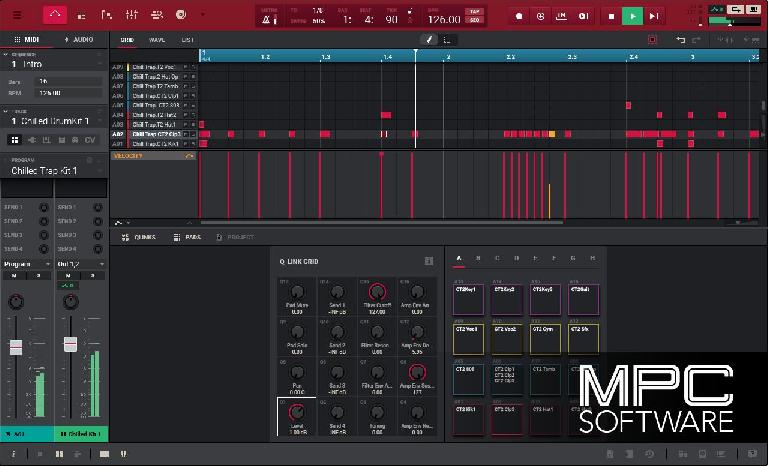 Audio Tracks:
Capture, edit and mix up to 8 studio-grade resolution audio tracks in standalone mode (MPC X and MPC Live), or expand your track limit to an immense 128 tracks in controller mode. Furnished with critical audio recording functionality - including multi-track capture, selectable monitoring options (Off, On & Auto), monitoring via effects, Punch In/Out Recording and Record Start options – MPC 2.0 empowers producers, musicians and performers with core audio-capture and the convenience of full- featured standalone operation.
Edit, Mix, Create:
Used in conjunction with an Akai Professional MPC unit, performers and producers will find that MPC 2.0 will Edit, Mix and Create in a manner unmatched by any other production software. There is a comprehensive suite of audio editing tools: Pointer, Eraser, Audition, Scissors, Fade In, Fade Out, Reverse, Mute, Pitch Adjust and BPM Adjust. For mixing, users can automate any effect, instrument or mixer parameter. With its advanced signal routing capability—submixes, FX returns, multi-output plugin support (up to 16 stereo outputs) and more—there is virtually no limit to the versatility on tap for the artist.
Manipulate Tempo or Pitch:
With MPC 2.0, total-command of user's audio is possible courtesy of a new real-time time-stretching and pitch shifting algorithm. Change the duration of any audio region, drum/keygroup sample or clip to match the tempo of your project with MPC Software's real-time time-stretching; or, use real-time high- quality pitch shifting to change the pitch of any audio region, drum/keygroup sample or clip for creative manipulation or to change the key of the source material. MPC 2.0 makes it easy to manipulate the time and pitch of any source material: a chopped vocal in an audio track, a drum loop in a clip program or an orchestral phrase loaded into a chromatic sampler program.
Perform:
For performers, MPC 2.0 brings their presentation to the next level. MPC Software's XYFX and a Phrase Looper now combines with an all-new Clip Program mode powered by MPC's real-time warping algorithm, providing users with an intuitive clip launch workflow and the ultimate platform for creative versatility. Features like Enhanced Q-Link functionality for precision control mapping of MPCs editable functions and selectable hardware outputs providing seamless assimilation into multiple usage scenarios make MPC 2.0 a powerful creative tool.
Versatility:
MPC 2.0 is versatile and adaptable as well. It supports WAV, MP3, AIFF, REX and SND, as well as supporting samples and sequences from any MPC ever made. There is full 64-bit support in all versions: standalone, VST, AAX and AU.
MPC Software v2.0 Features
Completely new graphical interface

Audio track recording

Real-time time-stretching and pitch-shifting

Clip Program mode for clip launching workflow

Reimagined mixer layout – resizable faders, an adaptive channel strip, a dedicated audio track

editing window, resizable waveform view and more

Advanced signal routing capability - submixes, FX returns, multi-output plugin support (up to 16

stereo outputs) and more

More efficient and streamlined MPC workflow

Audio and MIDI drag and drop

Enhanced QLink Control
"MPC 2.0 is the next generation of Akai Professional music production software, perfected by over a year of intense R & D," said Dan Gill, Product Manager for Akai Professional. "This software suite really energizes the creative process for performers and producers alike, and is an indispensable part of our MPC's amazing capability."
Pricing
2.0 UPGRADE PRICING:
MPC Touch – Free Upgrade
MPC Studio / Renaissance - $99.99 (Upgrade from v1)
MPC Element - $149.99 (Upgrade from Essentials to Full v2).

A free grace period also exists for users who purchased a Studio or Renaissance within 4 months of the launch date.
AKAI Pro will contact users to inform them of their eligibility for the free download or upgrade at launch.

CONTENT UPGRADE:
An optional upgrade to the all-new sound Libraries from the X and Live is also available for $99.99 with bundle pricing if purchased during 2.0 upgrade.
These fantastic library features over 10GB of exclusive new content including kits, instruments, and clip launch packs. These amazing packs have been designed by some of the most prestigious sound designers including Sample Tools by CR Records, Capsun Pro Audio, Tool Room Records, Loop Masters, and MVP Loops.
MPC 2.0 is bundled with Akai Professional MPC hardware, and is available in Q1 2017. It will be available separately as an update for existing MPC customers (see above).
Web: www.akaipro.com