Cumberland, RI USA (September 8, 2017) — Akai Professional (www.akaipro.com), creator of the critically acclaimed Virtual Instrument Player (VIP) software — the only software that enables musicians to catalog, control and map their entire VST instrument and effect library directly from their keyboard — today announced VIP 3.0, a pivotal update opening the platform to any MIDI controller alongside the VIP Native Plugin Map Standard that allows 3rd party virtual instrument and effect developers to produce their own plugin maps for enhanced VIP integration.
VIP 3.0 revolutionizes the hardware/software experience and provides musicians and producers with unparalleled access to their VST virtual instrument and effect collection. The combination of VIP 3.0 and a compliant controller maximizes workflow and ensures a natural, creative playing experience that fuses the tactile feel of hardware with the unrivalled processing capability of virtual Instruments.
With VIP 3.0, users can drastically enhance the creative capability of any standard MIDI over USB controller thanks to all-new MIDI Learn functionality. Now artists can seamlessly custom map the controls of their MIDI controller (knobs, encoders, faders, buttons) to VIP's parameters, for effortless integration and the enhanced workflow, attributes that owners of the award-winning Akai Professional Advance Series, M-Audio's CTRL49 and the Alesis VX49 have long enjoyed. VIP 3.0 is also available for the first time ever as a no-charge complimentary upgrade (a $99.99 value) to owners of the following models:
Akai Professional
MPK2 Series
MPK Mini Series
M-Audio
Code Series
Oxygen MK IV Series
Axiom AIR Mini 32
In addition, VIP 3.0 is available to 3rd-party keyboards for the first time, for a $99.99 access fee.
Other notable new features include Pad Chord Progressions and Key Control processors – MIDI centric performance tools, armed with comprehensive articulation controls, that provide the ideal platform to explore new musical possibilities by harmonizing root notes in real-time and playing chord progressions on pads (using either the vast factory library or user's own fully customizable motifs).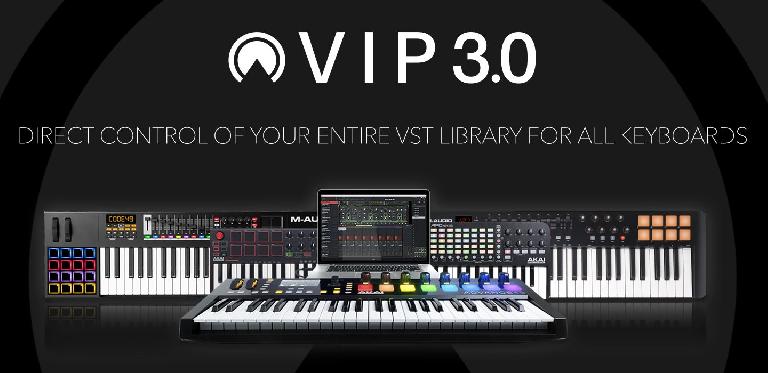 VIP 3.0 Highlights
Plays virtually every VST-compatible plugin and effects unit

Operates as a standalone virtual instrument and effects player or as a plugin within any AU, VST or AAX compatible DAW

Organizes user's plugin collection with intuitive browsing by plugin, artist collection, instrument type, timbre and more

Includes an Effects Browser allowing users to browse effects by type and audition across multiple plugins with a single click

Access, edit and mix up to 8 virtual instruments at one time in a Multi

Expanded Multi mixer includes insert effects, send effects, bus tracks and a master output channel strip for total routing control

Effects Stacks combine multiple effects into re-usable patches, accessible in the patch list for easy selection and auditioning

NEW | VIPMS – The VIP Native Plugin Map Standard allows 3rd party virtual instrument and effect developers to produce their own plugin maps for enhanced VIP integration and opening their plugins to the superior workflow offered by VIP

NEW | MIDI Learn functionality seamlessly maps the controls of any VIP-compatible keyboard (knobs, encoders, faders, buttons) to VIP's parameters with a ever-growing library of MIDI controller mappings for Akai and M-Audio controller keyboards included

NEW | Pad Chord Progressions - play factory or user defined chord progressions using a VIP-enabled keyboard controller's pads

NEW | Key Control modes: play scales, harmonized chords or chord progressions from a VIP keyboard or MIDI keyboard.

"Accessing and manipulating virtual instruments and effects directly from a keyboard, without ever being distracted by a computer, makes the entire improvisational/performance process intuitive and seamless," said Pete Goodliffe, Director of Software Development for inMusic Brands. "With VIP 3.0, and its new MIDI Learn functionality, users of any MIDI controller can effortlessly create their own control maps for VIP, forever changing their interaction with their compatible VST collection for an unprecedented creation-centric experience"