This Live Pack from AfroDJMac has some great sounds which are all tempo-synced which means these rhythmic instruments all move and fit to your music.
In a nutshell here's what's inside the Rhythmic Pads Ableton Live Pack:
78 tempo-synced rhythmic Ableton Live Instrument Racks. By just holding out a few notes, get interesting moving sounds that fit perfectly within the beat of your track! 35 Single-Layered Synths, 22 Moving Noise Synths, and 21 3-Layer Polyrhythmic Synths.

And here's what AfroDJMac tells us about his new $15 Live Pack:
"The Rhythmic Pads Ableton Live Pack is a collection of 78 tempo-synced Instruments Racks. The instruments will give your tracks movement and groove by simply holding down a few keys on your MIDI keyboard. Perfect for giving movement and life to music that needs a lift, and great for quickly generating musical ideas. Each of the Instruments is completely customizable with color-coded and carefully laid out Macro Controls.
"Creating the instruments in this Pack was a lot of fun. I programmed patches and sampled sounds from my collection of analog and digital hardware synths, as well as a host of virtual software instruments. There are even a few acoustic instrument samples inside. Each sample was placed inside of Live's Simpler and treated with some rhythmic effects of Ableton Live. The result is a very diverse collection of sounds, loaded with rhythms designed to immediately inspire creation.
"The Instruments in the Rhythmic Pads Pack are divided into three groups: 35 Single Layers, 22 Noise Instruments, and 21 Triple-Layered Rhythmic Pads. All of the instruments have control over the timing, style, and intensity of their rhythmic movement. You get to decide whether or not your instruments are having a nice slow evolving flow or wild freakout dance party.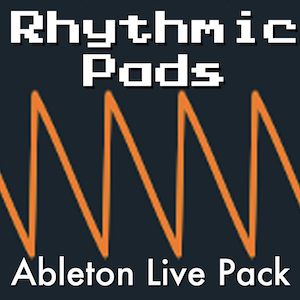 The Triple-Layered Rhythmic Pads allow you to mix an arpeggiator layer, a noise layer, and a rhythmic pad layer. These powerful Instrument Racks are perfect for developing intricate polyrhythms that are big enough to fill an entire track. "
The full pack is just over 25 MB and requires Ableton Live 9.6 Standard or above.