COUTURE brings you absurdly easy Transient Control and Saturation in a fancy package. COUTURE is to your mix what a Depth of Field effect is to a photo.
Couture is unusually versatile:
Make individual drum tracks a lot more dynamic and punchy
Remove the "click" out of a kick drum sample
Give glue to a mix with light compression
Use a subtle saturation that preserve dynamics
Deess the very start of notes for vocals
Give life to inane lead synths
Like all Auburn Sounds plug-ins this is freemium, and you can use the FREE Edition without any time limit - it just disables the Saturation part. But of course they survive thanks to your support when you buy the FULL version.
Until September 16th 2018, the real COUTURE experience is yours at 39€ instead of 49€.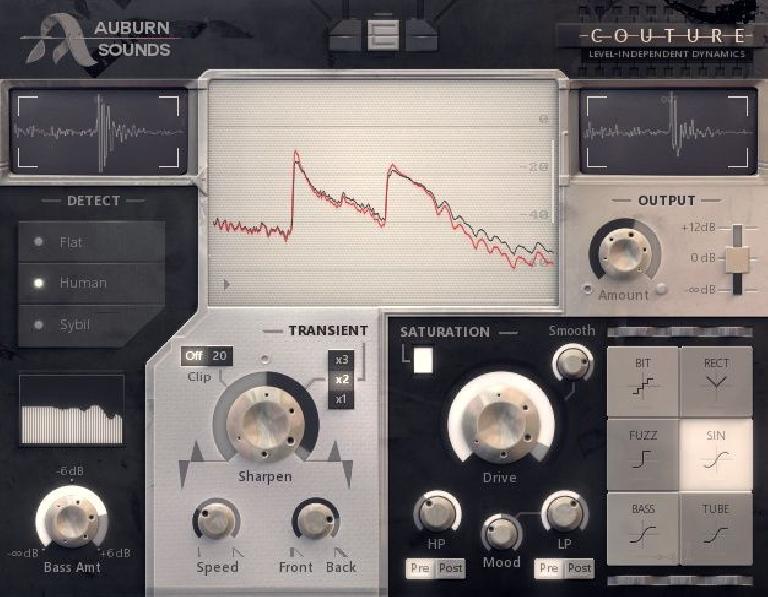 So what makes this plug-in special?
One knob Dynamic Range: We did not invent this. But we made it fit for any transient, more controllable and coupled with an innovative volume-independent Saturation stage. The envelope detector is 2-band, RMS, half-spectral, program-dependent. It doesn't miss any transient, need minimal tuning, and has no internal threshold.
Pristine sound: We redefined how we test and hear DSP algorithms. This process improvement led to what COUTURE is now: at home on mostly any track.