We reported about ACPAD back in June, and needless to say it garnered a lot of attention back then. It is now successfully running on Kickstarter. The overlay-based wireless MIDI controller claims to be the first for acoustic guitar players. There's no screws or wires needed. This is a "gentle adhesive surface" that fits neatly on the body of your precious instrument and gives it a rather futuristic look in the process. For anyone wondering, Robin Sucroso tells us it can be removed without leaving any residue.
Look Ma, No Wires
As if it's not impressive enough that ACPAD gives the player the ability to play drums, bass, piano or any instrument you can imagine, trigger effects and samples, record and trigger loops on the fly, and control your DAW or other audio plug-ins, it can do more.
ACPAD is pressure sensitive, so there's an expressive element dependent on how hard you press the pads and surface. It's wireless too! You can plug in a USB dongle to connect it to your laptop or iOS or Android device. Though you can connect via a cable too if you prefer. Oh, and it's super thin.
Features:
Controls: 8 pressure sensitive touch pads, 10 preset buttons, 2 looper channels, 2 slider faders
Adhesive: Sticky polymer mat (residue-free)
Dimensions: 300 mm X 365 mm; see below for details
Thickness: 3.5 mm for the PAD; 9 mm for the battery area
Battery life: 4-5 hours of continuous play; Rechargeable via USB
Connectivity: Wireless via USB dongle; Wired via USB Mini cable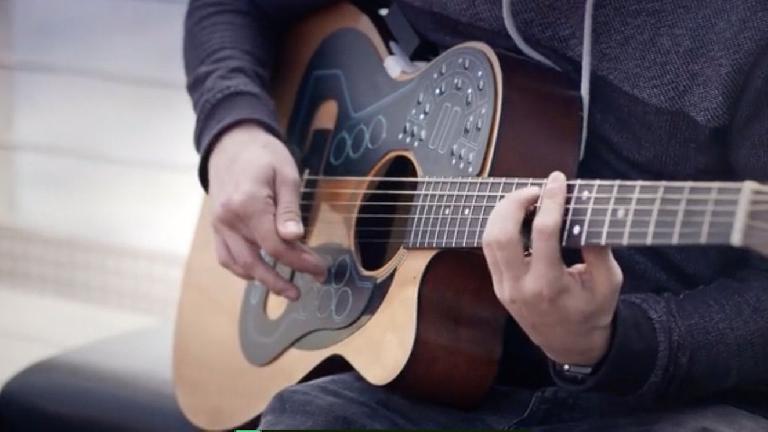 The early bird deals are all but gone… but you can pick up an ACPAD for €249 Euro via Kickstarter… and at the time of writing ACPAD has already smashed past its goal of €40,000 Euro to the sweet tune of €156,748 with 41 days still to go!
Click here to Visit ACPAD on Kickstarter