Oslo, March 15th, 2019 – Acon Digital has released version 2 of their acclaimed reverb plug-in Verberate. Verberate 2 introduces a new late reverb algorithm called Vivid Hall that is based on entirely new technology and is designed for natural and pristine reverb tails without repeating patterns, resonances or other artifacts.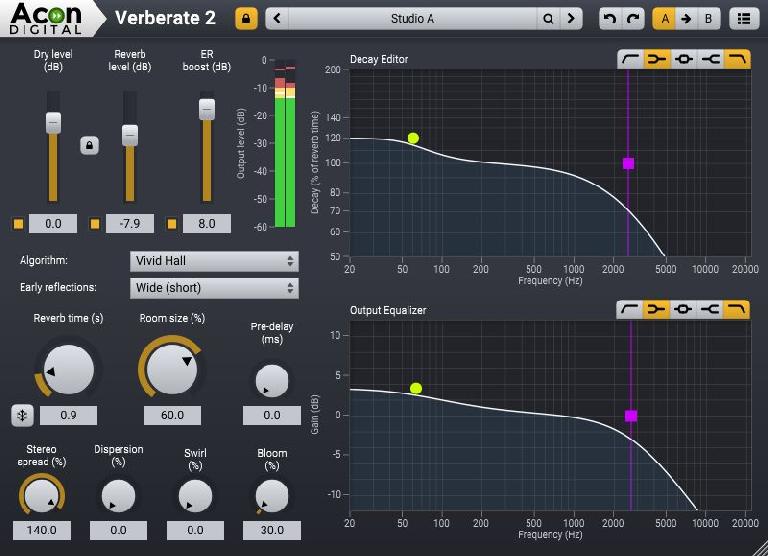 The decay editor that makes it possible to sculpt the reverb tails by setting up frequency dependent reverb times has been significantly improved. It now offers bell as well as high and low cut and shelving filters similar to a parametric equalizer. The filter slopes can be adjusted continuously as with most Acon Digital plug-ins. The integrated output equalizer offers the same filter types and both the decay editor and output equalizer show accurate curves with interactive handles to modify the filter band settings.
Another new feature is the ability to better simulate mechanical plate reverbs. High frequencies travel faster in metal plates than low frequencies. This effect is called frequency dispersion. Verberate 2 now has a Dispersion parameter which allows highly realistic plate reverb simulations when combined with the decay editor set to simulate the longer high frequency decay of plate reverbs. A new Swirl parameter makes it possible to simulate the feedback modulation effect found in many vintage digital reverb units.
The 15 early reflection patterns offered are algorithmic, calculated in real time and applied using convolution. A dense and resonance free late reverb tail follows the early reflections, resulting in extremely convincing room simulations with impressive depth combined with the flexibility algorithmic reverbs are known for.
The stereo edition of Verberate 2 was released today and is available in the Acon Digital Store for $99.90 USD. The surround capable Verberate Immersive 2 will be released in April 2019 and will support all common surround and immersive audio formats at a price of $199.90. Owners of the stereo version will be able to upgrade for $99.90 USD.
The upgrade price for Verberate 1.x owners will be $49.90 USD, but early birds will be able to get the upgrade for $29.90 USD until April 1st, 2019.