It wasn't that long ago that Propellerhead ReBirth literally changed the way many of us made music on our computers. Since then music creation software has come on in leaps and bounds. ReBirth now exists for iPad and we're constantly asking for more power and features from our desktop DAWs. We're also seeing a growing desire for more music hardware.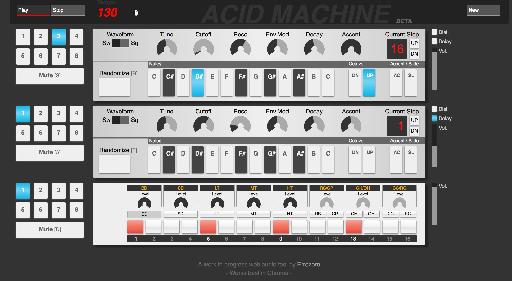 Errozero's Acid Machine is in BETA but does include the ability to save and recall patches.
If you'd have asked most producers 10 years ago whether we'd have Roland style 303, 808 and 909 style bass synth and drum sequencers in our browsers they might have chortled. But, here it is. Errozero have created Javascript-based Acid Machine (in BETA) which brings the essence of building a bass, lead and drum sequence to you without the need to install any additional software!

It works best in Chrome. I tried it in Firefox and got good results, but Safari was a no-go.

Check it out (and remember your headphones if you're at work!)