Not all of us have a Neumann condenser microphone to run home to when the world seems like a cold dark place, and our vocals sound too thin. In fact, some of us have very limited microphone access, period. It's with this simple fact in mind that I chose to not only give you some quick tips on thickening up your vocals, but also how to make that crappy mic sound just a little bit better.
To help me achieve a certain level of rubbishy vocals, I chose to use the built-in mic on my iPhone headphones. Ideal? Far from it. It lacks a lot of high-end, in fact, it's pretty much like building a mic from an old magnet. It's a mid-range nightmare, but it's perfect to help show how helpful some of Ableton Live's audio plug-ins can be.
First, let me start off by letting you hear the iPhone vocal recording with no effects, period:
Yep, if the drums weren't in the background, you might have thought I was either very new to this, or mentally challenged when I recorded, with regard to recording quality.
Now, let's see what we can do!
Step 1
Ableton's sound designers were very, very thoughtful when they made the presets for the built-in Compressor that comes with Ableton. Amongst all of the handy presets like 'Acoustic', 'Brick Wall', etc. there is a very handy preset known as 'De-esser'. I can tell you from experience, the 'De-Esser' preset works very well. I'll start off by incorporating the Ableton Compressor in with the 'De-Esser' preset. 'Esses' can be worse than normal on low-end mics, and this vocal line does have some 'esses'.

Step 2
Now that the nasty 'esses' are out of the way, I want to be able to boost my volume without peaking. Normally, I'd use a compressor. However, as the De-esser is already in play in the form of a compressor, I don't want to squash too much. I'll go ahead and use Ableton's Limiter instead. With the limiter, I can boost the signal, but then limit how much audio overall is being sent out.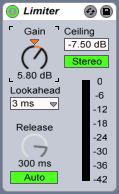 Step 3
So, I've got some volume now, but this is a really, really 'mid-rangey' recording. See what I mean with the current FX:
To assist with overall 'boxy' feel of the recording, I'll incorporate an EQ Eight. Realistically, if I was concerned about DSP, I'd stick with the EQ Three because I only will really need a few bands of EQ, at the moment. But I like the GUI of the EQ Eight better, so I stick with it.
With this EQ, I use one filter on the EQ Eight to shelve a lot of of the low end off of the recording. It's a little bass heavy, and vocals (in most cases) should not be competing with the drums. Next, I add a little boost with the second filter at 5k. This just adds a little more high-end to the over all recording. Also, it makes the vocals a little more breathy, and intimate, which I like.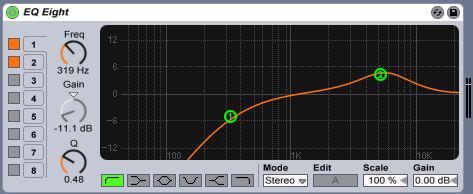 Step 4
Finally, with a the addition of a little delay (light slap-back) and chorus, I add some polish and snap to the over all recording. Granted, it's a crappy mic recording, and I wouldn't normally use something like this, but as you can see, some of the more simple Ableton effects made a huge, huge difference! Listen and judge for yourself: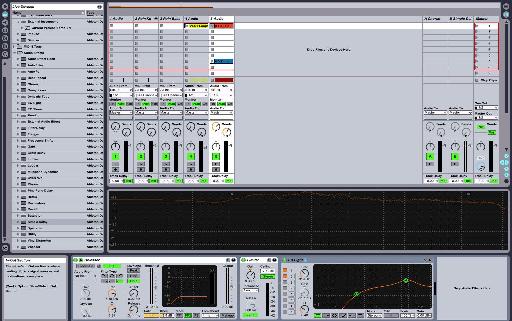 You've got Live, but do you 'get it?' Improve your productions, remixes and Dance Music tracks with these Ableton Live tutorials.