If you have ever used a computer mouse with Ableton Live in Session Mode, you know that once the beat is rolling, it is a little inconvenient to try to launch multiple clips at once with the mouse pointer. Let's face it, a DJ's computer mouse is not now, nor will ever be, esteemed as highly as Jimmy Page's Les Paul. However, in a more practical sense, the nature of using the mouse with a digital audio workstation does provide a great deal of accuracy in "painting" sections of audio and moving blocks of graphical sections of audio into a timeline.

Also, it is nice to draw multiple automation curves onto audio or midi tracks in order to get the exact change over time regarding the parameter that you want to manipulate in a sequence, and sometimes that simply cannot be strung together in real-time during a heat-of-the-moment peak time trance breakdown.
In other cases, it is more intuitive to approach composition and performance of music by triggering individual sequences or moving knobs and pressing buttons with your hands. The iPad is a very affordable multi-touch surface that we can utilize for this purpose.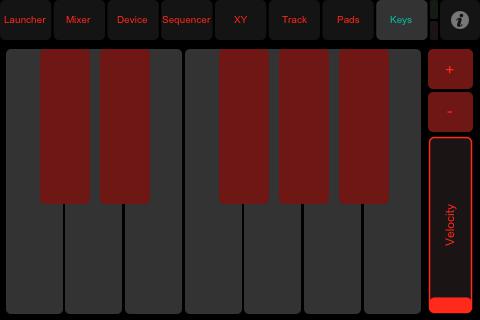 FIGURE 1: LiveControl's keys page
Hypothesis

Consider that you can load a custom interface onto your iPad that maps some or all of the clips and parameters in Ableton Live to provide a seamless control surface for your Ableton session. (See FIGURE 2).
An ingenious developer by the name of ST8 has developed a solution dubbed "LiveControl" that accomplishes this massive geek-feat, and complete setup instructions can be found at here in order to get everything setup for your use . A small donation is highly recommended to ST8 for his efforts if you find LiveControl as immensely useful as I have. In fact, I composed my last single "The Mad Piano" almost entirely with LiveControl.
It was the most fun I have ever had composing music, to be sure. As a sidebar, that fact really shines through in the music, apparently, as this single was recently picked up by 2 new compilation albums, a monome compilation album (monome.org in the community section) and on "Robohustlin'", a record developed by Liz Revision aka Quantazelle on her subVariant label.
It has been about 4 weeks since I have used LiveControl, and thankfully as the trend continues, there is a newer, better version available for download. Let's take a "thirty-thousand-foot view" ofsetting this up on Windows 7. The setup for earlier versions of Windows, as well as the Macintosh, is similar. Note: you will need to purchase the amazing TouchOSC app for the iPhone or iPad (recommended) in order to use this software to to Hexler.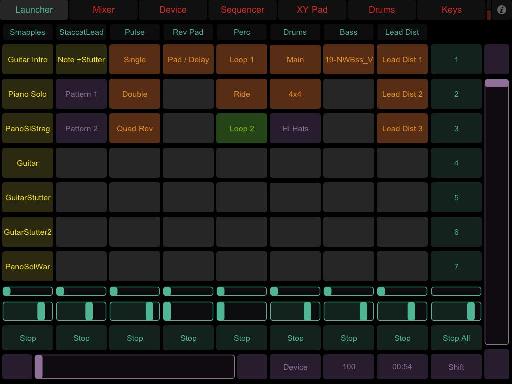 FIGURE 2: Live Control's clip launcher
Setup your IOS Device

After downloading your Windows or Mac version, extract the zip file to a folder, and then download the touchOSC editor here . Again, extract the editor software to a folder and launch the program. You will need Java to use LiveControl. If you don't already have Java you can download and install it at here .
On Macintosh, Java is automatically installed with your software updates. Open the touchOSC editor software and open the *.touchosc file (the iPhone or iPad version), and go to layout, add new, on the touchOSC app on your IOS device.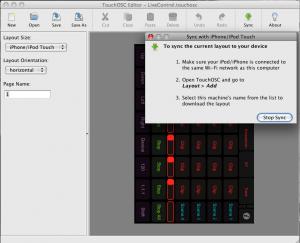 This will transfer the LiveControl interface to your IOS device. (See FIGURE 3). As I am installing this on my Windows 7 HP tablet, the following procedure assumes Windows installation. On Mac, this is actually a little easier, (shock!), and again, the full installation details are at the Live Control installation page above.
Run the LiveControl.jar installer which is within your extracted LiveControl directory. Next, navigate to the LiveControl folder within the extracted LiveControl directory and launch LiveControl.exe (or *.app on Mac).
Choose the MIDI port that will receive transmission of the control messages from the LiveControl touchOSC template over wireless, and thus, into your computer and through the MIDI port and, finally, into Ableton Live to complete the circuit.
On PC, you will probably want to use MIDI Yoke to do this click here . For example, the port I chose was MIDI Yoke 1. This is like a virtual midi cable inside your computer that "attaches" touchOSC on your iPad to Ableton. Also choose your IOS device which should show up automatically if your computer is properly networked, via Ethernet or wireless. (See FIGURE 4, which shows a screenshot of the router setup on a Mac, which creates a custom MIDI Port "from LiveControl 1").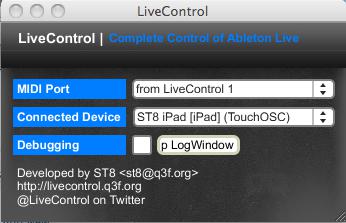 FIGURE 4: Setup Ableton Live
In Ableton Live, go to preferences, midi setup, and choose Livecontrol_TO as one of your control surfaces, and leave the input and output blank. Choose the same selection as you did in the LiveControl.exe midi port, (I chose MIDI Yoke 1) for track input. (See FIGURE 5, which shows Ableton Live's Midi Sync tab on a Mac).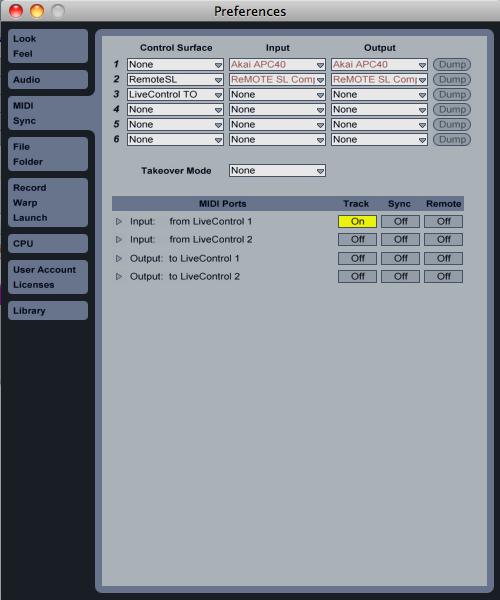 FIGURE 5: GO!
Now, when you touch one of the clips on your iPad touchOSC app, the corresponding clip will launch in Ableton Live on the clip launcher page. After that, select the Mixer tab and you can then use as many fingers as you like all at once to mix volume, pan, and send levels for a really natural feel, much closer to a traditional mixing desk than using the mouse or laptop trackpad. For what it's worth, LiveControl is a little more "Starship Enterprise" and a little less expensive than mixing on a hardware Pro Tools desk.
What the interface lacks in tactile control in knobs and faders, it more than makes up for in dynamic configurability. Those brave enough can edit this template to your heart's content via the touchOSC editor software, to create your own custom control surface, which may indeed navigate you to the final frontier in the sonic spectrum. (See FIGURE 6).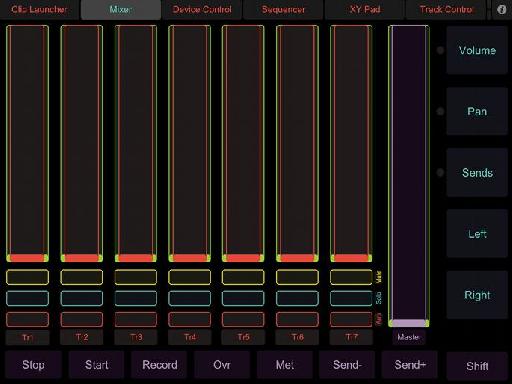 Figure 6:Ableton Live Control's Mixer page
CONCLUSION: Less is More

Clearly, interacting with software using a multi-touch interface such as LiveControl will not only provide a more intuitive experience when producing music, but also it injects more fun into the equation. There is a general trend toward creating and using Natural User Interfaces (NUI), and I have high hopes that this new convention will provide more freedom for Artists during performances in not having to hunch over a laptop and squint into the display, but instead it will bring the "Live" paradigm back to the stage, fittingly.
I recently watched an amazing interview with Robert Rich , and I realized how important this "Live Vibe" is while listening to his explanation of how the display of physical movement conveys more energy to the audience, rather than simply "looking like you are checking your email" on stage.
I hope that you will not only peruse the above links and find a way to integrate LiveControl into your Ableton Live workflow, but also to begin developing your own custom Natural User Interface and that you will make it available for the Ableton Live community to share on macProVideo.com's forums. Want to learn more check out our Ableton Tutorials.