In the ten years since it first launched, performers of all stripes have embraced Ableton Live for its improvisational versatility and robust configuration. With its notorious grid interface – reminiscent of a spread-sheet – Ableton Live may not look the part, but in fact has the potential to be wielded as one of the most powerful DJ platforms on the market today.
Designed as a live performance medium, it doesn't sport a traditional DJ GUI with 2-4 channels accompanied by a standard set of sample banks and effect controls à la Traktor or Serato. Instead, the only limits to the amount of tracks, layers, samples and effects you can use in a Live-powered DJ set are the specifications of your computer – and your own imagination. Likewise, there's no limit on the types of controllers you can use with Ableton or the customizations you can make under the hood to create a truly unique DJ rig all your own.
Warp Drive
Pre-digital disc jockeys will be well acquainted with the process of beat-matching: adjusting the pitch of a new track via headphone cue to match the tempo of the last for an eventual smooth blend between the two. With Ableton Live, this process can also be done in real time, but is probably better handled in advance of your performance, at least until you've mastered the technique of Warping your tracks very quickly.
Similar to Traktor's Beat Grid process, the key here is setting your Warp Markers. An integral feature of Live's proprietary time-stretching method, Warp Markers provide instructions to the software as to how, when, and where to align the beats of a song. By setting the Warp Markers in advance, we ensure that any correctly Warped tracks will play back in synchronization with the global BPM of your Live set, and as a result, stay in time with any other Warped tracks as well. While a certain sense of risk might be lost without the possibility of a mix spinning out of control in real time, the idea here is that by taking care of these calculations in advance, DJs can focus on more advanced programming, looping, effects – and, of course, their dance moves – during their performance. Warping full songs is easier than ever in Live 8 – especially if they've been electronically produced with a constant tempo. Let's take a look at how it's done.
Step 1: In the Record/Warp/Launch area of the (Live > Preferences > Record/Warp/Launch), turn "Auto-Warp Long Samples" OFF. Otherwise, Live will try to place a bunch of Warp Markers throughout the file, which is not only unnecessary for electronically produced beats, but can actually make the procedure more difficult.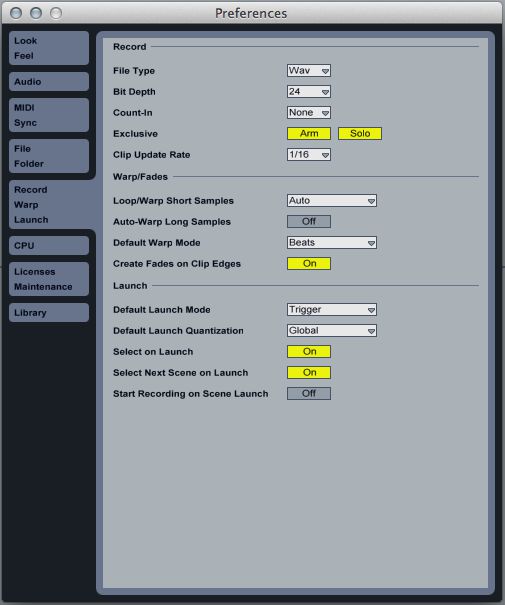 Step 2: Bring a track you want to Warp from the Browser or from a Finder/Explorer window into an empty Clip slot on an Audio Track in the Session view – or to the empty "Drop Files and Devices Here" area, where a new track will automatically be created along with it.
Step 3: Double-click on the rectangular Clip that you've just dragged in.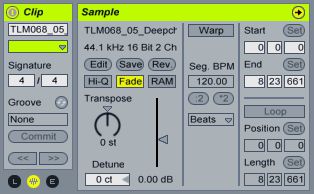 Step 4: Engage Warping by manually clicking the "Warp" button in the Sample properties area of the Clip view.
Step 5: Zoom (by clicking above the waveform, in the time ruler area where the magnifying glass icon appears, and drag down – or up to zoom out) into the first beat of the track and double-click the transient marker (grey triangle) above it to create a Warp Marker.

PRO-TIP: Hold down the Shift key while dragging the Warp Marker to "slip" or fine-tune its placement in relation to the waveform.
Step 6: Right-click (or Control-click) the Warp Marker you've just created and select "Set 1.1.1 Here" from the contextual menu.

Step 7: Right-click the Warp Marker you've just created and select "Warp from Here (Straight)" from the context-menu. At this point, you should now see the kick drums in the waveform more or less lining up correctly with the timing grid.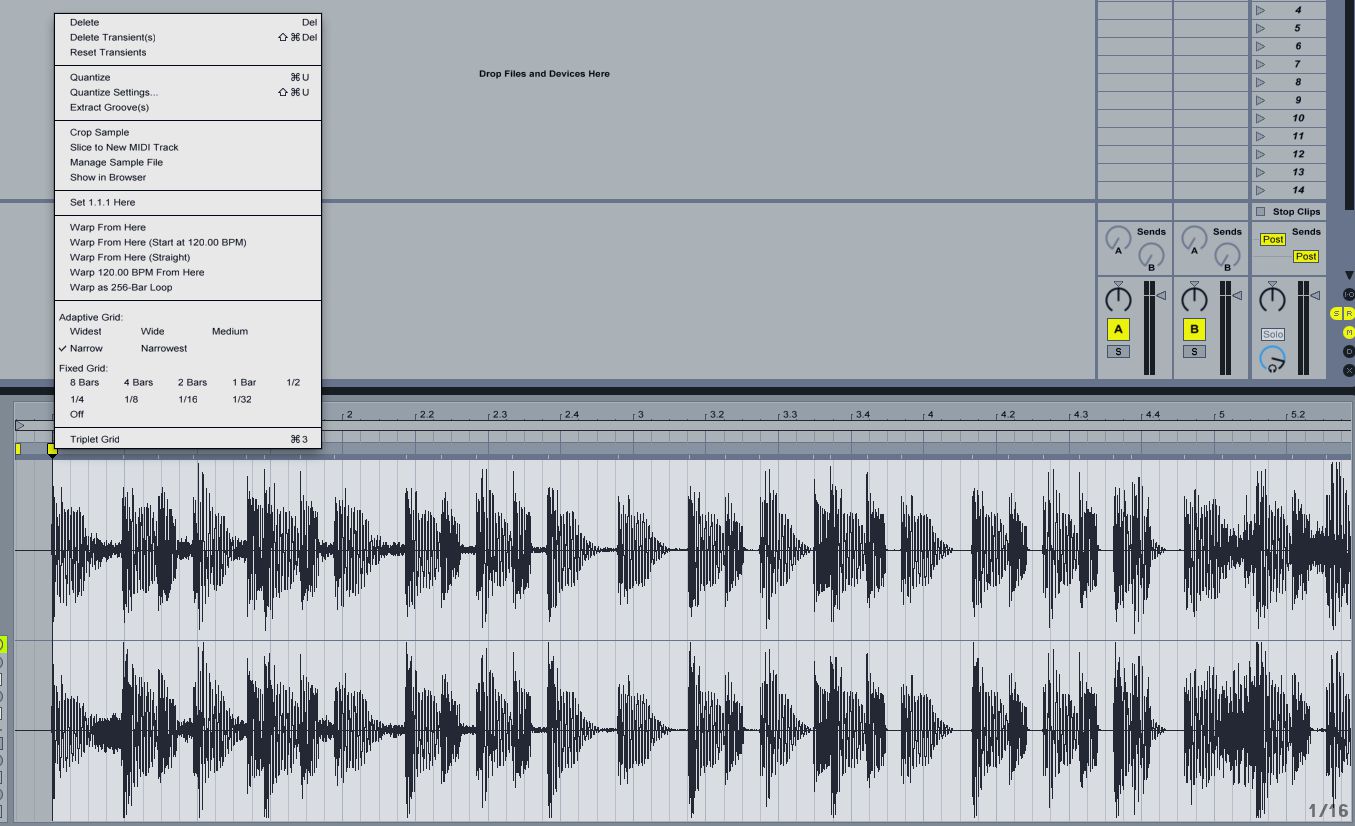 Step 8: Our final step is to zoom out to the end of the track and make a slight adjustment for any drift in the algorithmic tempo calculation. Use the Clip Macro view in the lower right corner of the Detail view and click towards the end of the waveform to skip to the end of the song at the current magnification without zooming out and back in.

Focus now on a kick drum or other strong beat; you may notice it's slightly early or late – in this case it's a bit early, falling slightly before the 225th bar.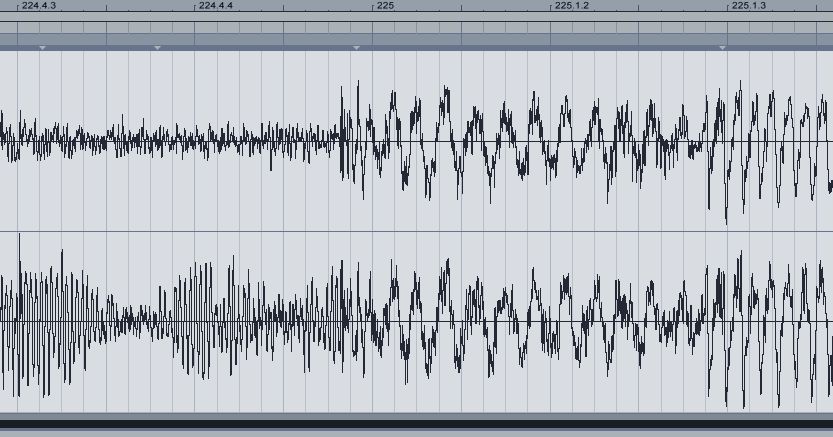 Double-click in the Transient bar to create a new Warp Marker precisely at the start of the drifted beat you want to adjust, and drag it to the correct timing interval.
This slight adjustment will ripple throughout the track, correcting any previous drift. If the Seg. BPM area in the Sample properties area now reads an even number (ie. 123.00 rather than 123.45), chances are you've nailed it.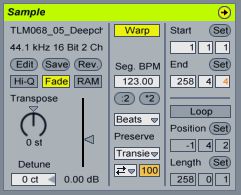 To test it, either trigger the clip along with the metronome, or zoom out in the clip waveform view and trigger different points in the track via the scrub area using the small speaker icon; with each new part launching at the global launch quantization interval (by default set to 1 bar), if warped correctly, everything should stay in sync no matter where you trigger playback within the file.

PRO-TIP: Once all your Warp markers have been set, along with any other basic Sample adjustments (Volume, Transposition, Warp Mode, etc.), click the Save button in the Sample Properties area so that whenever you bring the same file into a new Live set, it will retain the same Warp and other settings.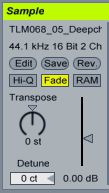 Using this method, we can quickly beat match our tracks in advance using no more than two warp markers – feel free to try this on the fly, though you may want to perfect the technique at home first. Do this as many times as you need for all the tracks you plan to use in your set – practice makes perfect. Now that we've got our tracks lined up, let's explore some more advanced DJ techniques in Live.
All Cued Up
Now that we know how to get our tracks playing back in time with one another, let's look at creating loops from them. DJs coming to Ableton from traditional digital DJ platforms often ask "How do I set cue points?" However, there's no direct correlate to cue points in Ableton. That said, we can duplicate a clip as many times as we want, setting different start points and loop points for each one, and naming them accordingly for easy reference.
Step 1: Duplicate a clip by selecting it and hitting Command-D, or by holding down the Alt/Option key and dragging it to an empty clip slot.
Step 2: If we want this version of the clip to launch at the 33rd bar instead of the first, move the start marker to the beginning of the 33rd bar, or enter this numerically.

You'll notice the portion of a file that's set up to play has a white background, while any portion that won't play (due to falling outside the playable region set by the start and end markers) has a grey background.
Step 3: Rename it by selecting the clip and hitting Command-R, or typing into the clip name field.

If you like, color code it by Right-clicking on the clip and selecting a new color or by selecting a color from the clip color selection drop-down menu.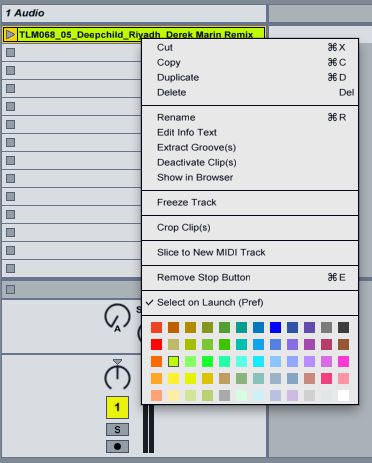 Getting Loopy
Once a track has been Warped, it's ready for looping.
Step 1: In the clip's Sample Properties, engage the Loop button.

Step 2: Set the duration of the Loop with the Loop Brace in the Sample View, or numerically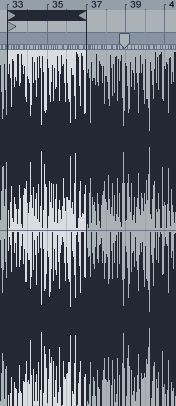 .

PRO-TIP: The Start point can be independent of Loop points, so you can start playback of a song from the beginning, but loop a later section – for example, taking advantage of the mix-friendly intro but only looping your favorite section, and avoiding any bits you might not like (sax solo, diva vocals, etc.) that come after the looped section.
PRO-TIP: Set your Loop start and Length times on the fly with the Set buttons – which are also MIDI and Key map-able for advanced users.


Duplicate to create as many different versions of a song as you like, all with different start points (cues) and loops, colored and renamed as needed for quick identification.
If you want to create a sample bank track with just short one-off samples that don't loop, make sure Looping is turned off for all the samples you want to use for this and by default they'll only play once when triggered.
The Live DJ Set
Given that each channel in a Live set can only play one clip at a time, you need to have multiple tracks in order to do any layering. How many tracks can you have? That's up to you – and each track can have its own chain of unique performance effects, in addition to setting up your sends and returns for global effects. Here's a snapshot of a very basic DJ set configuration in Live with three main channels for tracks and loops, which have been color coded according to style and named for easy reference, plus a sample bank channel (FX Bank) for triggering one-shot effects through a big hall reverb on the send.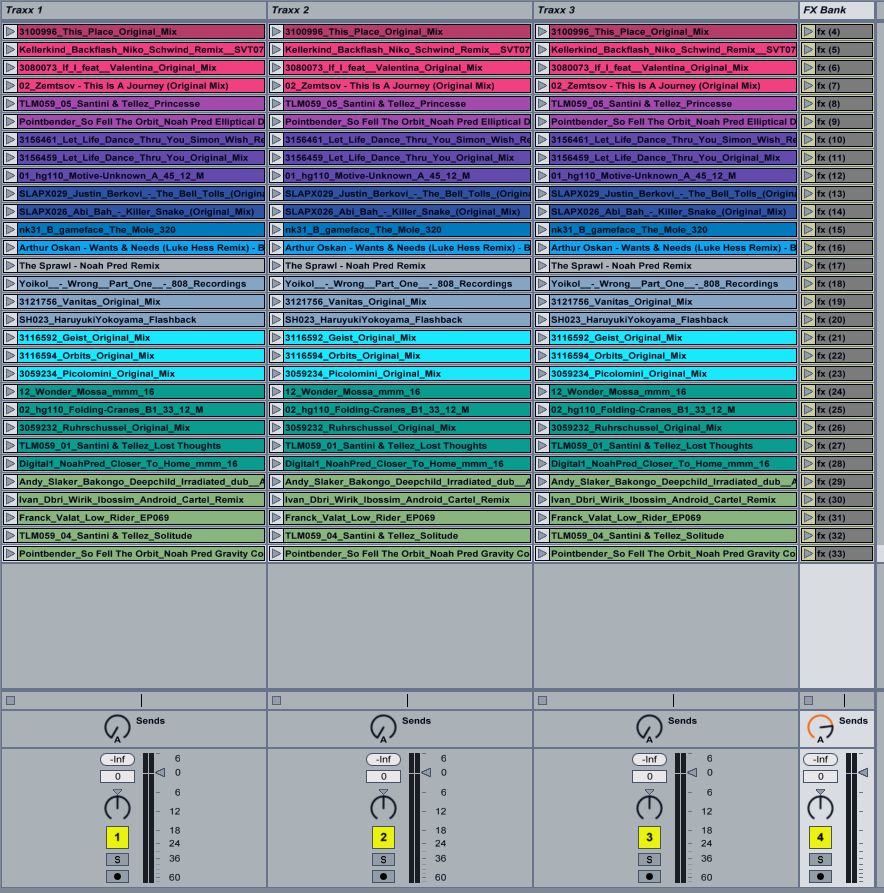 Do your homework by warping your tracks and configuring your loops and you'll be ready to deliver as creative a performance as you can dream up. That said, we've barely scratched the surface of Live's potential as a DJ platform, with all sorts of effects, automation, and customization possibilities available as well. Once you factor in Live's ultra-versatile controller mapping capabilities, Bridge integration with Serato Scratch Live, and the mind-boggling array of tools available with Max for Live, the potential is truly limitless.