I have been using Ableton Live since v.4. That's a long time for those that are keeping track. Since that version, there has been leaps and bounds in terms of improvements, tweaks and incredible overhauls. I consider myself somewhat of an expert when it comes to the program. After all I have been successfully teaching its ins and outs to thousands for about 5 years now. That is why I was so surprised when I found out some of these secret parameters on some of Live devices.
They aren't really "secret", I guess more just hidden or not immediately obvious anyway.
A few days ago, I was using the Saturator device and happened to right-click on the title bar. Low and behold, there was a High Quality setting I had never seen before. That got me interested in what else I was missing. So, I did something totally simple and discovered a lot more! I dropped each of Live's devices on to a channel and right-clicked the title bar to see what I could find. Turns out 10 devices have extra features that can be selected through that method.
1. High Quality Settings
As I just mentioned, Saturator has a high-quality setting. However, so do the Dynamic Tube and the Flanger!
The high-quality setting works the same way more-or-less for each of them.
Saturator & Dynamic Tube: Aliasing can be reduced by enabling Hi-Quality mode, which can be accessed via the right-click (PC)/Control-click (Mac) context menu. This improves the sound quality, particularly with high-frequency signals, but there is a slight increase in CPU usage.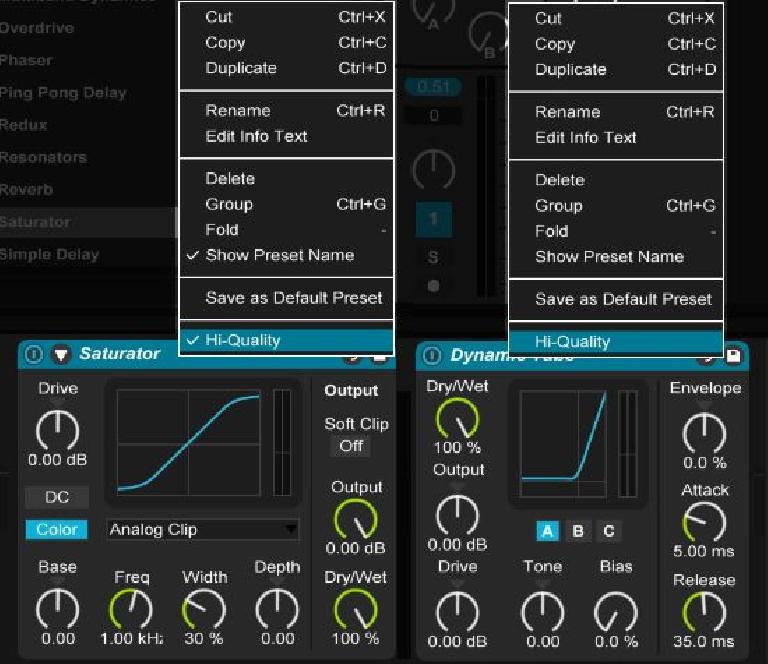 Flanger: Hi-Quality mode can be toggled on or off via a right-click (PC) / Control-click (Mac) context menu entry. Enabling Hi-Quality results in a brighter sound, but there is a very slight increase in CPU usage.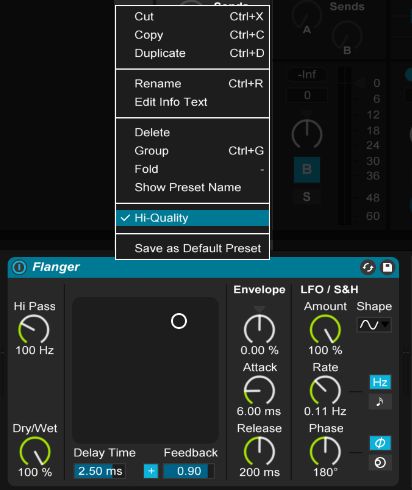 2. Repitch, Fade, Jump Delay Modes
Each of the delay devices (Filter Delay, Ping-Pong Delay and Simple Delay) has these features: Repitch, Fade, Jump Delay Modes. It is best to get in there and try each out to get an auditory idea of what each does rather than just the written description below!
Changing the delay time while the Delay device is processing audio can cause abrupt changes in the sound of the delayed signal. You can choose between three delay transition modes via the right-click (PC) / Control-click(Mac) context menu of the device's title bar:
Repitch causes a pitch variation when changing the delay time, similar to the behavior of old hardware delay units. Fade creates a crossfade between the old and new delay times. This sounds similar to time stretching if the delay time is gradually changed.
Fade mode is the default option. Jump immediately jumps to the new delay time. Note that this will cause an audible click if the delay time is changed while delays are sounding.
Jump mode corresponds to the default behavior prior to Live 8. When loading Sets that were made in earlier versions, Jump will be selected automatically.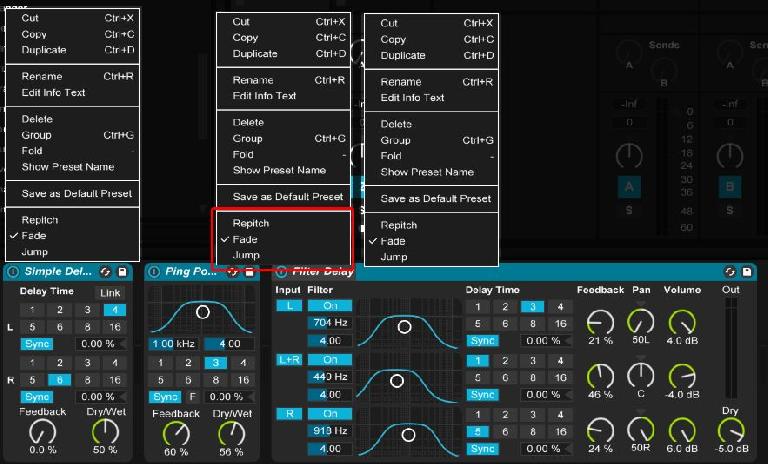 3. Oversampling
It is pretty well known that Live's EQ8 has an Oversampling option. What is less know is that the already incredible Glue Compressor does too!
Oversampling can be toggled on or off via the right-click (PC) / Control-click (Mac) context menu. Enabling this option causes the Glue Compressor and/or the EQ8 to internally process at twice the current sampling rate, which may reduce aliasing and transient harshness. There is a slight increase in CPU usage with Oversampling enabled.
Note that with Oversampling enabled, the level may exceed 0 dB even with Soft clip enabled on the Glue Compressor.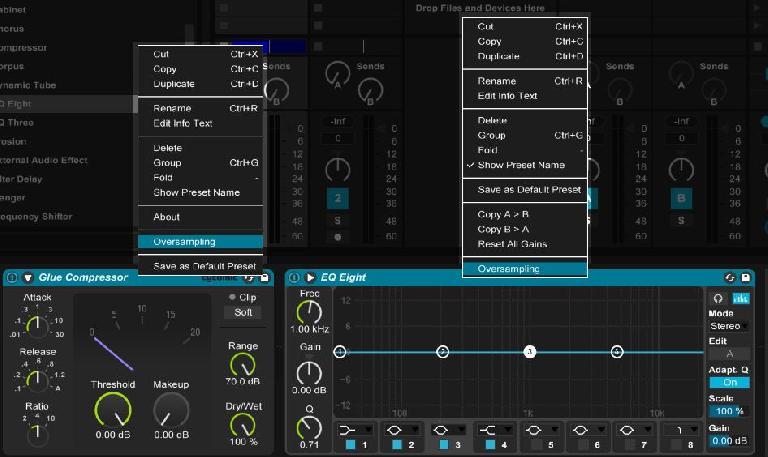 4. Flat Response
Live's EQ3 also has a fun hidden feature. It is called Flat Response. This is meant to lessen the boost of the EQ at the cross over points of the filters and it does. I have tested it on a few different tracks and I can see about 1 to .5 dB reduction in most cases.
The EQ3's filters, by Ableton's own words, "are optimized to sound more like a good, powerful analog filter cascade than a clean digital filter." Which means a bit of coloring is meant to be present even when the filters are set to 0 dB.
If you want the less "color" effect you can turn on the Flat Response setting and change the filter to the 24 dB parameter. That will usually calm the coloring effect by about 1 dB.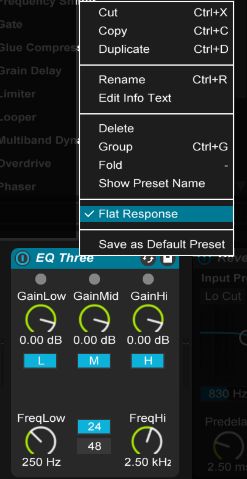 5. Reverb Global Quality
Live powerful Reverb Device has a global quality setting. This is less hidden than the rest, but it is still often overlooked. I actually covered this in an earlier tutorial here on Ask.Audio about saving CPU.
The filters in this device The Quality chooser controls the tradeoff between reverb quality and performance. "Eco" uses minimal CPU resources, while "High" delivers the richest reverberation.
Whenever you are looking to export your final render you will want to make sure the Reverb's Global Quality setting is set to high.

Learn Abeton Live in The AskAudio Academy here.