So haben Sie diese tolle Strecke produziert. Sie sind zufrieden mit der Strophe und Refrain Abschnitten, aber etwas scheint zu fehlen. Einige Dynamik? Einige Kontrast? Was ich gefunden habe ist sehr hilfreich ist, um Stauungen zwischen verschiedenen Abschnitten in Ihrer Songs erstellen. Was funktioniert unglaublich gut dafür ist, mit einem weißen Rauschen Probe in einem Sampler. Mit Ableton Einfachere und einige Side-Chain-Komprimierung Ihnen interessante Buildups Übergänge zwischen den Abschnitten erstellen und halten das Interesse der Zuhörer aktiv.

Schritt 1 Suchen Sie ein White Noise Probe
Ich habe eine Strophe und Refrain Abschnitt, dass ich zufrieden mit bin, aber seine Lust hat, etwas mehr in die beiden Abschnitte muss.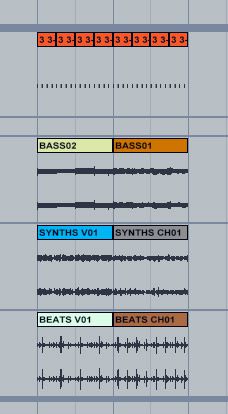 Hier ist, was meine Spur klingt, bevor ich den Aufbau Abschnitt hinzufügen:
[Audio id = "10332"]
Ich werde einfachere mit einem weißen Rauschen Probe zu einem Aufbau Abschnitt zwischen den beiden Abschnitten zu erstellen. Ich habe ein weißes Rauschen Probe von meinem Sample-Library-Ordner verwendet. Ich habe die Datei angehängt, wenn Sie es benutzen wollen, oder Sie können eine beliebige weiße Rauschen Beispiel zu verwenden. Ziehen Sie diese Probe in die einfachere.

Mit dem Ableton Einfachere Filter Abschnitt können Sie eine Feinabstimmung der Probe und Ausfiltern Sie nicht möchten, dass in der Probe enthalten. Ich habe wieder die Frequenz auf 2,67 kHz und die Res auf 2,35 senken. Ich werde diese Funktionen später automatisieren ohnehin zu den höheren Frequenzen zurück zu holen.

Für weitere Informationen über das Arbeiten mit einfacheren bitte zuerst Laura Escuds ausführliche Tutorial .
Schritt 2 Side-Chain mit dem Lärm!
Ich habe eine einfache Drum-Pattern programmiert. Was ist der Schlüssel hier ist der Kick: Ich werde mit diesem Kick, wie die Überwachung Quelle für die Side-Chain in den Kompressor.
Platzieren Sie einen Kompressor nach dem Einfachere. Erweitern Sie dann den Kompressor so, dass Sie die Seitenketten-Quelle zu sehen (klicken Sie auf den Pfeil neben der Bypass-Taste auf der Kompressor auf den Sidechain Funktionen zeigen). Aktivieren Sie das Sidechain-Taste. Von der Audio Auswahl der Kick-Kanal.
Starten Sie die Senkung der Schwelle, bis Sie hören das Rauschen schaffen eine Pumpwirkung zu beginnen. Sie können auch zwicken die Attack-und Release Zeiten, einen geeigneten Pumpen-Effekt für die Spur zu erstellen.

Zwischen den Strophe und Refrain Ich habe eine 4-bar weißes Rauschen Probe zugegeben. Ich habe den Synthesizer in den Aufbau Abschnitt fallen, um Platz für das weiße Rauschen Abschnitt zu schaffen.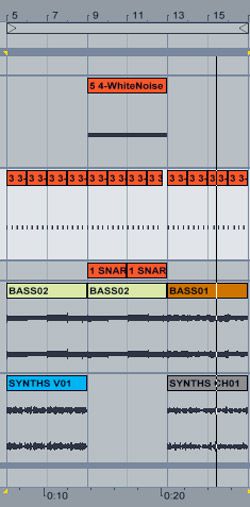 Schritt 3 Filter the Noise
Um die Bewegung mit dem weißen Rauschen ich einen EQ Eight eingefügt haben nach dem Kompressor zu schaffen. Wählen Sie die Low Cut: Ich werde die tiefen Frequenzen abgeschnitten und heben Sie die Q gleichzeitig. Ich werde die Automatisierung dieses im Laufe der 2 Bars. Dadurch wird die Spannung in den Aufbau Abschnitt.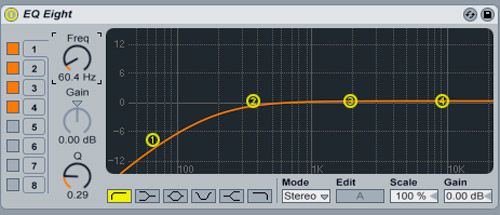 Schritt 4 Automatisieren the Noise
Zu bringen, diesen Sound zum Leben, müssen wir einige Automatisierungs-Add. Wechseln Sie zu der Arrangement-Ansicht wählen Sie die EQ Eight Low-Cut-Band. Zeichnen Sie in einer Kurve über die 2 Bars, so dass Sie die hohen Frequenzen führen zurück in die Mischung.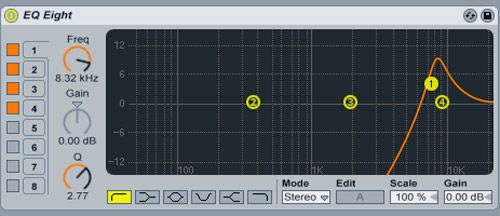 Schritt 5 Automatisieren Sie die Auswirkungen
Was Sie auch tun, ist einen Reverb-und Delay-und automatisieren auch diese während des Aufbaus. Go crazy und erfinderisch sein. Hier können Sie ein phaser auch funktioniert der Trick ganz gut.
Ich habe den Filter und Resonance Abschnitt über die Simpler automatisiert.


Ich habe auch ein PingPong Verzögerung nach dem EQ Eight hinzugefügt und Setup ein Reverb auf den Send-Kanal. Ich habe die Verzögerung Wet Einstellung automatisiert.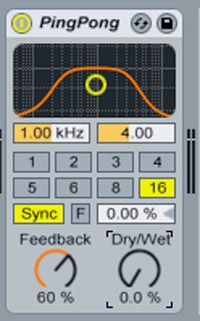 Automatisieren Sie die Lautstärke des weißen Rauschens zwischen den Abschnitten ist auch eine weitere gute Möglichkeit für die Zuhörer auf den Abschnitt zu antizipieren zu kommen.

Ich habe auch automatisiert den Reverb-Send-Pegel zu erhöhen, da die Lautstärke erhöht, bis sie die Spitze Punkt erreicht am Ende der 4-bar Aufbau.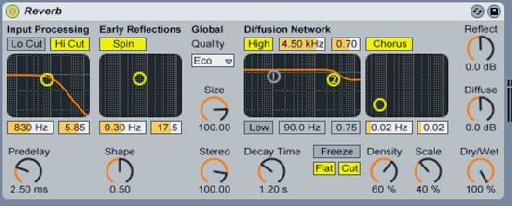 Hier ist, wie die Strecke mit dem Aufbau zwischen den jeweiligen Strophe und Refrain Abschnitte klingt.
[Audio id = "10333"]
Abschluss
Auftragungen sind wichtige Techniken, die uns erlauben als Produzenten für den Hörer Hinweis auf, dass ein wichtiger Teil des Songs ist bis kommenden. Durch die Schaffung dieser Spannungen zwischen den Abschnitten können wir wirklich halten die Zuhörer aktiv zuhören, um den Titel und die mehr wollen.
Für weitere Ableton produziert Techniken sehen Olav Basoski und Brian Casss Tutorials: