Combining innovative features like Tempo Following with long-awaited requests such as Take Lane comping and User Templates, Live 11 exponentially increases the power of Ableton's already potent DAW – while seamlessly integrating new capabilities into existing workflows.
You can find most of the new features listed on their website, but I wanted to share some less-publicized creative possibilities that stood out when playing with their new public beta.
Comp Romp
First up: creative Take Lanes. A familiar feature of big studio multitracking DAWs, Take Lanes automatically and continuously record new takes of material on armed tracks within a span selected by the Arrangement Loop Brace until recording is stopped. The best sections of each recorded pass are then composited, or comped, into a final "master take" comprised of all the choice bits. Traditionally, this is used with vocalists and instrumentalists to stitch together a "perfect take" from the best bits of many imperfect ones.
Live's implementation of this process is impressively smooth and typically intuitive, working identically for MIDI as it does for Audio. Take Lanes might be hidden by default after recording, but right- or CTRL-clicking a track's header, select "Show Take Lanes" from the context menu to view what's been tracked in. Each Take Lane has a speaker icon on its header to easily solo it out from the other Take Lanes on that track.
Comping your favorite bits from each Lane couldn't be easier: just use Live's Draw tool to select the time span of your favorite chunks from each Take to automatically insert them in the track. By default, Draw tool selections snap to the Arrangement quantization grid, but snapping can be ignored by holding down CMD while dragging the Draw tool.
The individual Clip sections on the actual track can then be treated as any other normal Clip by applying Fades, adjusting Clip settings – even reversing them with the hot key, R. Once you're happy with the result, you can Consolidate via CMD + J, or right-click and select "Consolidate Time to New Scene" to place the newly bounced Clip (and any other material included in the same time selection) directly into the Session view.
Where Live departs from conventional comping is with its ability to manually add new Take Lanes without recording. Just right-click the track header and select "Insert Take Lane" from the context menu, or use the hot key, Shift + Option + T, as many times as you like. Newly inserted empty Take Lanes can then be populated with any Clip material from the Browser or elsewhere – which can then be comped together using the same easy process described above.
PRO-TIP: CMD + drag multiple Clips to empty Take Lanes to place each one on its own Take Lane.
Creating wildly unusual combinations of otherwise unrelated material has never been easier. Everything from hocketed bass monstrosities and Frankenstein drum loops to manic, multi-singer vocal chops or MIDI flourishes recorded by multiple players can be spliced together with just a few clicks. The expansive possibilities of this evolved approach to comping is sure to make waves among beat makers, studio producers, and sound designers alike.
MPE For The People
Another headline feature of 11 is the integration of MIDI Polyphonic Expression, or MPE. Allowing for multidimensional playability of supported instruments via MPE-enabled controllers such as the Roli product line, even the most delicate adjustment of finger pressure can produce musically noticeable articulations.
If you don't have an MPE-enabled controller, not to worry: you can still make extensive use of this powerful new functionality by manually editing MIDI Clips in the new Expression editor view, which can be accessed by clicking a MIDI Clip's right-most tab (with the V-shaped automation symbol), or by using the Option + 3 hot key combination.
Polyphonic Pitch Bend is a powerful feature on enabled instruments, allowing you to bend multiple notes in different directions at the same time, creating dynamic yet smooth transitions between chords or imposing classic monophonic synth glide effects without sacrificing global pitch bend control.
MPE Pitch Bend, Slide, Pressure, and Release Velocity can all be edited on a per-note basis with intuitive, snapping breakpoints. Snapping can be disabled by holding CMD as a modifier, while the Option modifier can be used to impose smooth curves on Expression line segments – just like Automation Envelopes.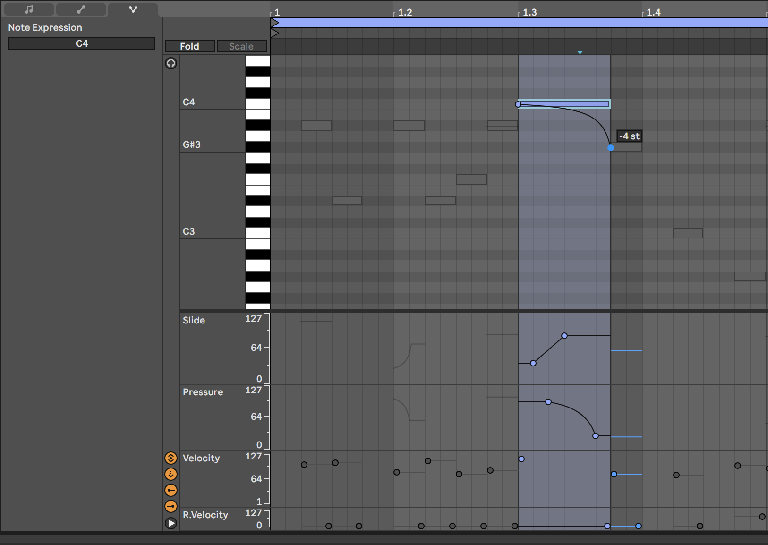 PIC 7: Editing MPE, one note at a time; multiple notes can be selected for simultaneous Expression adjustments.
Slide, Pressure, and Release Velocity can be assigned to various parameters in Wavetable and Sampler; Wavetable now comes with a dedicated MPE tab in its modulation matrix, while Sampler's MPE assignments are accessible on the same page as its MIDI mappings. Meanwhile, Arpeggiator is hard-wired to receive MPE on certain parameters.

PIC 8: Mapping Slide and Pressure in opposite directions on each Oscillator for dynamic expressivity in Wavetable's dedicated MPE matrix tab.
Max Facts
If you want to use MPE input from enabled controllers or as programmed into a Clip's Expression tab on devices other than Wavetable, Sampler, or Arpeggiator, Live's revamped Expression Control Max for Live device has got you covered.
MPE parameters are selectable as input sources from a drop-down menu, six of which can then be mapped to any parameter of any device anywhere in your set for incredibly powerful sonic manipulation baked directly into MIDI Expression programming.
While there's a dedicated new Max for Live MPE Control device included to help shape the response curve of selected MPE parameters, the new Expression Control has an adjustable Curve for eligible parameter mappings as well. Better still, Expression Control now features new MIDI In sources: Random and Incremental.
Random generates a randomized value on each new MIDI note, which can again be mapped to anything in your set, generating new possibilities for musical interactivity within a project. Incremental produces a new subsequent value, at an adjustable step size, with each new MIDI note, useful for gradually changing parameters with each note trigger; assigning this to the Zone Selector of a properly configured Sampler could, for example, produce classic "round-robin" results as it progressively cycles through selected samples

PIC 9: Live 11's new Expression control mapped to, among other things the new Phaser-Flanger effect, with the Slide curve visible for contrast to the dedicated MPE Control curve.
MIDI Clip Drip
In addition to the new Expressions tab, the Clip detail view has been significantly overhauled. Setting aside revamped Follow Actions and other elements of both Audio and MIDI Clip details that warrant their own articles, there's a few new features in the Note Editor worth mentioning here.
First, rejoice: Scales have finally been implemented directly in MIDI Clips. Select a Key and Scale from their respective drop-downs in a MIDI Clip's settings, then toggle the Scale button on to activate it.

By default, all piano keys contained in the selected scale are transparently highlighted with the same color of the Clip in the Note Editor, while excluded keys remain grey. Click the Scale toggle to the right of the familiar Fold toggle above the piano roll to eliminate all keys outside the Scale – alowing you to safely enter notes strictly within that scale. Once key and scale have been selected, newly created MIDI Clips adopt it automatically – as does Push – and vice versa –leading to a far more deeply integrated workflow.
Better yet, the Draw tool, when held and dragged, now adds new notes on different keys as you move it up and down, rather than being relegated to the key first clicked. In combination with Scale Folding, you can now Draw unique, diatonic melodies by simply clicking and dragging a desired note contour, easily generating all sorts of new musical ideas with a highly intuitive approach.
Alternatively, if you want to retain the classic Draw mode, staying only on one key while dragging to the right and instead dragging up and down to alter Velocity, simply hold down the Option modifier – or revert to classic behavior in the Record Warp Launch tab of Live's Preferences.
Probability editing instantly creates endless variations on any rhythm or melody by adjusting the likelihood notes are triggered, while Velocity randomization introduces truly musical humanization.
Each individual note velocity can be randomized within a specific range, meaning all steps can be randomized – but certain steps will be randomized within a higher range than others, ensuring general contours of intensity are retained despite extensive randomization. Holding the CMD key while dragging a note's velocity with the Edit tool extends its randomization range, which can also be entered numerically at left. And don't worry: in Draw mode, clicking and dragging the CMD key modifier still allows you to impose line slopes on note velocity or probability values.
PRO-TIP: Squeeze the most out of chance by reducing note probabilities, recording to a new track with Arrangement Loop on, then comping your favorite bits from the resulting Take Lanes.
The powerul new per-note Probability setting is also accessible for editing on a per-step basis on Push by holding down an entered note in one of the Step Sequence Layouts in Clip mode, where it then appears on the LCD along with Nudge, Length, and Velocity. Combined with existing per-Step parameter editing on Push in Device mode, it's hard to imagine a more comprehensive, hands-on DAW sequencing solution.
Devices Galore & So Much More
In playing with Live 11, these are some of the less obvious possibilities that jumped out – but they still only scratch the surface.
Innovative Spectral effects and a sumptuous new Hybrid Reverb deserve dedicated attention, as do Track Linking for simultaneous edits across multiple tracks, Tempo Following to synchronize with live drummers, updated Redux and modulation effects, a potent new Follow Action scheme (including Scenes), important Rack updates with up to 16 Macros per Rack (along with Snapshot "presets" and randomization), plus detailed CPU monitoring, and so much more.
In many ways, 11 feels like the most exciting update to Live in quite some time. Ableton has succeeded in adding a wealth of new features and workflow enhancements that behave just as you'd expect, making you feel almost as though they'd always been there in terms of how intuitive they seem. See for yourself with the public beta, available now.
Stay tuned for Live 11 video courses after the official release... check out our pro Ableton Live 10 courses: AskAudio Academy | macProVideo