As Live 10's new flagship virtual synthesizer, Wavetable packs an impressive array of features into an elegant package – but for those unfamiliar with the fundamentals of wavetable synthesis, it may seem daunting. Take comfort in the fact that Wavetable's routing largely mirrors that of a typical subtractive synthesizer: a pair of oscillators fed through a pair of multimode filters, all of which can be controlled by three envelopes and a pair of LFOs.

Where wavetable synthesis in general, and Wavetable specifically, diverges from subtractive synthesis is at the oscillator level. Rather than be restricted to a handful of linear, "one-dimensional" waveforms – your standard sine, sawtooth, pulse, etc. – wavetable oscillators combine a variety of adjacent waveforms on a two-dimensional plane: a wavetable.
This allows you to smoothly scroll or morph through multiple – often unconventional – waveforms, fundamentally transforming the timbre of your sound directly at the oscillator level before any filters are applied.

While you could easily just select a timbre via the Wavetable Position slider to find a core tone and leave it at that, wavetable synthesis really shines when modulating the Wavetable Position in order to create dynamically shifting tones. Thankfully, Live's Wavetable has a highly flexible and intuitive modulation matrix to make mapping easy.

First, let's explore one of the Wavetable oscillators a bit more thoroughly. Two drop-down menus above left of each oscillator provide, on the left, a selection of wavetable collections, and on the right, the wavetables available within the selected collection. Collections such as Complex, Distortion, or Noise provide grittier tones, while Retro and Vintage, for example, provide more classic analog vibes.

Beneath the Osc activation toggle is a Pan amount and oscillator Volume slider, which vertically scrolls through the waveforms included in the selected wavetable via interpolation. To the right of the wavetable display is the crucial Wavetable Position slider. Below and to the right of each wavetable are Semitone tuning and Detuning in cents.
Without memorizing it's hard to know exactly what each wavetable will sound like in advance, so it's a good idea to explore them and experiment – both in general and in context. Since all the oscillator modes are visualized, real-time, in the waveform display, Wavetable can be a powerful educational tool, clearly showing how oscillators are manipulated while listening to the results.

Further expanding core tonal possibilities are the dedicated oscillator effects. Below left of the wavetable display is the oscillator effect drop-down, providing three options, each with two freelance parameters – both of which are available for modulation.

The first Oscillator effect is FM, with Tuning and Amount controls to add harmonic complexity. Classic provides vintage Pulse Width modulation and Hard Sync for higher order harmonics. Finally, Modern mode's Warp and Fold skew the wavetable and bend it in on itself for severe transformations.

To create a classic morphing Wavetable pad, I'll play a simple minor chord on a 4-bar loop. Revealing the fullscreen Wavetable interface via the reveal toggle to the right of the device activator, I've chosen the Void wavetable from the Complex collection.
Unmodulated single oscillator.
The top row of Wavetable's fullscreen display shows the two oscillators, with the dedicated Sub oscillator settings and Transposition at far left. The middle row shows the three envelopes and two LFOs. At bottom, in the device detail view, is the filter section and modulation matrix.
In addition to the three envelopes and pair of LFOs are five MIDI modulation sources that appear green: Velocity, Note pitch, Pitch Bend, After Touch, and Modwheel can all be assigned to control any available parameter throughout Wavetable as well. When Wavetable is collapsed to device view, these MIDI modulators show up in a separate tab from the Matrix.
Any susceptible parameter value, dial, or knob, once adjusted with the mouse, appears as a horizontal row in the modulation matrix, ready for modulation assignment. To apply modulation, just drag the desired modulator's value in the corresponding parameter row up or down, depending whether you want the modulation to pull the parameter in a positive or negative direction.
Wavetable position modulated by LFO 1.
I've assigned LFO 1 to the wavetable position of my first oscillator, but the LFO is a bit too repetitive. Clicking on the LFO 1 Rate control places it in the matrix for modulation assignment. Now I'll apply Env 2 to LFO 1 Rate and adjust settings to taste, so that the LFO Rate will ramp up, then down, hold at a relative sustain value, and slow down further over the release time. I'll also apply some Attack time to LFO 1 so it takes a moment before fully kicking in.
PRO-TIP: As you add more Target parameters to the modulation Matrix, they are added to the parameter list which you can scroll at right. Double-click a modulation assignment value in the matrix to reset it to zero.
LFO 1 Rate modulated by Env 2.
Now I've enabled the second oscillator, selecting Malice from the Distortion collection, and applied LFO 2 to the Osc 2 Wavetable Position. I've also deployed LFO 2 to slightly shift the LFO 1 amount so the intensity of its modulation will rise and dip just slightly. I've also brought the second oscillator's volume down a bit to balance it slightly, pitched it down five semitones, and panned the two oscillators 13 left and 13 right, respectively, for a wider stereo image.
Dual oscillator Wavetable.
Now it's time to apply – and modulate – some oscillator effects. I've selected Modern mode for Oscillator 1, with Warp amount modulated by Env 3 and Fold amount modulated by the default Amp envelope. Envelope 3 has been set to Loop mode via its upper right-corner mode drop-down, which makes it sort of an auxiliary LFO; it was still a bit too predictable, so I've opted to have Env 3's Decay time modulated by LFO 2. Set to Classic mode, Oscillator 2's Pulse Width is modulated by the Amp envelope, while its Sync amount is controlled by the dynamically looping Env 3.
To thicken things up, I've engaged the Sub oscillator at the upper left of the fullscreen display, placed it at the same octave as input, dropped the gain to -13 dB, and modulated its Tone control via LFO 2. Finally, I'll select the Noise Unison mode in the Global settings at the far right of the device view, with voices set to 4 and amount at 52%.

PRO-TIP: Try adjusting the Global Time and Amount controls, located bottom right of the modulation matrix, to speed up or slow down and increase or reduce the degree of all modulations simultaneously. Wavetable's six Unison modes can also add a lot of character – and CPU drain too, so use with caution.

While the multimode filters can be assigned to a number of circuit models and configured in serial, parallel, or per-oscillator, I've fully disengaged them both to emphasize the fact that incredibly rich and dynamic tones are easily achievable in Wavetable without any filtration at all. Of course, this isn't to say you shouldn't use Wavetable's filter, as it sounds fantastic and can be easily modulated as well – but by showing what's possible without it, perhaps you will feel inspired to explore the unique possibilities Wavetable has to offer.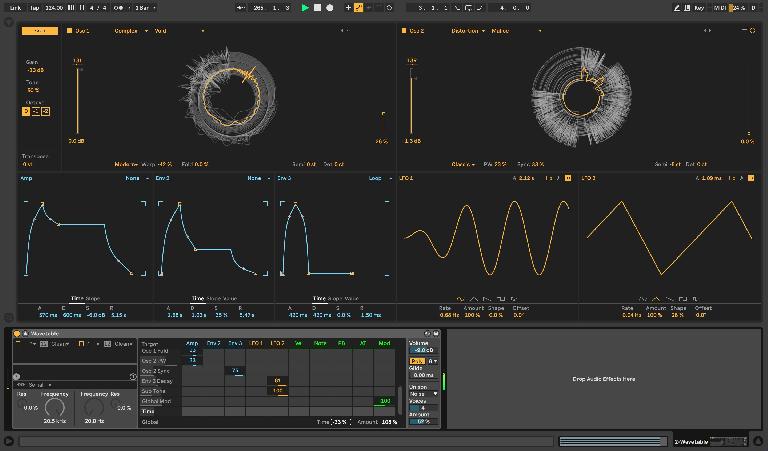 Global Modulation amount slightly exaggerated and assigned to Mod Wheel control, with Global Time accelerated by 33%, filters deactivated, and wavetable displays in circular mode, toggled at the upper right corner of Wavetable's fullscreen GUI.
The resulting fully modulated pad.
Combining the inherent tonal flexibility of wavetable synthesis with the ability to modulate nearly any parameter with ease, Wavetable is designed to expand your sound design horizons, creating subtly shifting pads and intricate rhythmic artifacts alike.