Ableton Live 10 BETA Preview
Ableton Live 10 has been announced and though it's a little way off being released publicly, we have been exploring the beta and found some awesome new features. Here's what to expect...
It's been four years since Live 9 made its debut, changing the way music is made on computers with innovations like Push and Audio to MIDI conversion. Subsequent incremental updates delivered significant advances such as Link's wireless sync, Cytomic filters throughout their devices, new utilities like Tuner, and a totally revamped Simpler device – all free for existing users. With the recent announcement of Live 10's impending release, we take a look at what's on offer, starting with major headlines before a brief glimpse at the litany of workflow tweaks that comprise a surprising amount of Live 10's ultimate value.
New & Improved GUI
It's been a long time coming, and the result may seem subtle at first, but after some adjustment, the Live 10 user experience is clearly smoother, more comfortable and elegant than previous versions. Unnecessary delineations have been removed, a custom font has been inserted, and the coding behind Live's signature vector rendering yields smoother and more consistent results at all scales and resolutions – especially with dials whose bitmaps have been swapped for vectors.
The new themes, which replace skins, offer darker hues; I found Mid-Dark particularly easy on the eyes for studio use. Clip and track colors can be more easily aligned via the new Assign Track Colors To Clips command, while notes in MIDI clips are encoded with the same color as the clip that contains them – which comes in rather handy with the new Multi-Clip Editing feature.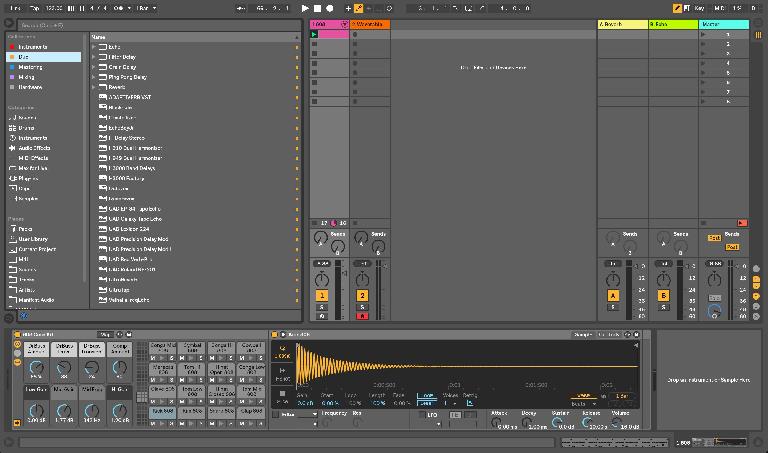 Multi-Clip Editing
A long-requested feature, Multi-Clip Editing allows multiple MIDI clips to be edited simultaneously in a single MIDI note grid. Already available in other DAWs, Ableton's implementation of this feature is considerably simpler and more intuitive than any other incarnation I've used.
To engage Multi-Clip Editing, simply Shift-click or drag with the mouse to select all the clips that you want to edit at the same time; all notes now appear in the note editor. Each selected clip gets a correspondingly colored loop brace, allowing you to easily toggle which set of notes you're editing – or just click an inactive note to switch the clip in focus. With notes themselves color-coded to their clips when active and grey when not directly edited, navigating a plethora of MIDI material is simple and straightforward, even with the maximum of eight clips in the Session view or unlimited clips from up to eight MIDI tracks in the Arrange view.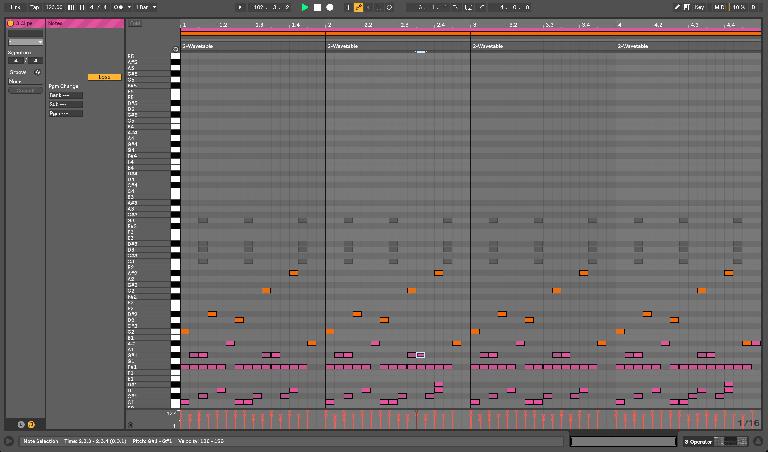 Editing three MIDI clips simultaneously; two sets of notes display in clip-coded color as one set of them has been hovered over for potential selection.
Capture
While a similar feature appeared in Logic not too long ago, Live's new MIDI Capture fits perfectly with Ableton's emphasis on playful workflow. As soon as a MIDI track is armed for input, Live records all played notes to a cache that can be printed to a MIDI clip at any point using the Capture button just left of the Session Record toggle in the Transport area.
Did you play something perfectly but forget to hit record? With Capture you don't have to worry about remembering what you played or trying to perform it identically – it's already in there. If you're playing in time with existing material, Live attempts to extrapolate a loop from your Captured material – and if you're starting a set with Captured material, the global tempo adjusts to what you've played in order to extract an initial loop. And don't worry: the stored MIDI input is nominal and shouldn't measure more than a few kilobytes in most cases.

Captured MIDI looped in a Clip; note how the Clip properties hug the top of the expanded detail view rather than clinging to the bottom of the screen, resulting in less unnecessary mousing around.
Wavetable
Live hasn't introduced a new dedicated instrument device native to their platform since their collaboration with Applied Acoustics which yielded the physically-modeled quartet of Analog, Collision, Electric, and Tension. Wavetable is certainly worth the wait. Feeling every ounce like a true Ableton instrument, the elegant interface is incredibly intuitive. Even those unfamiliar with Wavetable synthesis should find it easy to create everything from rich analog tones to wildly modern timbres with just a few tantalizing tweaks.
The included Wavetables (groups of waveforms that can be scrolled or scanned through) available for the two oscillators provide a huge range of potential starting points, while the unique oscillator effects (FM Tune & Amount, Classic Pulse Width & Hard Sync, or Modern Warp & Fold) deliver everything from vintage character to extreme sonic contortions that it's difficult to imagine creating with any other instrument I've personally encountered. Impressive oscillator visualizations provide a real-time reference for tidal transformations.
The pair of multi-mode Cytomic filter models sound predictably lush while providing flexible routing options, the dedicated Sub oscillator adds heft and thickness where desired, and the six Unison modes supply considerably more tone-shaping power than you might expect. The intuitive matrix makes modulating Wavetable's many parameters as easy as such things get, while Time and Amount controls drive powerful global mutations. An expandable full-screen view for this already well-designed instrument makes the virtual synthesis experience about as immersive and inviting as I've ever seen.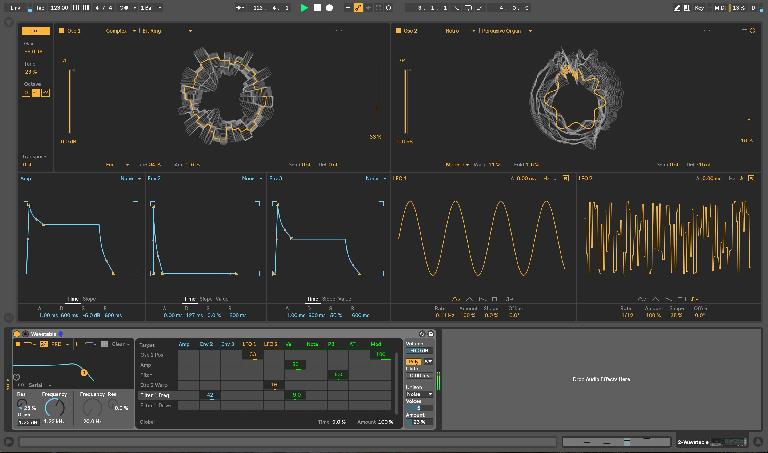 New Effects
Along with some new and improved Max devices including a new set of Drum Synths, three new audio effects fill out Live 10's complement of native devices. Completing the trinity of guitar effects launched with Amp and Cabinet, Pedal provides richly harmonic Overdrive, satisfyingly crunchy Distortion, and furiously buzzing Fuzz models, along with three-band EQ and optional Sub frequency boost, filling a gap in Ableton's device library that should make six-string Live slingers particularly pleased.
Also welcome for guitarists and users of all stripes is Live's new Echo device. Long lacking a convincing analog delay effect, Live users have had to look elsewhere for vintage dub effects – until now. Paired with an appealing and helpful "time tunnel" visualization, Echo sounds incredible, with up to 150% Feedback and re-pitched time jumps providing all the classic dub artifacts you might need. A pair of inline resonant high and low pass filter bands help shape the tail, along with a reverb with adjustable decay that can be inserted pre-delay, post-delay, or strictly on the feedback.
Echo's Modulation tab opens up all kinds of otherworldly effects – especially with a bit of automation – along with more conventional yet unusually rich chorus and flanging effects. The Character tab allows for optional Ducking and Gating, additional signal Noise, or Morphable Wobble, while Stereo, Ping Pong, and Mid/Side modes along with a Stereo amount control allow for a wide range of spatial experimentation.
Finally, Drum Buss is designed to inject drums with new levels of intensity – and succeeds mightily. A distortion circuit with inline compression is controlled by the Drive dial along with selectable waveshaping, limiting, or clipping distortion modes, while Crunch, Damp, and Transient dials impact the harmonics and onsets of the high-mid range. Finally, Boom adds resonant sub frequencies with a controllable decay and tune-able frequency, complete with a handy MIDI note display for easy reference. Drastic results are easily obtained, punching up even the tamest drum loops into beastly rhythm workouts. A Dry/Wet blend allows for more textural application of extreme settings when mixed in at a lower percentage, delivering just the right hint of edginess and harmonic boost without becoming overwhelming.

Improved Browser
Long-awaited user-definable Browser categories, called Collections, are now available in the revamped browser, along with the ability to install or upgrade Live Packs directly from the application. The seven color-coded Collections can easily be renamed, with any Browser-accessible media, including devices, presets, plug-ins, samples, folders, sets, and more available for custom organization.
To speed up the process, assets can be assigned to a Collection with a corresponding number key when selected in the Browser. It might take a bit of homework at first, but curating all your favorite tools for easy access in a convenient location accelerates core studio processes more than you might imagine. The heavily revamped sound library, including a number of new packs and more sensible Preview Warping rules, makes finding the right sounds easier than ever.
Arrangement Editing
Numerous crucial enhancements to Arrangement view editing streamline the typically more laborious phase of music production. Audio clip start positions can be dragged relative to the timeline without diving into the detail view by holding down Shift + Option while dragging. Clips can also be time-stretched directly in the Arrange view by holding Shift while dragging Clip edges.
Without being Split into a new Clip segment first, time selections can be de-activated directly using the zero key or reversed by simply hitting R. Double-clicking an empty section of the Arrangement automatically creates a new MIDI clip, no key command required.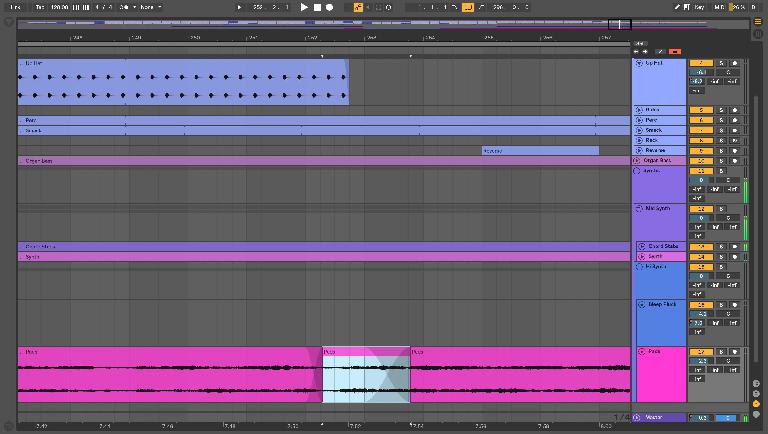 All tracks can instantly be folded by hitting the S key for Show All Tracks, handy for collapsing a dense arrangement, while Z and Shift-Z let you zoom into or out from a time selection, respectively. Vertical and horizontal mouse-wheel or track pad zooming drastically improves both waveform and Arrangement navigation, while audio waveforms finally zoom all the way down to actual sample points.
The entire top half of an expanded track allows for loop length editing and dragging, while clicking a Clip's lower half allows for time selection – a new convention that ultimately makes sense, especially considering the much-improved persistent Fade integration. While some of these new commands might take a few tries to get accustomed to, once they're ingrained, it's hard to imagine getting by without them.
The new dedicated Automation mode, accessible via the A key, avoids the confusion and accidental editing that could occur when actual clips were overlapped with automation lanes; combined with grid-snapping breakpoints and intelligent automation selection dragging, the overall automation experience is considerably smoother than before.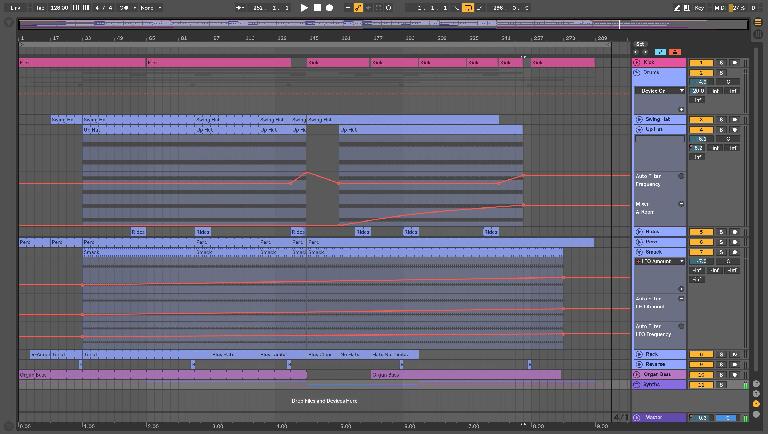 Other Tweaks
A host of other tweaks add up to a significantly enhanced user experience. MIDI note chasing means you don't have to start passages from the beginning of long-held notes just to hear them play back. Nested Groups within Groups allow for powerful mix routing and set organization – though a Default Group Track option to go along with Default Audio and MIDI Tracks would be a welcome enhancement to Live's track Grouping paradigm. A long-awaited optional true stereo panning mode per track along with enhanced Utility and EQ8 devices deliver more precise mix control.

The new Max Shaper modulation device and revamped Utility with Bass Mono crossover and improved input, rather than output, phase control.
The new audio input and output naming helpfully eliminates unnecessary routing guesswork, especially handy for studios using interfaces with a lot of I/O options. It's somewhat perplexing that the option to similarly name MIDI inputs and outputs wasn't implemented simultaneously, as a studio with lots of audio I/O is likely to have plenty of external MIDI hardware as well – though one assumes this could be in the pipeline for a future update, along with the option to save multiple I/O configuration profiles for those who use their laptops to produce in more than a single studio.
Reinforced file management includes a history of previous project states to allow for easier composition variations and less lost work, while simply double-clicking a parameter to return to its default setting proves to be a surprisingly essential improvement. Seamlessly optimized Max integration, snappier loading times, powerful new Push features, and simultaneous multi-format export round out some of the more noticeable tweaks that it's difficult to imagine giving up.
A Tenable Release
With a handful of headline features and devices complemented by a cornucopia of workflow upgrades, there's simply no returning to previous versions of Live after even just a few hours with 10.
While the release delivers quite a few long-requested features that should delight veteran users, there remain a number of other features one hopes to look forward to in future releases: integrated comping, flexible audio pitch editing, improved MIDI editing functions such as a fold-to-scale option, and even a proper time counter in the transport to name just a few. A proper event list and undo history would seem to fit snugly in the under-utilized Help View/File Management area as well.
That said, even if your top feature or sought-after tweak isn't included, Live 10 is sure to improve your overall studio experience in myriad ways. Meanwhile, Ableton's history of free incremental updates indicates further innovations are surely on the way, greatly enhancing the buy-in value of the upgrade.
The impressive list of seemingly disparate advances included in Live 10 total far more than the apparent sum of their parts, further refining Live's playfully musical workflow while providing refreshing new pathways to creativity.
While it may win over users from other DAWs who had been holding out for Multi-Clip Editing, true stereo panning, sample-detailed waveform display, or improved arrangement editing, it's safe to say Ableton has delivered another essential update destined to make dedicated Live users happier than ever.