Whether you're looking to add subtle variation to repetitive beats, juggle patterns on the fly or add generative dynamism to all manner of loops, Live's under-utilized Legato Clip Launch mode is here to help.

Note: all features discussed in this tutorial function identically in Live 8, 9, and 10.
What's Legato Launch Mode?
To be clear, this isn't legato in the traditional musical sense of notes held long enough to overlap. In short, it's a simple way of ensuring Clips start playback at a globally consistent interval regardless of their internal start marker settings.

In this example, I've got three drum loops that I want to trigger by hand at ¼-note launch quantization for more compelling results than simply switching loops at the start of each bar – but I don't want newly triggered clips to simply start on their default downbeat.

While my Global Launch Quantization interval remains set to 1 bar, in the Clip Launch settings, accessed via the "L" toggle at bottom left of any Clip's Detail View, I set the Clip's independent Quantization to ¼. This can be done for multiple clips selected simultaneously in one fell swoop.
This allows me to launch playback of these Clips at a ¼-note interval, shorter than the Global Launch setting which remains at 1 bar. The problem is, when triggered they still take over on the default downbeat where the start marker is set in each Clip, which makes it sound as though they're being played in an odd time signature, which is not the result I'm going for.


Clips re-triggering on their respective downbeat; they do not retain their meter and often end up sounding as though they are playing in ¾ time.
Instead, to create a more convincing form of dynamic playback that retains a more conventionally synchronized meter I can enable Legato mode for all desired clips currently selected by clicking the Legato toggle in the same Clip Launch settings area.
Legato mode ensures that whenever playback of a new Clip is triggered, playback starts at the Globally relative position within the triggered Clip. In other words, if a new clip is triggered in Legato mode on the 3rd ¼-note of a bar, that Clip will start playback from the 3rd ¼-note from its own internal start point, yielding much more fluid and rhythmically coherent results.

Clips launching in Legato Mode; Clip transitions are now rhythmically consistent.
Follow Through
With a Push or Launchpad, triggering drum clips in realtime just got a lot more fun! But this behavior can also be automated using Live's unique and powerful Follow Actions.

Follow Actions allow you to instruct a Clip to trigger another Clip in a vertically adjacent Clip slot according to a variety of rules. These are located in the two dropdown menus in the Clip Launch settings, below the Beats/Bars/Ticks numeric entry area where you can specify how long a Clip plays before specified Follow Actions are set in motion. In this case, I want my drum clips to play for three beats.
You'll notice a pair of identical dropdown menus with an integer below - this allows you to weight intricate probabilities that one action will occur more often than another by changing the integer values in the bottom boxes. When either number is set to zero, that action will never occur; when the right action is set to 667 and the left action to 333, the right action is twice as likely to be triggered. You can experiment with any ratio of numbers you want between zero and 999.

Using the Previous, Next, First, Last, Play Again, and Stop follow actions in combination with per-Clip probabilities, intricate sequences can be programmed with a constrained degree of randomization. For my purposes here, I'm only going to use one Follow Action menu, set to Any, which means that after the specified playback duration, any random clip in the group, including itself, will be triggered – and since they're all in Legato mode, the takeover should remain metrically consistent.

By contrast, the Other random mode means it will randomly trigger a different Clip in the group, excluding itself, which is useful if you never want a Clip to repeat itself – but since I've only got three clips, and they're all long enough, I don't mind if they occasionally continue to play before triggering a different Clip.


To make it more frenetically obvious, here's three drum Clips all set to Any random Follow Action taking over in Legato mode at short, ¼-note intervals.
PRO-TIP: Follow Actions work identically for MIDI Clips as they do for Audio Clips, so you can use them trigger variations on any note pattern triggering any instrument or plug-in you want!
Legato Follow FX
Another handy use of the Legato Follow Action system is to create dynamic effects switching using a combination of Audio Effect Racks and Clip Modulation Envelopes. In this case, I've added four Chains to an Audio Effect Rack: Live 10's Echo on one, a Phaser with some fairly extreme settings on the next, a Frequency Shifter configured for drastic ring modulation on the third, and Resonators followed by an Echo on the fourth chain. Using the Chain Selector, I've assigned each Chain to its own discrete Chain Selector value.
Next, I've created four versions of the same Audio Clip, each one with the Audio Effect Chain Selector value programmed to correspond to the Clip name via the Clip Modulation Envelopes.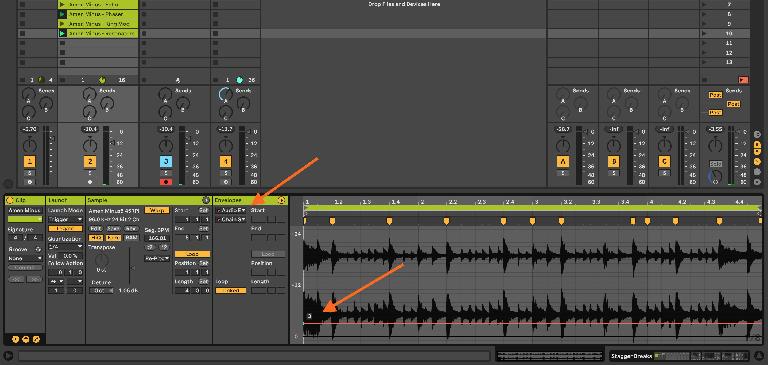 Configuring the Chain Selector Envelope for the Amen Minus – Resonators Audio Clip; since the Chain Selector values count up from zero, the fourth Chain that contains the Resonators corresponds to a value of 3 in the Modulation Envelope.
Now when I trigger any Clip in the group, all of which are set to the Any Follow Action after a single ¼-note with Legato mode enabled, we get a dynamic flow of effects-laden drum variations – and because the effects aren't toggled on a Dry/Wet basis using the Chain Selector, even if an effect Chain is deselected, its Echo or Reverb tails decay naturally.


Legato Audio Effect Rack Follow Action madness.
Conclusion
Whether you want to generate dynamic yet fluid rhythmic juxtapositions, program intricately randomized takeover sequences or simply have more fun triggering Audio or MIDI Clips on a control surface, Legato Mode and Follow Actions are core components of Live's Session View that open up powerful new frontiers of creativity for stage and studio alike.